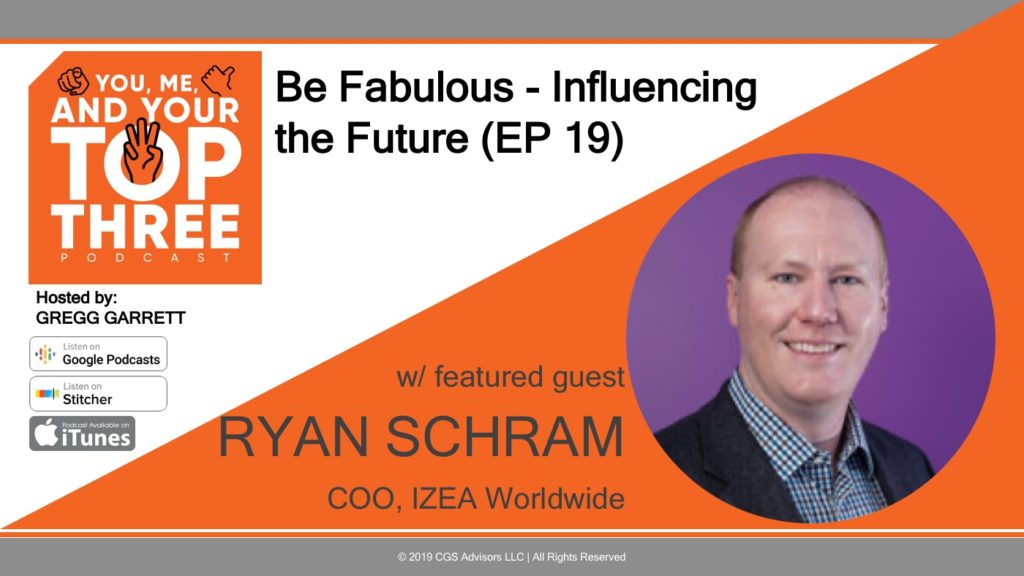 During this episode, we speak with Ryan Schram, a leader in digital and influencer marketing and the Chief Operating Officer at IZEA Worldwide. Ryan speaks about the unique journey he and his colleagues took to disrupt an industry, form a new category and rise to the top. We discuss the celebrity influencers of today, the emerging role of the nano-influencer, as well as potential influencers of the future like artificial intelligence. Ryan highlights his 'Top Three' advisors and speaks about what it was like to grow up in a house that is filled with marketing and media juggernauts, what it's like to work for, and partner with an industry visionary, and shares how spousal choice is critical for leaders beyond balancing work and home. And throughout the episode, Ryan shares several pieces of advice with the audience, including some of his most fundamental advice that was passed along at an early age from a Mad Men-esque character – Always Be Fabulous.
About Ryan Schram
As Chief Operating Officer, Ryan Schram provides day-to-day leadership and managerial oversight for IZEA – championing the needs of its team members, clients, partners, and creators around the world.
Placing company culture and creativity at the center of his approach, Mr. Schram is responsible for the IZEA's overall operational environment, including the Company's client development, business development, marketing communications, human capital, and creator ecosystem organizations. He also leads the Company's corporate business development growth strategy domestically and abroad. Schram was appointed to IZEA's Board of Directors in November 2012.
Nearing two decades of experience in the consumer marketing and technology space, Ryan has an established track record of driving growth, efficiency and profitability for leading- edge companies. In addition to his responsibilities at IZEA, Schram has been actively involved as a board member, advisor, and mentor in leading marketing technology companies, including TechStars Mobility, StageLeap, ProfitStreams, and Stratos.
Prior to joining IZEA in September 2011 as the Company's first-ever Chief Marketing Officer, Ryan served as Group Vice President at ePrize (now HelloWorld), the prominent digital engagement agency that was acquired by private equity firm Catteron Partners in August 2012. Previous to ePrize, Ryan held a variety of leadership positions at CBS/Westwood One and Clear Channel Media + Entertainment (now iHeartMedia). His work has been regularly featured in the Wall Street Journal, Fast Company, Entrepreneur, AdAge, and ADWEEK.
A proud Spartan, Ryan is a graduate of the Eli Broad College of Business at Michigan State University (B.A., Management).
Show Highlights
Segment 1: Introduction
1:25 The Connecting World – a story built on data in a world built on humans.
3:59 The journey of a "self-aware nerd" through integrated marketing, sales enablement, and executive leadership. (iHeartRadio. HelloWorld. IZEA (NASDAQ: IZEA).)
Segment 2: Brave Leadership & the "Top Three"
6:46 Ryan's "Top Three": Bill Burton – The professional product mover. Always "Be fabulous." (Don Draper – Mad Men.)
16:14 Ryan's "Top Three": Ted Murphy – "The most dangerous man in the room" – a leader in the creator economy.
23:04 Challenging each other is central to any professional dynamic.
25:30 Ryan's "Top Three": Steve Schram – Hold yourself accountable for maximizing the gifts that you have.
32:51 Ryan's "Top Three": Jamie Schram – Being a business pair.
37:18 Hiring in the 'shoulders up' economy.
Part 3: Industry Disruption & Transformation
41:11 "Always about the content, not the clutter."
43:00 The roles of the macro influencers (celebrities & athletes) and the micro/nano influencers.
49:20 Bots and artificial intelligence as influencers.
Part 5: Wrapping up
51:26 IZEA's journey to going public.
54:30 Advice on going public (and beyond): "Be curious, be brave enough to realize that it's like getting a graduate degree every 1-2 quarters in something totally different."
59:02 "Don't confuse your title for your importance and the value you can bring to the team members you serve." (Servant Leadership).
1:00:51 "Failure is one of life's great gifts." – Ted Murphy
1:02:06 Follow IZEA and Ryan! (IZEAx 3.0. Influencer Insights.)
Additional Information
Contact Ryan:
Contact IZEA
Contact Gregg Garrett:
Contact CGS Advisors:
Subscribe