About
Corporate Growth Strategy (CGS) Advisors, a boutique strategy and innovation firm, was founded in 2008 with the focus to help enterprise leaders be brave as they prepare for industry disruption by cutting through noise and defining unique paths to growth.
CGS understands today's market environment is being heavily influenced by the growing 'Connected World' (e.g. Internet of Things/IoT, Internet of Everything/IoE, M2M and mobility) and helps clients understand this change, plan and implement a strategy to take advantage of it, and derive an innovation capability to transmit the vision and plan across the organization. More specifically, this aligns to CGS' three core practices: Connected Services, Innovation Services and Business Transformation Services. Each useful on its own, it's the intersection of these practice areas where CGS most excels, allowing the firm to help clients realize strategic value by harnessing enterprise innovation in the emerging connected economy.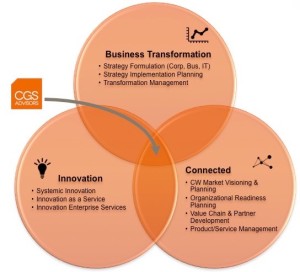 CGS is a boutique firm focused on solving meaningful problems; made up of experienced, transformational advisors; able to convert complex issues into simple visions and solutions. Additionally, CGS Advisors is:
Advisors – A term lost in the light of consulting. We see ourselves as trusted partners who always put what's best for the client first; we require our project teams to be balanced with CGS members AND key members of the client's staff who own the program. We know we are guests at our client's environment and we are honored to be invited there.
Experienced – CGS is a firm made up of experienced practitioners and successful corporate change leaders; this means, while not all of the CGS team has gray hair (yet), we have stood where our clients do. Our team's experiences allow us to rapidly deploy models of change with the appreciation that corporate culture makes each engagement unique. We have launched our own companies, sat at board tables, been looked at sideways by peers, and we have personally taken risks. We know taking risks in Corporate America (Europe or Asia Pacific) is not easy. We also know 'easy' isn't why our clients get up in the morning!
Systemic – CGS takes a very architectural approach to sensing and solving. We believe most things in this world are interrelated, and feel changes in certain parts of client's ecosystems will have an effect on others. No matter if it's people affecting a business or the organization affecting the market, or IT affecting the results, we seek to understand these connections.
Visionary – CGS appreciates the calculated 'big play'. Every change has risk, and we are more comfortable with some of the 'bigger risk for bigger reward' type moves. In this era, standing on the sidelines too long can let the industry pass organizations by.
History
Founded in 2008, the core team at CGS Advisors has been working together since the early 2000s when they first focused on global implementations of corporate and business strategies at a large automotive OEM. The team brought together a unique mix of functional perspectives; joining the forces of corporate and business strategists with systemic minded industrial engineers and technology experts. The team worked together on progressive market strategies, business-technology strategies, enterprise innovation and transformational program management. Several of these team members departed the corporate team and launched CGS Advisors to offer the same basic services to the broad market. Today, CGS is made of a small but strong team serving clients across many industries and three continents.  Meet Our Team.