ENTERPRISE INNOVATION IS CRITICAL FOR AN ORGANIZATION'S RESILIENCY.
We specialize in activating innovation in established organizations. Enterprise Innovation, sometimes referred to as intrapreneurism, is similar to, but differs from entrepreneurism in start-ups. Enterprise Innovation is defined as the consistent application of new and unique ideas that support the firm's corporate & business strategies and create stakeholder value. By focusing on the key aspects of this definition, the innovation capability becomes critical to strategically transforming companies which are attempting to change the way in which they compete in their disrupted industry.
WE HAVE DONE THIS BEFORE: CASE STUDIES & QUALIFICATIONS.
Advised one of the world's largest financial institution's leadership on how to adjust their innovation program including program structure, eliminating pitfalls, and better communicating the value of collaborative innovation.
Established the innovation capability for a market leading insurance company. Then supported the launch of consumer- and employee-facing technology innovations intended to capitalize on emerging connected technology trends. (See Press Release)
Created and helped position to the board the digital innovation group's multi-year business plan for one of the country's largest energy companies. Assisted in operating the innovation function and managing proof-of-concepts for 24+ months.
Operated a Global Fortune 100 company's full-scale innovation function inclusive of ideation and portfolio management, process management, research and testing, business planning and implementation handover.
Launched a Federal Government sponsored cross industry enterprise innovation group that drives collaboration and joint PoCs. For more on Connected Detroit Innovates.
WE DRIVE SUCCESS THROUGH THE ENTIRE INNOVATION LIFECYCLE.
Many companies struggle with introducing or deriving value from their innovation efforts. They simply play "Innovation Theater". Defining innovation and making it fit within an organization requires a strong linkage with those in the firm that control the firm's corporate and business strategies (front end of process) and the corporation's execution and operations groups – often a PMO or Project Organization (back end of the process). Our services bridge from the front end to back end of innovation. See Figure 1 for a view into this overall process and where we focus.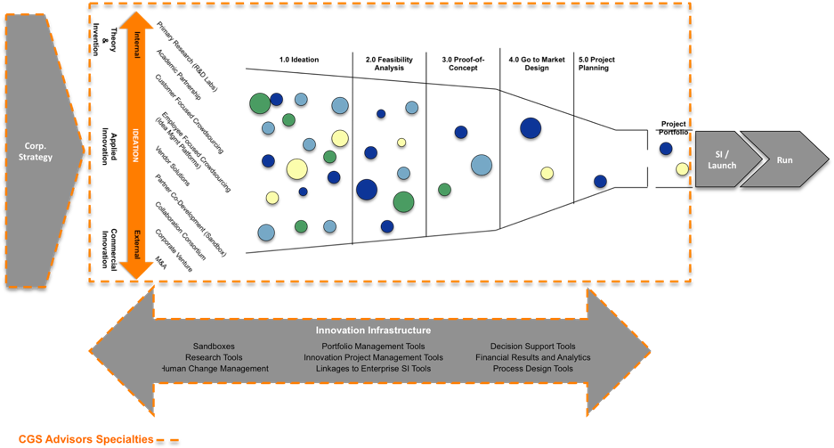 HOW WE OFTEN ASSIST CLIENTS IN ESTABLISHING AND DRIVING INNOVATION.
Our expertise is often grouped in four broad categories of Innovation Services. These services have been shaped through our collective experience sponsoring and running innovation programs at public Fortune 500 companies, consulting to private SMB organizations, as well as advising startup leadership through accelerators and the venture capital backed programs.