STRATEGY FORMULATION AND TRANSFORMATION ARE CRITICAL TO SUSTAINED SUCCESS.
Success begins with a sound strategy. CGS assists leaders:
Envision the disruptive potential of shifts in the environment.

Formulate corporate, business, and functional strategies.

Assess the organization's current and needed capabilities to execute these strategies.

Establish a transformation approach and plan.

Accelerate the transformation journey by removing inertia.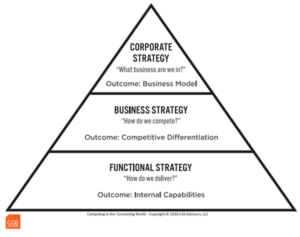 WE HAVE DONE THIS BEFORE: CASE STUDIES & QUALIFICATIONS.
Strategy challenges can be found at all levels of an organization. Typically, CGS Advisors supports executives (i.e., CEOs, Chief Strategy Offices, etc.), business unit leaders (i.e., presidents, etc.), and functional leaders (i.e., vice presidents, directors, etc.) in solving problems and answering critical questions that are aligned to corporate, business, and functional level strategies. Some example engagements include:
Partnered with a CEO and members of the executive leadership team to develop a new strategic vision for the organization and to assess the organization's capabilities, resources, and management preferences against the vision to identify alignment, gaps, and key strategic decisions.
Led a digital journey mapping program to identify key touchpoints, experiences, journeys, and personas that helped advise on the next steps for a customer-facing technology platform that was a key driver of the company's digital strategy.
Worked with a Chief Strategy Officer to design and implement a formal strategy office and developed a strategy program to execute newly defined strategies and govern the execution activities.
Sparred with a regional president on current digital strategies aligned to the broader corporate strategy and supported the development of a new digital vision that would help the region stand out and position itself as a "test market" for new digital innovations inside of the company.
Led a rigorous corporate and business strategy formulation program through the development of an investment memo meant for executives and company boards that aimed to: define the core strategies, highlight key implementation activities, identify potential funding sources, and make a formal ask for resources needed to execute on the defined strategies.
OUR SERVICES SPAN ACROSS SEVERAL CRITICAL STRATEGY CAPABILITIES.
To support the maturity of strategy formulation and transformation activities inside organizations, CGS Advisors has developed a framework made up of several core strategy elements that assess an organization's strategic capabilities and guide the activities of a formal strategy function. These elements have been identified and shaped through our collective experience working with clients and supporting the execution of the activities defined below. The "CGS strategy wheel":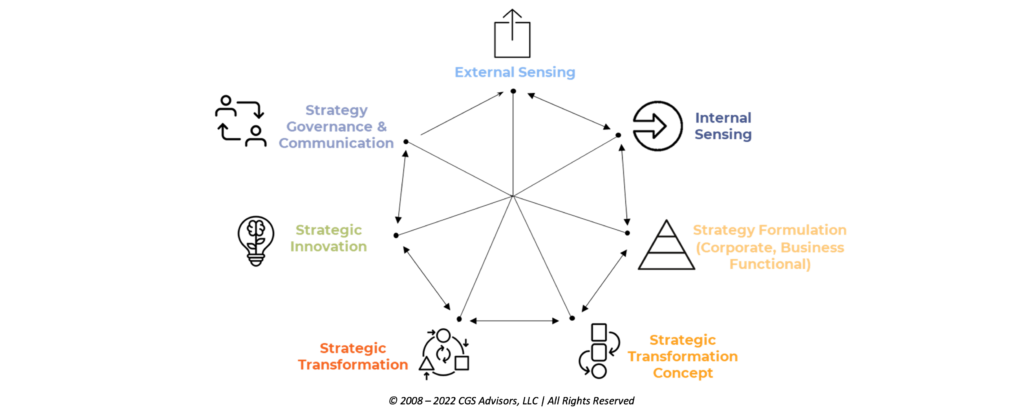 OUR SPECIALITIES – MATURING STRATEGY CAPABILITIES