ABOUT US
I4.0 Orchestration Collaborative is a group of progressive leaders looking to explore and unlock the cross-industry and cross-value chain opportunities, technologies, and coordination necessary to fully realize the promise and potential of the next industrial revolution (I4.0).
The disruption caused by Industry 4.0 creates an infinite number of topics to discuss and address. We have identified 5 major themes that we anticipate will be the key focus of this Collaborative:

Managing through labor scarcity and relationships between I4.0 technology and labor

End-to-end visibility, transparency, and coordination across all nodes of the supply chain

Dis-intermediating sections of the supply chain by limiting the need for additional stops and partners

Increasing the efficiency of reverse logistics processes by automating returns and reducing inventory re-entering facilities

Identifying ways to manage through capital constraints and a lack of financing options for new projects
WHAT WE DO
Through the inception of the I4.0 Orchestration collaborative in early 2021, we have gathered an impressive group of leaders spanning several different roles and industries. These leaders explore and discuss different I4.0 concepts and technologies, including business use cases and problem statements that can be solved using transformative technology. They also think about what innovative solutions and PoCs might look like and how they might be developed.
The I4.0 Collaborative drives value directly to participants in the following ways:
The first we call "birds of a feather" because the Collaborative creates an environment for participants to come together, network, build relationships, and cry on the shoulders of others facing the same challenges in trying to manage through I4.0 and implement new transformative technologies.
The second is generating the opportunity to learn and share experiences, processes, and technologies among participants, allowing participants to leverage the learnings of others to apply to their own challenges.
The last is creating opportunities to identify and implement solutions to real problems and use cases for which the participants are responsible and manage in their roles. This often looks like implementing new innovative technologies via PoCs and working with other companies on the edges of their ecosystem to explore valuable joint-solution opportunities.
Ultimately, the leaders at the core of the Collaborative run companies or business units responsible for making and/or moving goods, enabling the usage of goods, or recycling goods.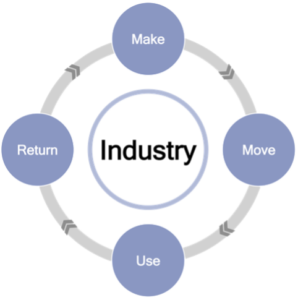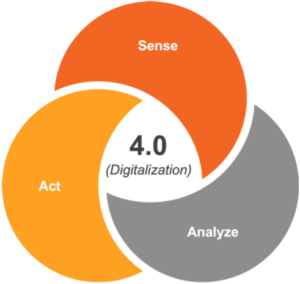 As a Collaborative, we have intense curiosity and an instinct to take action around a core belief that we can transform our work environments by sensoring (or sensing) the activity, analyzing that activity and creating meaningful insights, and ultimately acting and utilizing effective automation in our operating environments.
As a Collaborative Member, your contribution and commitment are essential to the success of the Collaborative. Collaborative innovation is a shared creation, and it can arise only when two or more people agree to explore critical questions and solve complex problems cooperatively. As an I4.0 Orchestration Collaborative member, your responsibilities are to participate actively; build trusting relationships; be transparent; inspire curiosity, and be brave.
Participate Actively – Participate and offer ideas and proposals where permitted. Enable dialogue and the free flow of information. Communicate constructively and listen earnestly.
Build Trusting Relationships – Foster an environment of trust and encouragement. Foster an environment of trust and encouragement. Be tolerant of other perspectives.
Be Transparent – Be honest and forthright. Act with integrity – do what you say you will do. Hold yourself accountable. Be genuine in your endeavor to innovate collaboratively. Keep the Collaborative's ideas confidential. Work in furtherance of the success of the Collaborative and its members.
Inspire Curiosity – Ask questions. Challenge the status quo. Be a first-principle thinker. Have a beginner's mindset. Explore new ideas. Flex your creative muscles. Find and solve problems.
Be Brave! – Have a bias for experimentation. Be willing to fail. Commit to a daring endeavor. Step beyond your comfort zone. Own this bold initiative.
If you are a leader inside of a company being impacted by I4.0 and transformative technologies and are interested in learning more about the I4.0 Orchestration Collaborative, please provide your information below.