INERTIA EXISTS IN ALL ORGANIZATIONS; IT BECOMES A PROBLEM DURING TRANSFORMATION
DOMINANT LOGIC describes the patterns found in a company's leadership. People frequently (usually unconsciously) retry the strategies that have worked for them in the past. However, some outdated thought patterns can prevent you from changing your perspective when the environment changes. DOMINANT LOGIC INERTIA is the time it takes for executives or other key figures in your organization to change the way they think to adapt to the present situation and identify essential changes.
Your change may also be slowed down by your company's organizational structure. To keep the business on track with its original strategy and to boost profitability, the firm's structure is locked in throughout stable periods. That structure may slow down change in times of instability and when the strategy is altered. This is what we refer to as STRUCTURAL INERTIA.
REDUCING INERTIA IS CRITICAL TO TRANSFORMATION SUCCESS.
INERTIA REMOVAL is the process of identifying sources of inertia and putting procedures and systems in place to reduce or remove them, thereby accelerating your transformation. There are factors that build and sustain your norms every day and at every moment. We refer to this using the more familiar word "inertia" from physics. When you attempt to move something that is at rest or reroute something that is moving in a different direction, you can best grasp inertia. It is stated that unless you attempt to modify an organization, you will not be able to comprehend, identify, and dimension the forces at play. This is because many of the sustaining factors will be exaggerated to maintain the status quo. A change in strategy is often met with resistance throughout execution for most well-established companies. (Paradoxically, often the more successful your firm was in the past, the more difficult it will be for you to transform in the face of industry disruption.) CGS Advisors supports transformation leaders at all levels of a firm to remove inertia.
WE HAVE DONE THIS BEFORE: CASE STUDIES & QUALIFICATIONS.
STRUCTURAL INERTIA REMOVAL – ORGANIZATION DESIGN & ACTIVATION
CGS served a nearly 100-year-old, Tier 1 Automotive Supplier that was acquiring and divesting major business units around the world and supported them to re-organize their core supporting functions to better align to the business strategies. After guiding their functional strategy development, we led through identifying and addressing aspects of their decentralized operating model that created unrewarded risk, complexity, and cost. We advised their functional leadership team through a process to develop critical capabilities, redesign aspects of their structure, governance models, processes, measurement, and communications. The department has become more collaborative and interconnected while delivering the strategy, realizing deal-related synergies, and delivering improved service levels and employee experience in the post-pandemic hybrid work environment.
DOMINANT LOGIC INERTIA REMOVAL – STRATEGIC COMMUNICATIONS
CGS served an iconic US-based Automotive Original Equipment Manufacturer for more than five years through a series of transformations necessary to launch and grow a new technology capability in response to industry disruption. CGS supported multiple workstreams of leaders to ensure communications were planned and deployed across the vital areas such as the user experience, up-time and productivity, security, and compliance of this 120-year old company, including throughout three organizational structure changes, the deployment of a new operating model, a transition from a fully-onsite to fully-remote organization at the onset of the pandemic, and a transition from fully-remote to hybrid organization post-pandemic.
INERTIA REMOVAL SERVICES OFTEN INTERSECT WITH OTHER ELEMENTS OF TRANSFORMATION.
Because inertia exists with leaders and the structure of the firm, inertia removal services often intersect with other elements of transformation. This creates a broad set of services and capabilities that are tailored to your unique transformation environment.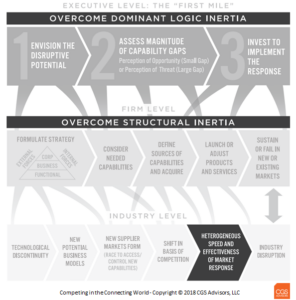 ORGANIZATIONAL ASSESSMENT AND INERTIA IDENTIFICATION
TRANSFORMATION AND INERTIA REMOVAL PLANNING, COMMUNICATIONS, AND SUPPORT 
ORGANIZATION DESIGN | CAPABILITIES, STRUCTURE, PROCESS, REWARDS, AND PEOPLE PRACTICE TO ENABLE STRATEGY 
M&A ADVISORY | ORGANIZATION & TALENT DUE DILIGENCE AND INTEGRATION MANAGEMENT OR SUPPORT  
CONNECTED WORKPLACE & COLLABORATION CAPABILITY ENABLEMENT 
KEY CAPABILITY AWARENESS AND ADOPTION CAMPAIGN MANAGEMENT 
INFORMATION SECURITY ENABLEMENT AND ACTIVATION