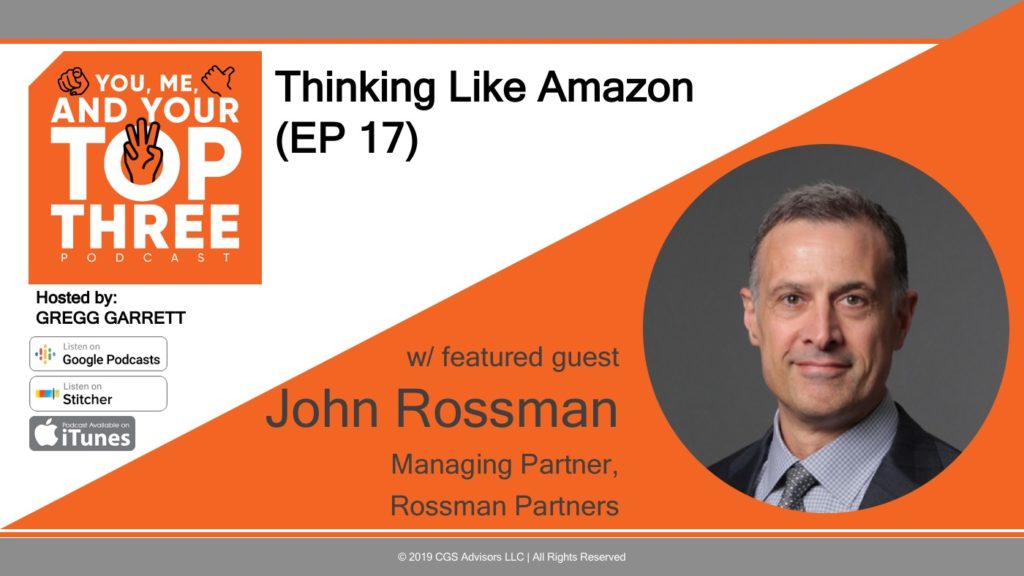 During this episode, we speak with John Rossman, a former executive at Amazon, who was responsible for building one of its largest and most successful business units – Amazon Marketplace. John discusses the mindset that leaders at Amazon have that allows them to constantly innovate and transform as they disrupt markets. He gives specific hints from his most recent book, Think Like Amazon, which helps leaders consider how to take advantage of the digital world that is forming all around them. And, of course, he discusses three of his mentors that have helped him stay customer focused, focus on measuring metrics that matter, and be brave enough to share his voice through the power of the pen. If you have ever been in awe of what Amazon has accomplished, you have to hear what John shared with us.
About John Rossman
John Rossman is an expert at digital business models, operations and organizing programs. He has led engagements on developing innovation processes, Internet of Things strategies, marketplace and API driven platform business models. He is a sought after speaker on creating a culture of operational excellence and innovation. John has worked with clients across various industries, including retail, insurance, education, healthcare, consumer products, industrial products and transportation.
John's notable assignments include The Bill and Melinda Gates Foundation, Microsoft, Nordstrom and several of the world's leading retail and insurance organizations.
Prior to his current role at Rossman Partners, John was a Managing Director at Alvarez and Marsal, a performance improvement consulting firm. Prior to A&M, John was an executive at Amazon.com where he launched the Marketplace business and third party selling platform, and ran the merchant services business.
John is the author of three books:
– Think Like Amazon: 50 1/2 Ideas to Become a Digital Leader
– The Amazon Way: 14 Leadership Principles of the World's Most Disruptive Company
– The Amazon Way on IoT: 10 Principles for Every Leader from the World's Leading Internet of Things Strategies.
Show Highlights
Segment 1: Introduction
3:44 John's problem-solver history: From Amazon to Rossman Partners.
5:15 Creating a sense of urgency in a growing business. (Amazon Marketplace. Gates Foundation.)
7:25 Think Like Amazon: Sharing the mechanisms to build a habit or communicate a strategy.
Segment 2: Brave Leadership & the "Top Three"
9:16 John's "Top Three": Greg Shaw – Writing partner and thoughtful challenger. (Book. Clyde Hill Publishing.)
10:38 John's "Top Three": Wes Arens – Keeping the focus on delivering customer value. (Alvarez and Marsal.)
11:28 John's "Top Three": Clifford Cancelosi – Focusing on metrics and measures that matter.
Part 3: Industry Disruption & Transformation
15:11 Two factors driving disruption: Technology (cost and operational suitability) and Investment Dollars.
17:38 "Assume the worst" when harnessing powerful capabilities but needing to catch up on policy.
21:04 "Reset your clock" when making investments.
23:45 "You have to be willing to not be trapped by your past positions." (Whole Foods Market. Amazon Go Store.)
28:03 The role of confirmation bias and social cohesion in leadership and transformation. (Rude Q&A.)
35:13 Moving forward with IoT – focus on the customer, think big but bet small, and reduce friction.
Part 5: Wrapping up
39:44 "Every leader does need to become a digital leader – and you can."
42:15 A tip to get started: Ask yourself the question – did my customer have a good day today?
43:00 "It is in those crack of friction where innovation lies."
56:09 Contact John. (LinkedIn. Website. Blog. Books.)
Additional Information
Contact John Rossman:
Contact Gregg Garrett:
Contact CGS Advisors:
Subscribe: