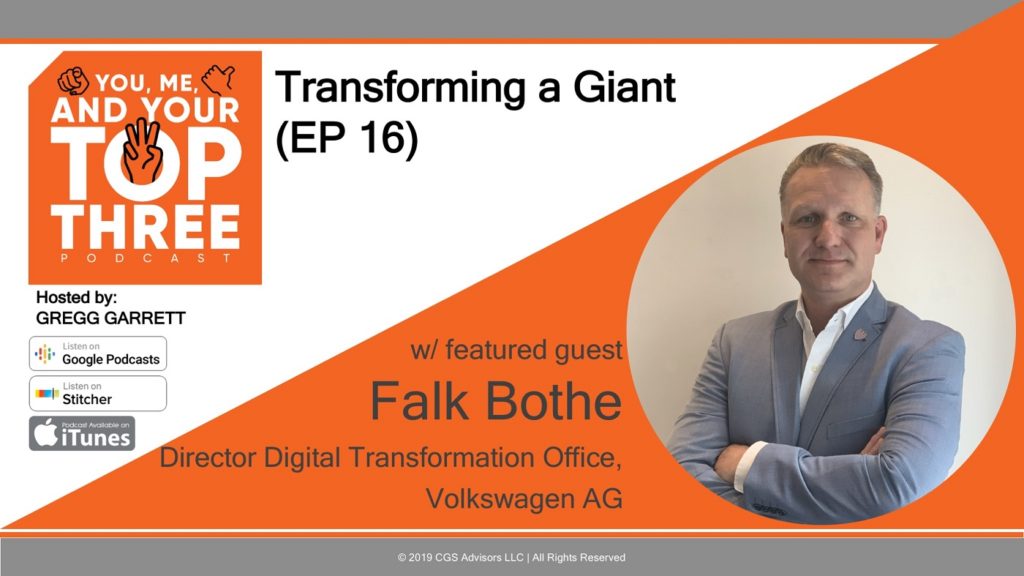 During this episode, we speak with a digital transformation expert who operates on a global stage. Falk Bothe carries responsibility for driving transformations and developing the top forty leaders for the Volkswagen Group – one of the largest companies in the world. In his role, Falk helps top executives cut through the inertia of a successful past to envision and take advantage of the future. Throughout the conversation, Falk advises transformation leaders and shares his views on the disruption occurring in the automotive industry. Falk discusses his "top three", which includes peers and family as well as someone who is his direct report and highlights how learnings from rock acrobatics (yes, you read that right!) carries over to his work.
AbouT falk bothe
Falk Bothe (48), since January 1st 2017 Director Digital Transformation Office at Volkswagen AG is responsible for the Digitalization Program Management, Committees and overall Change Management for Digital Transformation within the Volkswagen Group. He reports to Jürgen Rittersberger, Chief of Staff and Chief Strategy Officer of Volkswagen AG.
Before that, he was Executive Assistant to the CDO from January 2016 on, responsible for the organizational buildup, Recruiting, Event Management, and organizational set up of Volkswagen Group Future Centers California and Asia. From 2010 to 2015 he worked at Volkswagen Consulting as Organizational Development Consultant, responsible for multiple Change Management Projects, such as Vision, Mission, Strategy and Leadership Development, Transformation and Business Reengineering, designing and facilitating major events for multinational Customers within the Volkswagen Group on all hierarchy levels. He was responsible for the Product Development of Business Reengineering Interventions, Communication and Corporate design of Volkswagen Change Management. Since 2014 he is guest lecturer for Organizational Change at TU Braunschweig and Hochschule Osnabrück, University of applied science.
Falk Bothe was born on 18th April 1971, in Braunschweig, Germany. He holds a Business Administration Degree, Dipl.-Kaufmann (FH) from Hochschule Harz, Wernigerode. He is a certified Business Coach, specialized in Provocative Style (DIP Munich), coaching both Top Managers and Organizations. He also holds a Harvard Kennedy School Executive Certificate in Public Leadership. He was semi-professional competitive Dancer in Rock Acrobatic for 25 years, multiple Winner of National Competitions, World Masters Finalist and Member of the German Rock Acrobatic National Team from 2006 – 2008 and as Main Class instructor coaches couples on international level.
Falk Bothe is married and has two Children.
Show Highlights
Segment 1: Introduction
1:48 Battling Structural Inertia: Being a change agent and transformation leader at a global scale.
4:48 Falk's background: From banking to digital to transforming an automotive giant.
10:01 The Volkswagen Group: 12 brands. 153 countries. 122 product facilities. 656,000 worldwide employees.
Segment 2: Brave Leadership & the "Top Three"
15:03 Falk's "Top Three": Daniel Mulhern & Jennifer Granholm – Living leadership. (Books. LinkedIn.)
15:33 Falk's "Top Three": Ulrika Bothe – Understanding both the personal and business context.
17:06 Falk's "Top Three": Michael Köhler – Development through 'drafting' and the value of adaptive leadership. (Harvard Kennedy School.)
19:30 Adaptive Leadership: Technical Challenges vs. Adaptive Challenges. (Ronald Heifetz.)
22:36      Falk's "Top Three": Martin Akar – Pushing for improvement on a daily basis. (MHP Consulting.)
24:55 Falk's "Top Three": Diana Lingg – Having a 'gut feel' for what will work.
26:56 Falk's "Top Three": Iris Bothe – How to leverage the intrinsic part of leadership.
Part 3: Industry Disruption & Transformation
31:30 "Companies have a big responsibility for the society they serve and also the community they are in." (Dr. Herbert Diess, VW CEO. Paris Climate Agreement.)
35:45 Automotive disruption has three key parts. (Tesla. Uber. Lyft. DiDi. M-Pesa.).
39:40 "It isn't just building cars anymore. It is providing the means of transportation from A to B for people, goods, and waste all over the world".
46:51 "Look not only for a way to use the official channels ,but also look for ways to hack the system".
51:25 "To go outside and lead, even if you have the authority, is dangerous business." (Rock Acrobatics. Tim O'Brien.)
57:00 "Leadership is an action, not a role."
Part 5: Wrapping up
1:00:20 "Wish List" introductions: Barack Obama & Joe Biden – how they motivated themselves when they reached 'the top'.
1:02:00 How to change now? Choose what mood you bring to the office.
56:09 Contact Falk via social media.
Additional Information
Contact Falk Bothe:
Contact Gregg Garrett:
Contact CGS Advisors:
Subscribe