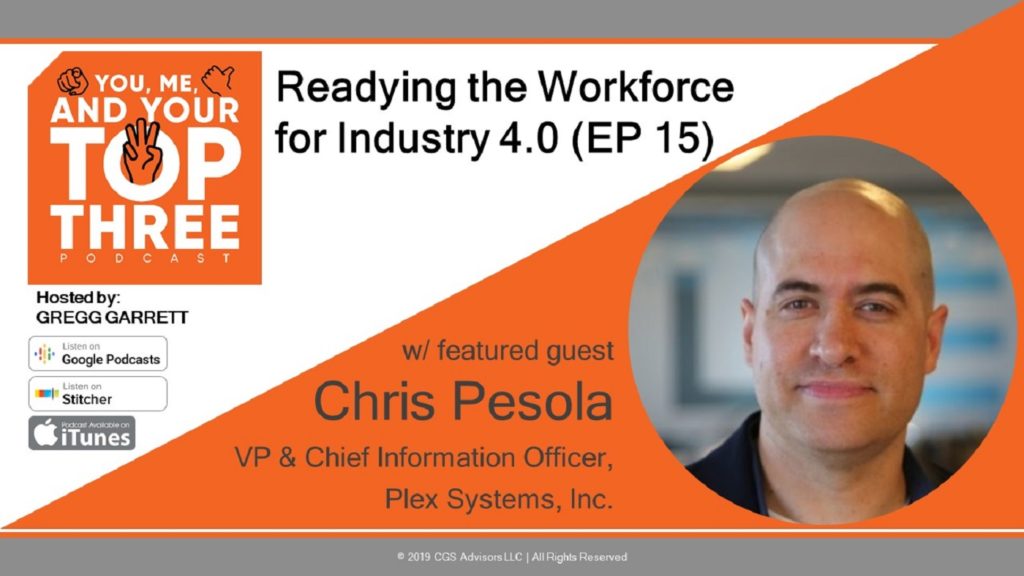 During this episode, we discuss how data stemming from products is at the heart of industry disruption. Our special guest, Chris Pesola, is a Chief Information Officer for a cloud-based software company that is helping transform the manufacturing industry. In his role, Chris is enabling manufacturing companies to compete in the next industrial revolution which is often referred to as Industry 4.0. He speaks about how Chief Information Officers differ from Chief Technology Officers and how the two roles should work together in technology companies. He shares his thoughts of how work is shifting and how the role of the CIO may be to help get the most out of the workforce – no matter if it is a human workforce or an environment which is taking advantage of AI or bot-oriented team members.
AbouT Chris Pesola
Chris is the VP & Chief Information Officer for Plex Systems, Inc. where he is a cross-functional leader focused on driving strategic business value. He has successfully moved the organization to cloud-based technology that has resulted in substantial efficiencies and cost-savings, increased speed to value, and happier employees and customers. Prior to his current role Chris has spent time leading technology-oriented functions focused on customer care and advancing employee capabilities in the education, finance, and technology sectors. He started his 20+ year career at Ernst & Young as a IT consultant and holds a degree from Central Michigan University in secondary education with a focus in mathematics and computer science.
Chris volunteers as a career coach to rising leaders in Detroit, MI through We Build Character, and is an avid youth hockey coach and fan.
Show Highlights
Segment 1: Introduction & Building a Program
1:20 Creating a new paradigm – today's technological discontinuity.
4:54 Sensors and product-in-use data: 1) 360 degree view of the customer and 2) product-centric (IIoT)
5:40 From the classroom to the boardroom – a purposeful approach to being well-rounded.
9:03 "I've always been passionate about the next thing that will impact the user."
9:56 Overview of Plex: An all-cloud, all-the-time, ERP solution for manufacturing companies.
Segment 2: Brave Leadership & the "Top Three"
12:25 Chris's "Top Three": Jim Costanzo – Do the right thing and approach it the right way.
14:10 Chris's "Top Three": Don Clarke – Break the standard "train of thought".
"Sometimes you have to ask a difficult question or make a really crazy request because it breaks their train of thought."
"You don't want to make the wrong decision just because you have the ability to be agile, flexible, fast and change. You can still really negatively impact your employee base or customer base."
18:06 Chris's "Top Three": His wife, Crystal – A non-technical voice of reason.
"When it comes to being brave, every now and then you still have to check yourself or have someone around you that can check you and say – yeah that's a real brave move but not a real smart one."
19:40 Chris's "Top Three" (Digital Mentor): Satya Nadella – Leading without (or through the) fear. (Microsoft)
24:20 Why none of Chris's mentors are CIOs: the role and its transformation.
26:27 The key difference between a CIO and a CTO.
29:05 Chris's Progressive Goal: "How can I get all of our employees to never have to worry about whether they can do their job because of where they are or what device they happen to have with them?".
31:59 CIO to CEO? "As CIOs become business partners, and technologies tie the entire business together, it is probably important for the top leader to understand it.".
Part 3: Industry Disruption & Transformation
36:34 How data is changing the manufacturing industry.
39:05 Manufacturers are beginning to use customer data as a feedback mechanism. (Tesla)
43:44 Keys to transforming. 1) Having an environment to try and 2) Creating an innovation department. (Google Glass. Azure.)
48:33 What will impact the future of work? Technology and the gig economy. (Oculus Rift)
52:47 AI will change roles within organizations.
Part 5: Wrapping up
55:02 "You have all the technology at home and you're waiting for work to catch up."
56:09 Follow Chris and Plex on social media.
Additional Information
Contact Chris Pesola:
Contact Plex:
Contact Gregg Garrett:
Contact CGS Advisors:
Subscribe