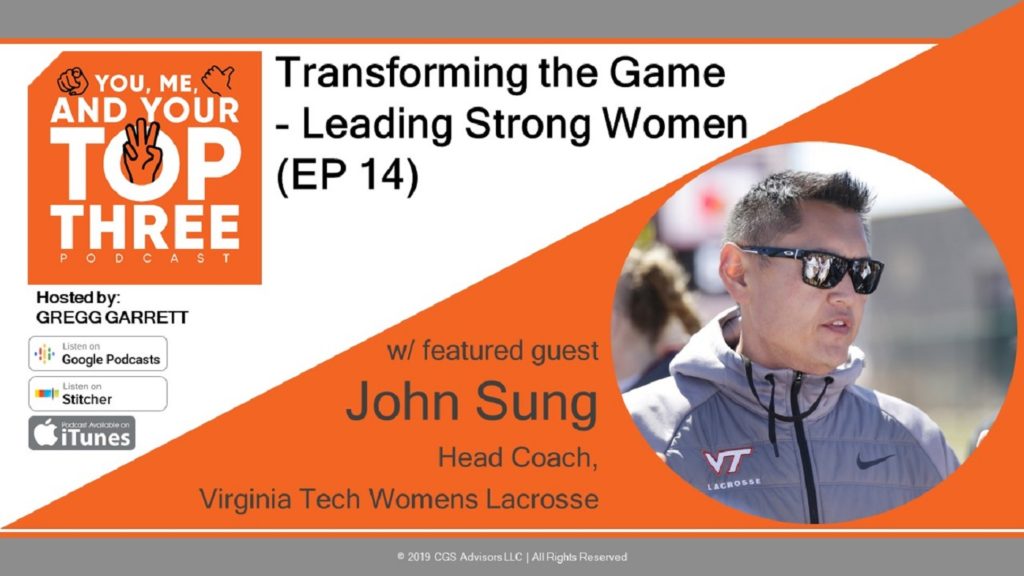 During this episode, we welcome a specialist in leading high-performance women to the top of their game. John Sung, Head Women's Lacrosse Coach at Virginia Tech, is a minority in both ethnicity and gender for his industry and is considered one of the top 25 collegiate lacrosse coaches in the world. John shares with our listeners his secrets of how to motivate Gen-Zers and explains that understanding purpose is critical in tapping the talent in his up and coming leadership class. He sheds light on the differences between building an organization from scratch and working to transform a storied one and highlights how three types of leaders supported him on his non-linear path to success. If you have a daughter, you can't miss the advice he shares with you for them – both for athletics and beyond.
About John Sung
In just three seasons in Blacksburg, John Sung has guided the Virginia Tech lacrosse program to new heights, including its first appearance in the NCAA tournament in 2018 as the Hokies advanced into the Second Round.

Sung's Hokies have reset records for wins in a season, ACC wins, goals against average, point scored and goals scored in a single season and Sung, a former goalie, helped Meagh Graham set the program record for lowest goals against average in a season at 9.64 during the 2017 campaign.

In his first season in Blacksburg, Sung engineered the best turnaround in program history winning six more games than the previous season. In 2017, the Hokies won 11 games, equaling the tally of the 1999 squad and reaching double figure wins for the first time since 2012. The team set program records in several categories including ACC wins in a season, goals scored, and points scored.

Hired on May 27, 2016, Sung joined Virginia Tech after building the Winthrop University program from scratch beginning in May of 2011. He oversaw the program's rapid ascent as a regional powerhouse after beginning competition in 2013. In the program's third season, Sung led Winthrop to a 17-4 record, as the Eagles qualified for the NCAA Tournament after winning both the Big South regular-season and tournament titles. In 2016, Winthrop went 20-3, winning the Big South Tournament championship and advancing to another NCAA Tournament. The 2016 season marked the team's second consecutive Big South regular-season and tournament titles.

In 2018, a record four Hokies were named to the first team All-ACC, and in 2019 Paige Petty repeated the feat becoming the first Virginia Tech player to do so twice.

The 2015 and 2016 Big South Coach of the Year, Sung formerly was the chair of the NCAA Division I Lacrosse Committee and also serves on the U.S. Lacrosse Convention Education Committee. His 2015 squad set Big South single-season records for points, goals (314), free-position goals (67), shots (633), shots on goal (459), ground balls (384), draw controls (312), and caused turnovers (213). In 2016, Winthrop scored 301 goals, including 58 free-position goals. The Eagles set Big South single-season marks for shots (662), ground balls (434), and caused turnovers (266).

In addition to compiling a 54-26 overall record at Winthrop, Sung led the Haudenosaunee Nation to the quarterfinals of the 2013 Federation of International Lacrosse World Cup held in Canada. The team finished in seventh place out of a total of 19 teams. He also coached the team in the 2009 Federation of International Lacrosse in the Czech Republic.

Sung's ascent as an NCAA coach began at Division III Adrian College in Michigan, where he started the program from the ground up and compiled a 46-19 overall record. His 2011 squad started the season 1-4 before registering 15 consecutive victories to earn a berth in the NCAA Division III Tournament. After posting a 6-7 overall record in its first season in 2008, the program went 10-4 in 2009, 14-3 in 2010 and 16-5 in 2011.

Before beginning the program at Adrian College, Sung spent five years as the assistant women's club lacrosse coach at the University of Michigan, setting the groundwork for that program to eventually become a varsity sport in the Big Ten. The Wolverines accumulated a 93-22 record during this tenure.

A longtime trainer of goalies, Sung has held various coaching positions with Birmingham Seaholm High School and the Detroit Lacrosse Club. He has been the assistant director of the Great Lakes Women's Lacrosse Camp since 1997. In addition to his work at various levels in the lacrosse community, Sung has a wealth of sales and management experience in the private sector.

Sung was the starting goalkeeper of the Oakland University lacrosse team in 1997 and 1998 and was also a two-year captain. He was also member of two International Cup U16 championship teams in 1993 and 1994. He completed his degree in Bachelor of Arts degree in communications from Oakland in 2007.

Sung, who resides in Blacksburg with his wife Tina, has three stepsons; Darek, Devin and Zachary, and a daughter, Abby.
Show Highlights
Segment 1: Introduction & Building a Program
1:52 John's background: From high school to the ACC. (Oakland University. Adrian College. Winthrop University. Virginia Tech.)
2:56 Transforming to a Top 25 program.
4:24 John's calling card: A startup and transformation specialist.
Segment 2: Brave Leadership & the "Top Three"
7:12 Three types of leaders supported John's success.
8:12 John's "Top Three": Jon Gordon – Staying grounded and creating a sustainable organization. (Book: Energy Bus.
9:44 John's "Top Three": His wife – Looking at the broader arena.
11:05 John's "Top Three": Fellow coaches & administrators (Mike Brizendine. Amy Bokker) – Using history to become a remodel expert and striving for success.
17:35 Being a minority in your position: Learning from other's and not just doing it your own way.
19:05 Hint for leaders: Communicate purpose.
Part 3: Transformation
21:32 Advancing the program and continuing our growth – "change is the most important thing".
24:27 Managing the day to day while keeping a focus on development and growth of a successful program. (Whit Babcock. Chris Helms.)
28:11 "Sacrificing culture or making decisions based on the now is probably not the best way to operate."
30:22 To transform, you must first dig a deep foundation (John Zachman)
Part 4: Industry Disruption
35:20 College athletics is in a resource war.
39:06 Technology and data are changing the game. "Information is the key. What you do with it is what will make you different."
43:51 Balancing investing in 'stuff' versus investing in people.
46:56 Success is based on the people we bring in and the connections they make.
52:48 The future role of gender in lacrosse. (Devon Wills. Long Island Lizards.)
54:51 Advice to players and parents: "Trust the process" and "Don't be afraid to make the mistakes".
Part 5: Wrapping up
58:20 Follow John and Virginia Tech Hokies Lacrosse on social media.
Additional Information
Contact John Sung:
Contact Virginia Tech Hokies Lacrosse:
Contact Gregg Garrett:
Contact CGS Advisors:
Subscribe