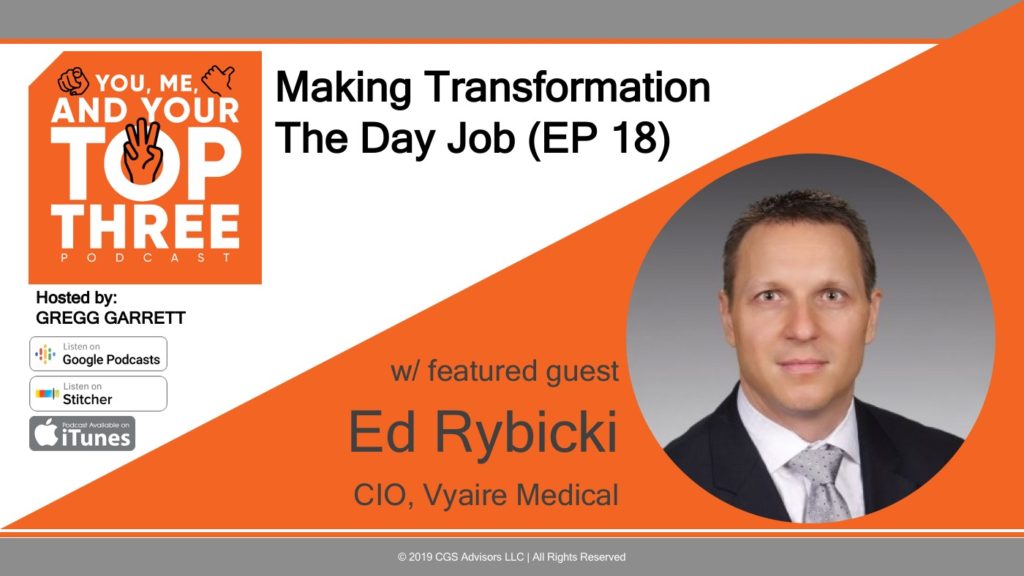 During this episode, we speak with Ed Rybicki, Chief Information Officer at Vyaire Medical. Throughout the discussion, Ed highlights how throughout his journey to his global CIO role he never forgot to keep people at the center of pretty much everything he does – something he learned from his background in organizational behavior. Ed elaborated on how data has become one of the world's most valuable assets and noted how it needs to find its way on to the balance sheets of many companies. He also discussed how he surrounded himself with non-traditional mentors throughout his career – ranging from his colleagues inside the companies he has worked for who helped him build a platform for success to those outside who helped him transform from role to role and that pushed him to be brave.
About Ed Rybicki
Ed is a highly accomplished and forward-thinking Senior Technology Executive with 20+ years of achievement setting and executing technology strategies for private-equity, private, and public global corporations. Ed has a proven record of success as part of executive leadership teams to align top-level business and technology strategies— fostering sustainable revenue growth and delivering top levels of efficiency and internal/external customer service through sustainable innovation. Ed has broad-based expertise in the planning and execution of strategic turnarounds, culture change initiatives, technical project portfolios, systems operations, and diverse service delivery efforts.
Show Highlights
Segment 1: Introduction
2:48 Ed's history: An IT practitioner with a background in organizational behavior. (EDS. Vyaire Medical. University of Michigan.)
6:27 A differentiator for companies: Having the ability to value and incubate people as an asset.
Segment 2: Brave Leadership & the "Top Three"
8:36 Non-traditional mentorship: picking pieces of advice based on need or intersection at a specific time.
10:10 Ed's "Top Three": Gerald "Gerry" Schunder – A guide through the foundation part of Ed's career. (Volkswagen Group of America. Ernst & Young.)
13:15 "If I have a personal connection with someone, I'm just inherently going to be more successful in what I do."
16:14 Ed's "Top Three": George Albert – Giving the outside perspective. (Brightwing. Southwest Airlines.)
20:18 Ed's "Top Three": Carol Moher – A friendship and emotional support that transcends reporting structure.
25:32 Ed's "Top Three": Gregg Garrett – Challenge with new thought and innovation of thoughts.
29:55 "You don't have to have high commonality in everything to actually have great colleagues….there is huge power in diversity of thought."
32:15 Ed's "Top Three": Dave Eckley – Shared approach and value on how to work with teams.
Part 3: Industry Disruption & Transformation
36:12 Common thread of disruption: Data and information – how to capture, use, and monetize it. (Radio Shack Data.)
42:05 Pros and cons: working in a company's "home country" vs working as part of a global network.
48:03 "I'm working for my team and my job is to enable them to be the best they can be." (Servant Leadership.)
53:20 Building a team: enabling people to take ownership and reacting appropriately when things fail.
Part 5: Wrapping up
56:33 Keep in touch with Ed via LinkedIn.
56:53 Follow Vyaire Medical as they enter an exciting time of transformation as a global leader in respiratory, diagnostic care. (Website. LinkedIn.)
Additional Information
Contact Ed Rybicki:
Contact Gregg Garrett:
Contact CGS Advisors:
Subscribe: