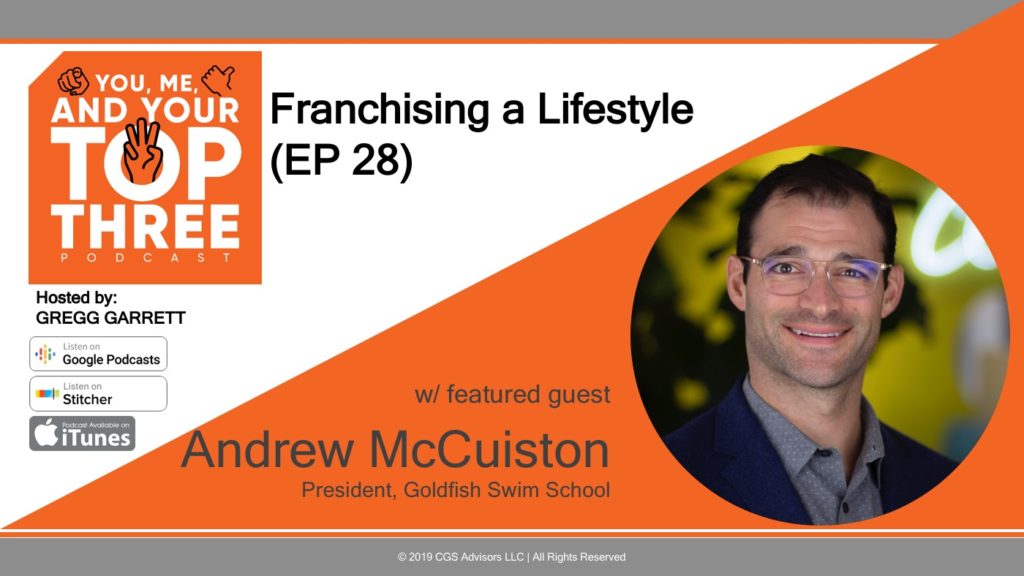 During this episode, You Me and Your Top Three host, Gregg Garrett, speaks with Andrew McCuiston, President of Goldfish Swim School Franchising, LLC – one of the country's fastest growing franchise brands. Andrew discusses how franchising allows brands to scale through partnerships with like-minded business owners and shares why he and his business partners believe that their company is an Amazon-proof business. Andrew discusses the unique leadership culture he and his business partners have developed and how it is likely due to the fact that all three of them are Division 1 NCAA athletes and captains of their respective teams. Andrew speaks about his top three including his brother, his former boss, spiritual and business service leaders, and advisory board members. Finally, Andrew shares advice about envisioning a lifestyle, building it for yourself, and scaling it for others to live along with you.
About Andrew McCuiston
Since 2008, Andrew McCuiston has served as the President and Integrator for Goldfish Swim School Franchising, LLC. Opening the first franchise location in 2009, the Goldfish system has grown to over 90 locations across the US and Canada with more than120 schools in development. System-wide, there are over 4,500 staff and 135,000 students in the water week after week.
As the Integrator, Andrew manages the leadership team who provide comprehensive services and support to the franchisees in areas of development, construction, finance, operational support, technology, curriculum development and marketing. He is also responsible for the business plan for current development and future growth and spend a significant amount of time building relationships with franchisees.
Andrew and his family live in Birmingham, Michigan and he spends his free time with his children, enjoying food, skiing and traveling.
Show Highlights
Segment 1: Overview
1:20 The battle at the top.
4:22 Goldfish Swim School: 100 locations, 51 staff that train, coach, and support franchisees, and 130,000 students enrolled across 26 states in two countries.
5:59 Andrew's path to Goldfish (Niagara Bottling, LLC. University of Denver.)
Segment 2: The "Top Three"
12:45 Andrew's "Top Three": Chris McCuiston – Athletics. Character. Morals. Values.
XXX ROBERT WOLF
16:13 "Surround yourself with people who will give you free advice." (Albion College. Bill Payne – Amway.)
18:30 Andrew's "Top Three": Ashley Dorna – Operational excellence. Structuring a leadership team.
21:03 "Live your values to live the life you want."
25:06 Andrew's "Top Three": Clint Dupin – Speaks life into Andrew. The importance of reciprocal relationships. (Kensington Church. Eastown Church.)
28:30 Andrew's "Top Three": Mark Burzych – Examining every angle when looking at something.
31:51 Andrew's "Top Three": Gino Wickman – Business Coach. Talk about the uncomfortable. (EOS Process.)
35:26 How athletics drives leadership: Discipline. Perspective. Compassion.
Segment 3: Industry Disruption & Transformation
38:18 "We're in the business to teach water safety to children and teach them how to be safer in and around the water."
41:26 The Industry is growing.
42:59 "There are certainly ways to use technology in the future to edge ourselves in front of competition."
44:14 Franchising – the decision and the process.
49:26 The skill of partnering.
52:25 Goldfish Swim School: Leading the swim school category.
54:28 "Everything comes from the parent influence on children."
57:26 The Amazon-proof business.
Segment 4: Wrapping Up
1:00:51 Advice for leaders: Read Patrick Lencioni's The Five Dysfunctions of a Team.
1:01:50 Contact Goldfish Swim School and Andrew. (Franchise Details. Website.)
Additional Information
Contact Andrew McCuiston:
Andrew's LinkedIn
Andrew's Email: andrew@goldfishfranchise.com
Contact Goldfish Swim School Franchising:
Contact Gregg Garrett:
Contact CGS Advisors:
Subscribe: