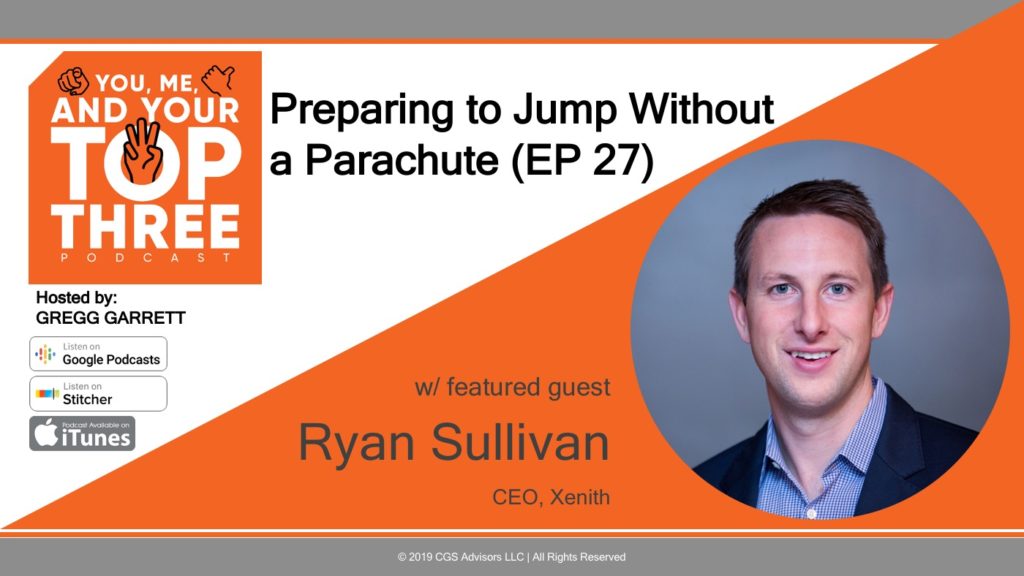 During this episode, You Me and Your Top Three host, Gregg Garrett, speaks with Ryan Sullivan, CEO of Xenith – an athlete-centric lifestyle brand that is an emerging challenger in the very competitive football market. Ryan speaks about how it is no longer good enough for CEOs to be incredible operators, but how they must now be transformation specialists. Ryan also opens up about what it's like to hold the CEO position and the challenges of being at the top. Ryan shares his top three including his wife who is his foundational rock, journey-mates on the CEO path, and time-tested industry professionals. And, of course, Ryan shares advice for leaders and, specifically, how some of the best journeys start with being forced to 'jump without a parachute'.
About Ryan Sullivan
Ryan Sullivan has led the Xenith team as CEO since 2016. Every day, Ryan instills in himself and his team members three foundational qualities – passion, purpose and pride. These qualities drive Ryan and Xenith to pursue the mission of designing for the athlete. Ryan challenges his team of forward-thinkers to continuously create and innovate the best protective gear in sport. Ryan has grown the team to twice its size while leading Xenith's major milestones including the company's rebrand and its biggest selling season yet in 2019.
Prior to joining Xenith, Ryan was VP of Business Development with Detroit-based Rock Ventures. In this role, Ryan was focused primarily on the evaluation, execution and financing of gaming and real estate activities within Dan Gilbert's portfolio of companies. Ryan started his career on Wall Street as a financial analyst with Bank of America and an associate with private equity firm Vestar Capital Partners.
A third generation Spartan, Ryan graduated with high honor from the Eli Broad College of Business and Honors College at Michigan State University, where he received his BA in Finance. He is a proud resident of the City of Detroit, where he lives with his wife, daughter, and three sons.
Show Highlights
Segment 1: Overview
1:06 The journey to being brave and intentionally building relationships.
5:20 Ryan's Story: "Jumped out of the airplane without a parachute – so to speak." (Michigan State University.)
8:18 Becoming the CEO of Xenith – a leading designer, manufacturer and athletic brand. (Dan Gilbert. Rock Ventures.)
9:11 Ryan's Personal Passions: Family. Athletics. Running.
Segment 2: The "Top Three"
10:47 Ryan's "Top Three": His wife – His foundational rock who motivates and inspires him.
14:30 Ryan's "Top Three": Mike Vichich – An advisor and collaborator who is walking a similar path. (Wisely.)
17:30 Where it all started: Student Consulting for Non-Profit Organizations. (SCNO)
20:40 Ryan's "Top Three": Matt Cullen – True mentorship and a 'never quit' attitude. (Bedrock. JACK Entertainment. General Motors.)
25:03 Patterns of relationships: Intentionality and pre-investment.
26:45 The difference between networking and building relationships.
30:54 A lesson for leaders: Going through the tough times really brings groups of people together.
33:16 Ryan's "Top Three": Roger Holstein – Being challenged to drive success. (WebMD. Vestar Capital Partners.)
Segment 3: Industry Disruption & Transformation
37:42 Xenith: "Designing outstanding products for the football athlete from head to ankle."
39:54 How flag football and 7 on 7 are disrupting the football industry.
43:07 Esport's impact on the physical game.
45:45 How to manage change and growth concurrently – ensure everyone knows the key goals, those things that are important, and roles and responsibilities to accomplish goals. (OKR Framework.)
48:55 Xenith: A Challenger Brand.
50:13 The CEO role – all about Transformation.
52:22 The challenges of being the CEO – Until you are there, it is hard to really understand the sense of responsibility.
Segment 4: Wrapping Up
56:12 Advice to leaders: "Honor your relationships, invest in them."
57:22 Advice to leaders: "Nothing in life is wasted."
58:46 Connect with Ryan and Xenith!
Additional Information
Contact Ryan Sullivan:
Contact Xenith:
Contact Gregg Garrett:
Contact CGS Advisors:
Subscribe