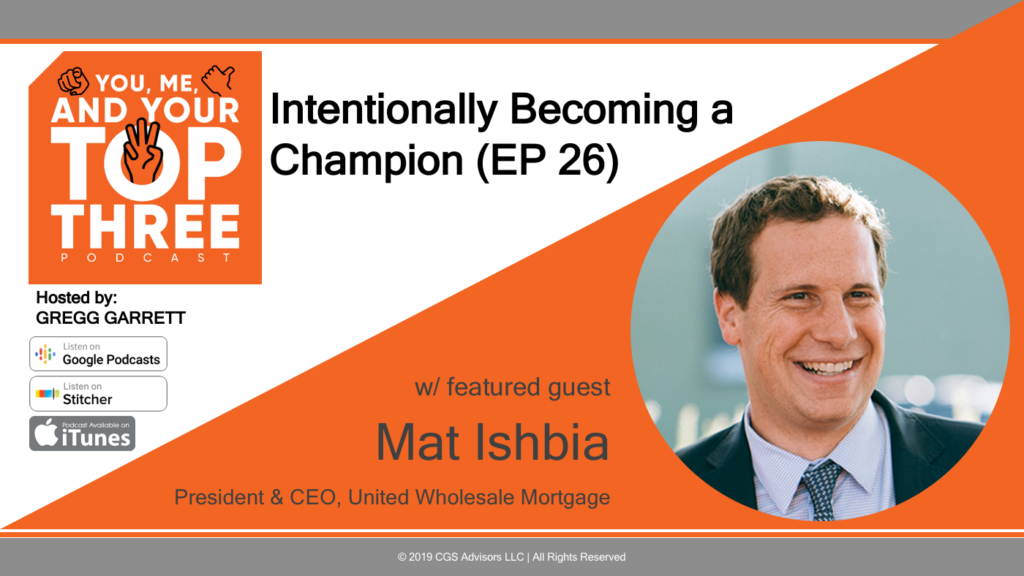 During this episode, You Me and Your Top Three host, Gregg Garrett, speaks with Mat Ishbia, CEO of United Wholesale Mortgage and United Shore – industry leading mortgage companies. Mat talks about growing the firm from a mere twelve people to north of 4,400 employees and shares the lessons that he learned along the way. Mat reflects on how he doesn't use technology to replace humans but to make them better and enable them to excel at customer service. Mat shares his top three including his father, his collegiate basketball coach and one of the top coaches in the world, Tom Izzo, and his colleagues who push him every day to be better. And, of course, Mat shares advice with leaders on how to be intentional in order to be a champion.
About Mat Ishbia
Mat Ishbia is the President and CEO of United Shore, home to United Wholesale Mortgage (UWM) – the No. 1 wholesale mortgage lender in the nation. Under Ishbia's leadership, UWM has soared to new heights, becoming one of the most innovative lenders in the industry. Mat has taken UWM from a two-man broker shop to a 4,400+ person team. His management style and dedication to a team-focused business approach stem from his time playing and coaching with Tom Izzo on MSU's men's basketball team. Mat's leadership has enabled UWM to gain market share and rapidly grow into an industry-leading operation.
Ishbia is known as the most prominent advocate for mortgage brokers nationwide while promoting the wholesale channel on national platforms such as CNBC, Fox Business and Bloomberg TV. He has been named one of the "Most Influential Mortgage Professionals Under 40" and one of the "25 Most Connected Mortgage Professionals" by National Mortgage Professional magazine. Additional accolades include being named a "Rising Star" and Vanguard Award winner by HousingWire.
Rapid growth at UWM, both in team members and production, has helped them earn recognition as an Inc. 5000 Fastest-Growing Company for the past three years and one of the largest privately owned mortgage lenders in America.
Show Highlights
Segment 1: Overview
1:02 Transforming Motor City into Mortgage City.
6:11 Mat's Journey: "Success breeds success "– From a collegiate basketball National Championship to building a championship team and industry-leading business.
Segment 2: The "Top Three"
9:09 Mat's "Top Three": Father (Jeff Ishbia), Mother, and Brother – Support. Competition. Reputation. "Do right by others and expect no return."
13:59 Mat's "Top Three": Michigan State University Men's Basketball Coach, Tom Izzo – Be a champion. Grind all day.
15:08 Mat's "Top Three": Basketball Teammates (including Mateen Cleaves) – Leadership by example.
16:38 Learnings from Tom Izzo: Everything counts. You must be intentional, focused, and detailed. If you take a play off, you will lose.
18:32 Mat's "Top Three": UWM/United Shore Team Members (including Melinda Wilner, Alex Elezaj, Sarah DeCiantis, Laura Lawson, Kristina Bennett, and Sabrina Saracino) – Continuously challenging the status quo.
22:02 Staying engaged with mentors is important and valuable.
Segment 3: Industry Disruption & Transformation
24:02 Always focus on the client experience and make it easier, faster, and cheaper.
26:46 The counter-cultural AI movement – focus on the human.
29:00 How did United Wholesale Mortgage and United Shore become #1 in wholesale mortgage and #2 in all mortgages? "We focused on disrupting it [the industry] through what really matters."
30:19 "We've gotta be great every day." Using data to measure and improve.
31:53 "If you want to be something big – define who you are and where you want to go."
34:57 Mat's learning from basketball: No matter if its sports, school, or business –When you make a mistake, you get back up, make changes, and you go right back at it again.
37:06 Advice to leaders: "If you aren't positive, you aren't going to win."
39:04 Mat's favorite saying: "The team with the best players wins as long as they have the right vision and leadership."
Segment 4: Wrapping Up
41:03 Preorder Mat's book, Running the Corporate Offense.
42:10 Additional advice for leaders: "We all get 24 hours – you have to prioritize what matters. You can't be great at everything. You have to decide."
44:12 Follow Mat, United Wholesale Mortgage, and United Shore on social media!
Additional Information
Contact Mat Ishbia:
Contact United Wholesale Mortgage and United Shore:
Contact Gregg Garrett:
Contact CGS Advisors:
Subscribe: