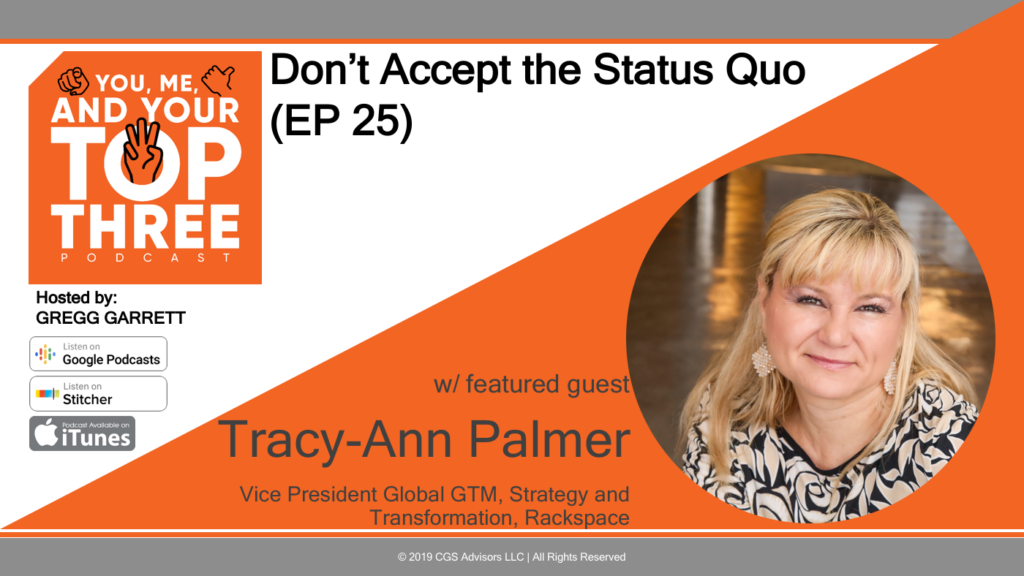 During this episode, You Me and Your Top Three host, Gregg Garrett, speaks with Tracy-Ann Palmer, Vice President Global GTM, Strategy and Transformation at Rackspace and global technology executive who hails from South Africa. Tracy-Ann has worked with iconic tech brands that are known around the world. She is a humble leader who appreciates being pushed and encouraged to reach far beyond where she thinks she can reach. Tracy-Ann used her passion to found Midwest Technology Leaders and the non-profit We Build Character. Of course, Tracy-Ann talks about the importance of mentoring stemming from her "Top Three," ranging from a caravan leader in Africa, to CEOs of tech companies, to the top tech executives in the federal government – all of whom helped her to never accept the status quo.
About Tracy-Ann Palmer
Tracy-Ann Palmer has over 25 years of experience in high-growth, global, technology driven businesses. She has been consistently recognized for her strong leadership and ability to help accelerate growth for companies.
Tracy-Ann is currently Vice President Global GTM, Strategy and Transformation at Rackspace. Rackspace is a leading provider of expertise and managed services across all major public and private cloud technologies.
Prior to joining Rackspace, Tracy-Ann held a variety of leadership roles in sales, channel and business operations at Cisco, Salesforce and in the start-up world including founding her own experiential marketing company that received numerous business awards.
Since 2005 she has been a very active contributor to the community through numerous philanthropic efforts including serving on a variety of boards. She has a strong passion for developing leaders and founded a non-profit "We Build Character" focused on building future leaders through executive mentoring programs. In 2004, Tracy-Ann founded Midwest Technology Leaders, an annual executive IT event bringing together top IT leaders together focused on collaboration, innovation and excellence.
Show Highlights
Segment 1: Overview
2:03 Tracy-Ann Palmer – a global tech executive whose worked with iconic brands. (Cisco. Salesforce. Rackspace.)
3:17 A journey across continents and across industries.
Segment 2: The "Top Three"
5:18 Tracy-Ann's "Top Three": Her Father – Work ethic. Discipline. Warrior.
6:16 Tracy-Ann's "Top Three": Mark Moritz – Believed in Tracy-Ann more than she believed in herself.
8:31 Tracy-Ann's "Top Three": Jane Sydlowski – Creative. Absolutely resilient. (Michigan Council of Women in Technology. AMI Strategies.)
11:16 The history of Midwest Technology Leaders (MTL).
14:08 Tracy-Ann's "Top Three": Teri Takai – Be deliberate about your career. Direct. Honest. Pragmatic.
15:22 "Surround yourself with people who aren't necessarily like you."
16:12 Honest and directness are key. "Are you open to coaching today" – David Behen.
19:46 Tracy-Ann's "Top Three": Phil Bertolini – Incorporating the business into IT. Career coaching.
Segment 3: Industry Disruption & Transformation
22:18 We Build Character – providing structured, community-based leadership mentor programs to high-potential professionals.
25:29 The "absolutely invaluable" role of reverse mentorship.
28:10 "I cannot tell you what an impact this has had in my life" – a We Build Character Mentee.
34:01 Rackspace – a managed cloud computing company focused on mid-market organizations. (AWS. VMWare. Microsoft. SB.)
36:33 The fascinating facts about a cloud model: 1. There is always a lot of disruption. 2. The business model is very different.
39:05 In response to transformation – "I believe in looking externally for your answers – not in your industry."
40:19 Disruption: "We're the problem, or the opportunity – It's all about consumerization."
43:56 Learnings from transformation of the past – "As a transformation leader, you're at risk." (Billhighway.)
Segment 4: Wrapping Up
49:36 Advice to leaders – "Don't accept the status quo."
51:15 Advice to leaders – "Break our own patterns."
52:04 Rackspace is transforming – watch the news!
52:38 Connect with Tracy-Ann, Rackspace, and We Build Character.
Additional Information
Contact Tracy-Ann Palmer:
Contact Rackspace and We Build Character:
Contact Gregg Garrett:
Contact CGS Advisors: