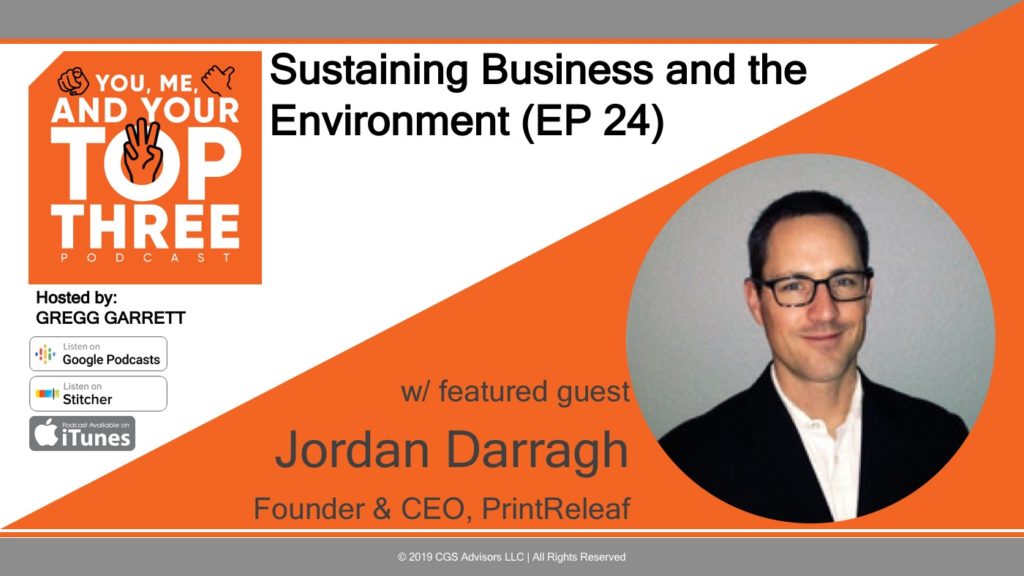 During this episode, You Me and Your Top Three host, Gregg Garrett, speaks with Jordan Darragh, an expert in sustainability who is the founder and CEO of PrintReleaf, Inc.  Jordan discusses his deep understanding of the print services industry's effect on the environment and how he used it to find his passion in founding a successful business. He also shares how sustainability of the environment can relate to sustainability of your business. Of course, Jordan talks about the importance of the mentorship stemming from his "Top Three," ranging from a power lifting champion to a shoeless colleague.
About Jordan Darragh
Jordan is the founder and CEO of PrintReleaf, Inc. At PrintReleaf, Jordan and his founding team have worked closely with industry experts in print and forestry to develop standards for measuring, offsetting, and verifying the successful reforestation of paper consumption. They have developed a standard, methodology, and technology platform that makes it simple for customers to certifiably reforest their paper consumption.
He is a successful multi-time entrepreneur. Prior to PrintReleaf, Jordan founded EverWorx which is one of the fastest growing 'Managed Print Services' companies in the industry. Prior to his entrepreneurial endevours, Jordan kicked off his professional career as a sales executive at LaserCycleUSA.
Jordan lives in Boulder, Colorado with his wife and two sons.
Show Highlights
Segment 1: Overview
1:08 Disruption and brave leadership in the Connecting World = transformation. Environment and sustainability are different reasons for transformations.
3:20 Jordan Darragh: An expert in sustainability for businesses and the environment. PrintReleaf is at the epicenter of technology, print services industry, and environment. He bridges value chain of printing – from forestry to use and reforests the amount of paper being used.
Segment 2: Mentors Pushing Potential & the "Top Three"
5:14 Jordan grew up in metro Detroit, moved to Boulder, and got involved in the print industry.
7:22 Jordan's "Top Three": Don't pick a job. Pick a boss. Sales opportunity as first job (Scott Zwaanstra at LaserCycleUSA).
13:34 "Your quota is your potential." There was more to give and to achieve.
16:54 Jordan's "Top Three": Dad (Kent Darragh) and Father-in-Law (David Carney) – different paths to success in business serve as mentors
20:58 Trying to find passion outside of school – eventually found it in building and leading in business
22:06 Building a company from scratch – importance of mentorship to an entrepreneur
24:34 Dream big
25:10 Jordan's "Top Three": Current right hand guy Casey O'Hara – fresh perspective on business and life for decision making
30:01 Give people a chance
30:38 Importance of foundation/support system/community for entrepreneur and company to be successful
Segment 3: Opportunities generated from print industry
32:24 Two companies born from the print industry – EverWorks (Xerox reseller) and PrintReleaf (software measuring paper consumption equates to forest impact and makes actionable via planting trees on equivalent basis)
33:58 Working at both ends of the print ecosystem
34:40 Measuring success in trees
35:27 What drives the business?
Segment 4: Disruptions to print industry and phases of development
38:32 Digitization movement – blessing or a curse?
41:46 Starting PrintReleaf – spent time in energy industry along the way, leading to interest in carbon credits and saw a void to be filled
45:10 Socialization phase – Discussed APIs with Kimbal Musk
46:54 PrintReleaf is first reforestation API
48:15 Bravery and loneliness while creating reforestation industry standards
Segment 5: Wrapping Up
51:23 Advice to leaders – be humble and confident
53:06 One thing people can do to be a brave leader – take the first step and talk about it
54:35 How to connect with Jordan and PrintReleaf
Additional Information
Contact Jordan Darrah:
Contact PrintReleaf:
Contact Gregg Garrett:
Contact CGS Advisors:
Subscribe: