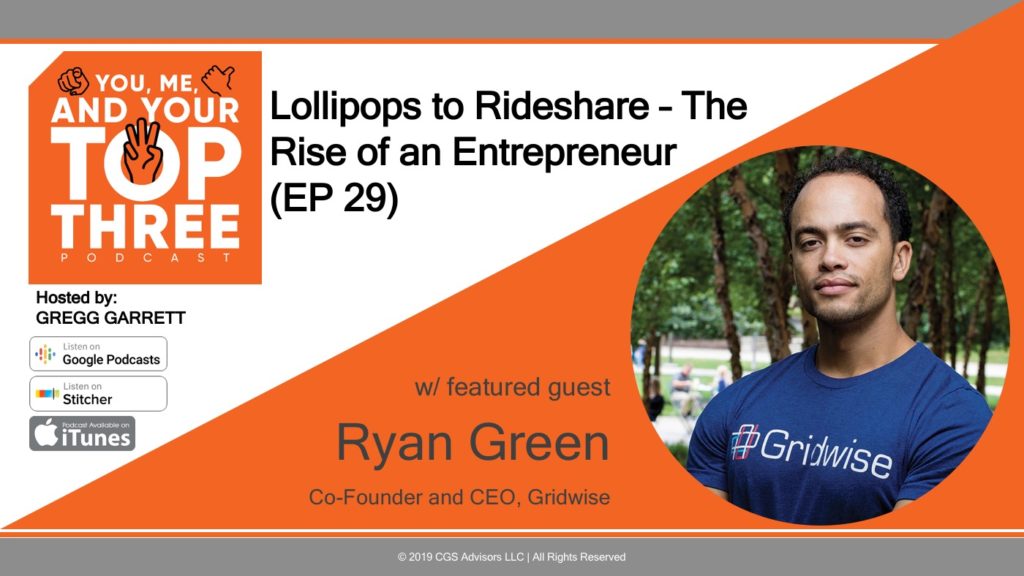 During this episode, You Me and Your Top Three host, Gregg Garrett, speaks with Ryan Green, Co-Founder and CEO of Gridwise – The #1 companion app for rideshare drivers. Ryan shares his history as a Naval Officer turned entrepreneurial CEO who is actively shaping the ride-share market in the US. He discusses how fragmented the mobility market is and how companies that fill the white space and provide integration will be the long-term winners. Ryan speaks to the importance of keeping the ends in mind and how being focused on realistic means is key to driving out a two-sided business model. Of course, Ryan speaks about his top three including his first entrepreneurial business partner, his tech-minded business partner of today, and a formal investor and advisor who reminds him to always "keep his saw sharp". Finally, Ryan shares his thoughts about the difference between management and leadership and shares advice with leaders about how to surround yourself with positive energy to maintain the bravery to innovate and disrupt.
About Ryan Green
Ryan started his first company while attending the Naval Academy, providing online financial education & coaching services in the realm of Foreign Exchange Trading. He grew the team to 7 members and partnered with one of the largest FX currency brokerages in the US. After serving as an active-duty Naval Officer, he transitioned into working on an FX trading desk at PNC, where he worked with clients to execute multi-million dollar currency trades. He later left PNC to start Gridwise. As the CEO of Gridwise, Ryan plays a pivotal role as the visionary for the company focusing the majority of his efforts on platform strategy & execution, customer acquisition strategy & execution, business development, sales, fundraising, and hiring.
Show Highlights
Segment 1: Overview
1:22 Capitalizing on the edges of the mobility industry. (Uber. Lyft.)
4:16 About Ryan Green – Co-Founder and CEO of Gridwise – The #1 companion app for rideshare drivers.
6:11 The non-traditional route: From middle school Entrepreneurship to the Naval Academy and Collegiate Football to the Mobility space. (United States Naval Academy.)
8:46 About Gridwise – solving the inaccessibility and fragmentation of data problems for mobility providers.
11:50 Entrepreneurship from a young age.
Segment 2: The "Top Three"
13:22 Ryan's "Top Three": Ty Nielson – The highs and lows of life. (CircusTrix.)
17:34 Ryan's "Top Three": Brian Finamore – Key part to the success of Gridwise. (Cornell University. Carnegie Melon University.)
24:43 "The strongest relationships are built when people who go through adverse challenges and overcome together." (Techstars.)
26:50 Ryan's "Top Three": Ted Serbinski – The support system for the company. (Techstars Detroit.)
29:38 Accelerator Classes – building and maintaining strong relationships.
31:48 "If you're going to cut down a forest of trees, you can't do that unless you sharpen the saw." – Ted Serbinski
35:32 The importance of the family support system.
Segment 3: Industry Disruption & Transformation
37:13 The experience of being in the midst of disruption.
39:10 Trends: On-demand modes of transportation. The fragmentation of services in the industry.
42:51 Building a two-sided business model and creating a smarter mobility grid.
47:09 Gridwise's Growth: 4 to 32 cities in one year. 90,000 ride share drivers on the platform. Growing 20% month over month.
49:30 Keeping the faith through the ups and downs of building a company.
52:30 Hints for entrepreneurs: "You have to just figure out what those core tasks/projects/initiatives are that you can keep moving while, in parallel, fundraising."
54:44 What's going on with autonomy? "We will see quite the hybrid market until 2030 – 2035."
Segment 4: Wrapping Up
57:45 "Leadership comes down to your ability to empower people to achieve their full potential."
1:01:26 The importance of team on the leadership position.
1:03:10 Advice to leaders: "A lot of the successful has come from surrounding yourself with likeminded people who share your ambitions."
1:05:50  Visit Gridwise.io or the app store!
Subscribe