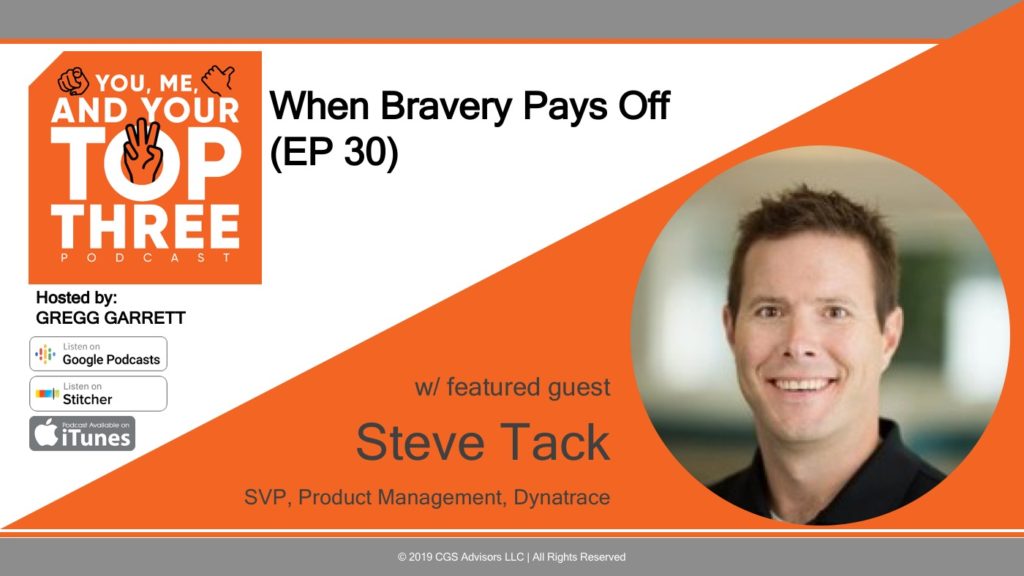 During this episode, You Me and Your Top Three host, Gregg Garrett, speaks with Steve Tack, SVP, Product Management at Dynatrace – a technology giant that is part of the backbone of many of the most well-known brands in this digital world. Steve shares the journey that took the company from a small division of a large technology organization to a spin-out and PE-backed growth firm to a publicly-traded technology firm. Steve also gives hints on how to grow a successful global product team and how to stay ahead of the market by focusing exclusively on hiring ex-founders to lead different product segments. And, of course, Steve speaks about his top three – from his executive peers to his global product group to his former athletic coaches. Finally, you have to hear about how the most critical moment of Steve's success wasn't ringing the bell at the New York Stock Exchange, but a milestone that took place years ago when the executive team decided to bravely cannibalize their own business and innovate the entire product offering.
About Steve Tack
As SVP of Product Management, Steve is responsible for product vision and go-to-market strategy at Dynatrace. Steve has a passion for delivering innovative solutions that help customers digitally transform and, with 20 years of software experience, he uses his market development expertise to bring a relentless customer focus to the company's products. Prior to this role, Steve held management positions in technical sales and engineering. Outside of Dynatrace, Steve is an active volunteer and enjoys time cycling, coaching and spending time with his wife and two kids. Steve has a B.A. in Economics from Kalamazoo College.
Show Highlights
Segment 1: Overview
1:25 Competing the connecting world – The Transformation First Mile.
3:45 Having the bravery to change.
5:43 Steve Tack – From technology in the dot com era to leading product strategy for an enterprise software company. (Dynatrace. Compuware.)
Segment 2: The "Top Three"
8:30 Steve's "Top Three": John Van Siclen – Managing a business while maintaining a customer first mindset.
12:16 Steve's "Top Three": Bernd Greifeneder – Always think about the next step of disruption.
14:17 Steve's "Top Three": The Dynatrace Executive Team – Bravery.
15:08 Steve's "Top Three": Dynatrace Product Leaders – The importance of an entrepreneurial mindset.
18:48 "We don't want people who are going to delegate decisions up."
20:29 Steve's "Top Three": Steve's high school swim coach – You really can't control anything around you, but you can control what you do.
22:50 Steve's "Top Three": Steve's collegiate football coach – "There are people who want the play coming their way, and then there are people who hope it goes in the other direction." (Kalamazoo College.)
28:00 Steve's "Top Three": Steve's wife and his father – The reasons Steve can put his focus on work.
Segment 3: Industry Disruption & Transformation
28:55 Dynatrace – Software Intelligence for the Enterprise Cloud.
32:19 Buzzwords and clichés only matter when you understand how enterprises are adopting technologies and personalizing them to their business.
35:15 "Go out there and find out what the market is going to look like in 2020."
38:25 The steps required after going public – the company inside the company.
44:31 How customers are taking an interest in the Dynatrace reinvention and transformation story.
46:46 Hint for leaders: Establish the vision and have mantras that are clear, tangible, and actionable.
48:14 Hint for leaders: "Putting the candidates into a spot where you really feel like you are working with that person."
51:33 The surreal experience of going public.
Segment 4: Wrapping Up
54:06 How to make speed real: Set the cadence for the business.
56:02 Know when it is your own energy trying to push something forward versus the market.
57:50 Hint for leaders: "You have to invest and think in different time horizons."
59:31 Follow Dynatrace and Steve on LinkedIn.
Additional Information
Contact Steve Tack:
Contact Dynatrace:
Contact Gregg Garrett:
Contact CGS Advisors:
Subscribe: