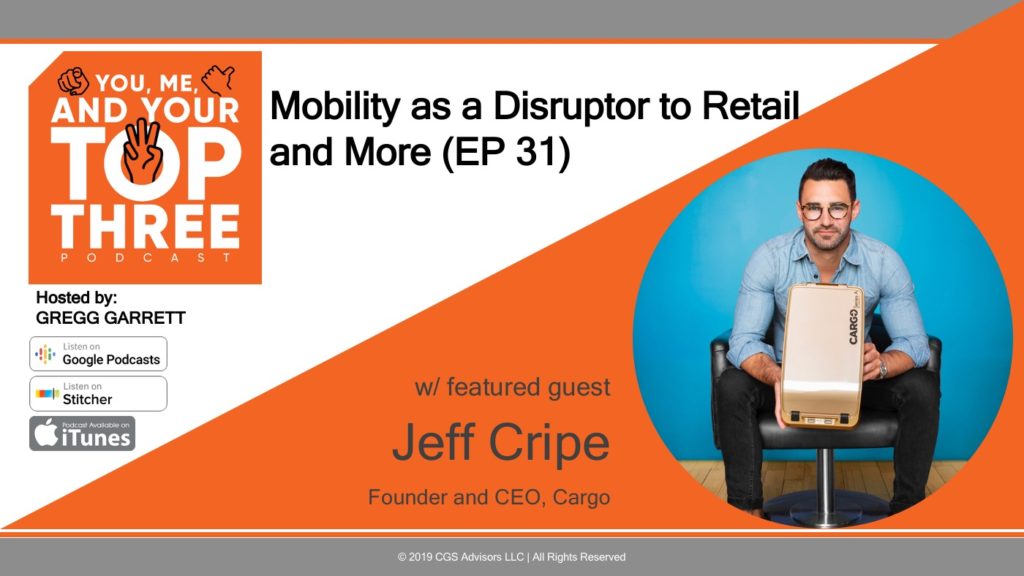 During this episode, You Me and Your Top Three host, Gregg Garrett, speaks with Jeff Cripe, Founder and CEO of Cargo – a fast moving company on a rocketship-style path to success. Jeff is a 30 under 30 award recipient from Forbes and, in just a few years' time, he has founded a company, created a new category, raised over $40 million of capital, and successfully partnered with almost every name brand consumables company worldwide. During the discussion, Jeff shares the secrets of growing a business by recognizing and solving problems for emerging industries before the leaders of those industries even know they exist. Jeff also shares his top three – from seasoned deal makers who helped him learn that the art of deal making may be his super power, to venture psychologists, to day-to-day experts who help guide operations and new segment creation. Finally, you have to hear what Jeff has to say about how leaders need to know how to fill their gaps.
About Jeff Cripe
After graduating from Yale, Jeff became an early team member at Birchbox, then a founding Ecommerce team member at Christie's where he helped build the world's leading online art platform. In 2015, Jeff joined Loehmann's Advisory Board to relaunch the discount fashion icon as an online-only retailer after it was purchased out of bankruptcy by a hedge fund. In 2016, Jeff founded Cargo, the leading provider of in-car services to the rideshare economy. Based in NYC, Cargo is venture-backed by $40MM from leading VCs and strategic partners including Founders Fund, Coatue, Techstars Ventures, and Kellogg's eighteen94 capital. Jeff was selected for Forbes 30 Under 30 and Ad Age 40 Under 40 for his work on Cargo. Outside of work, he is on the Executive Board of Project Art and is an amateur paleontologist credited with the discovery of new species of tyrannosaur.
Show Highlights
Segment 1: Overview
1:28 Balancing fundraising with operating in the startup landscape.
5:04 Jeff Cripe: An expert at deal making. (Yale. Birchbox. Christie's Auction House. Cargo.)
6:24 The rise of Cargo: $40 million in venture capital. (Founders Fund. Detroit Venture Partners. Fontinalis Partners.)
8:20 Cargo: an overall fleet monetization platform for rideshare that helps drive better profitability for rideshare partners. (Uber.)
Segment 2: The "Top Three"
12:11 "Nobody is good at everything. The best sign of a good leader, and the highest indicator of success, is someone who knows what their strengths are. But also knowing what your gaps are."
15:10 Jeff's "Top Three": Emil Michael – Thinking of the business at the 30,000 ft level (executive strategist). (Uber. DiDi. Yandex. Softbank)
18:30 "It's about liking and having alignment with the person on the other side of the table."
22:33 "You've gotta load the board with chess pieces early on because you're going to have to sacrifice some of those pieces."
26:04 "My biggest regret is not trying to start a business sooner."
28:46 Jeff's "Top Three": Dmitry Shevelenko – day-to-day operational counselor.
34:24 Jeff's "Top Three": Greg Arrese – deal psychologist and founder therapist.
35:30 "A no is a no. But it isn't a no forever, it is a no for now."
38:39 You have to ask – what will get an investor to a yes.
46:14 Jeff's "Top Three": Dave Yang – steering the ship. (Facebook. Snapchat. Reddit.)
Segment 3: Industry Disruption & Transformation
51:03 Cargo's businesses – retail and product placement.
52:48 "[Rideshare companies] need to monetize their fleet more effectively."
55:18 The impact of autonomous vehicle on Cargo.
Segment 4: Wrapping Up
58:34 Hints to leaders: "You're always going to have fires burning. As CEO you need to figure out what to put out and what to keep burning." (Master of Scale Podcast.)
1:00:03 Hint to leaders: Hire an executive coach (when you can afford it).
1:01:52 Stay in touch with Jeff Cripe and Cargo!
Additional Information
Contact Jeff Cripe:
Contact Cargo:
Contact Gregg Garrett:
Contact CGS Advisors:
Subscribe: