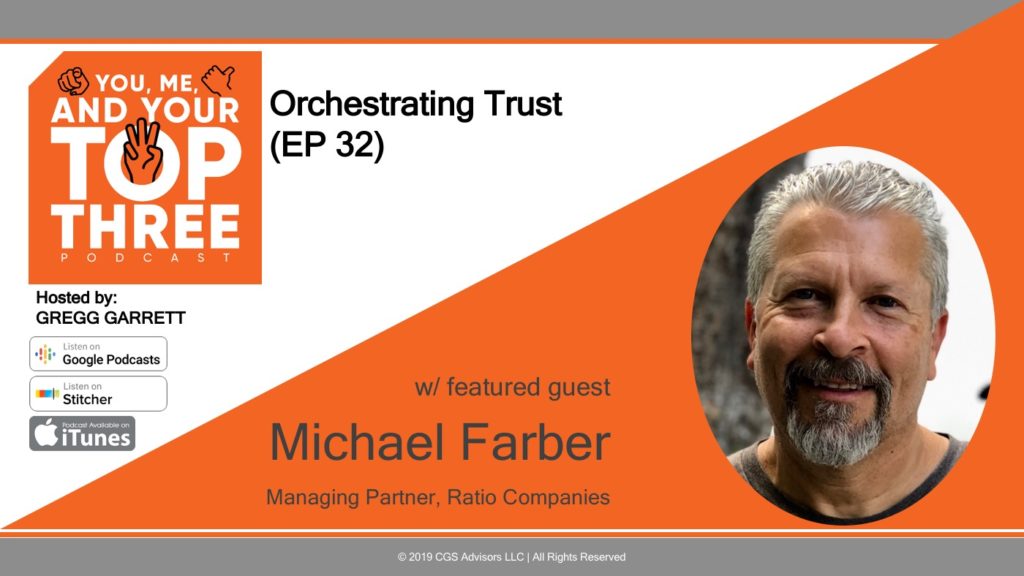 During this episode, You Me and Your Top Three host, Gregg Garrett, speaks with Michael Farber, Managing Partner of Ratio Companies and former EVP, Booz Allen Hamilton. Michael speaks to his 30+ year career in driving large transformation in both federal government agencies as well as market-leading companies and shares how innovators need to not just disrupt to disrupt, but rather define the purpose of being different. Michael explains how making safe spaces and encouraging people to explore and embrace differences is key to being a true leader in today's rapidly changing world and notes how this digital transformation needs to be met at the cross-section of capabilities. And, of course, Michael shares his top three – from the woman who makes him brave, to the teachers that made being different purposeful, to the colleagues who solidify structure innovation, and finally to the client executive who is acting as a window to a thirty year career. You have to hear what Michael has to say about how the key to transformation is really an art of orchestrating trust.
About Michael Farber
Michael is the Managing Partner of Ratio Companies and a former Executive Vice President, Booz Allen Hamilton. He helps clients and business partners invest in and accelerate the identification, creation, adoption, and enablement of advanced, edge, emerging, disruptive and transformational technologies.
As often as he can, Michael looks to leverage technology for positive public change and the societal good.
Michael holds a MPA from Columbia University's School of International and Public Affairs and a BA from the School of Architecture and Planning at the State University of New York at Buffalo. He also continued his education through post-graduate doctoral studies in public policy and administration at New York University.
Michael lives in Laguna Beach with his wife Donna and dog Finn — he and Donna have two children who they followed out to the West Coast. They plan to stay a while…
Show Highlights
Segment 1: Overview
1:24 Where does innovation occur?
4:15 Michael Farber: Assisting the United States' federal agencies to transform. (Booz Allen Hamilton.)
5:49 Michael's Background: From baseball and architecture to public policy and planning consulting. (Columbia University School of International and Public Affairs. Weston Solutions.)
Segment 2: The "Top Three"
9:47 Michael's "Top Three": Michael's wife, Donna – being brave, having the courage to try things, and having a benchmark for the past.
12:01 Michael's "Top Three": Michael's Educators: Mrs. VanOrt, Professor Gary Scott Danford, PhD , and Professor Steve Cohen , PhD – engage, ask questions, and do the research. (University of Buffalo.)
14:03 Michael's "Top Three": Susan Penfield – celebrating the ability to think about things in a different way.
16:36 Encouraging exploration and discovery in parenting – creating the environment safe space to try things and explore.
19:24 The role of innovation at Booz Allen Hamilton – innovation was there, but how do we create the innovation environment?
21:17 Michael's "Top Three": John Bear – transforming leadership and culture in addition to the business and having the courage to take time and be patient. (MISO.)
Segment 3: Industry Disruption & Transformation
25:40 What topic motivates Michael to get up in the morning? "The enormity and complexity of what has to come together for transformation."
28:42 What styles of innovation are working today?
34:39 "You could start with outcomes and objectives, but new capabilities are allowing you or others to see things that you would have never thought to ask for."
35:41 Breaking down artificial boundaries for innovation.
39:09 "Focus more on what you're trying to accomplish or solve or address than prescribing potential solutions or defining the requirements set so narrowly where you're just constraining any innovation at all."
43:43 The government as a major R&D player.
48:10 "The mistake I made several times was to not recognize the need to change workflow / capability / competency / etc, while trying to introduce disruptive technology and having a mismatch with culture."
51:05 Hint to overcoming: 1) insulate a new capability internally, and 2) create it outside of the organization.
52:51 An important part of disruptive change: "How much trust is there within the organization?"
Segment 4: Leadership & Wrapping Up
56:50 "Leadership is vision."
59:07 "The leaders were best evidenced by their followership."
1:00:38 Hint for tomorrow's leader: " [The key] is your network, your trust in other folks. Trust is key; absolutely essential."
1:02:32 Build your net.
1:03:24 Stay in touch with Michael via email: farbermf@ratioim.com
Additional Information
Contact Michael Farber:
Contact Gregg Garrett:
Contact CGS Advisors:
Subscribe: