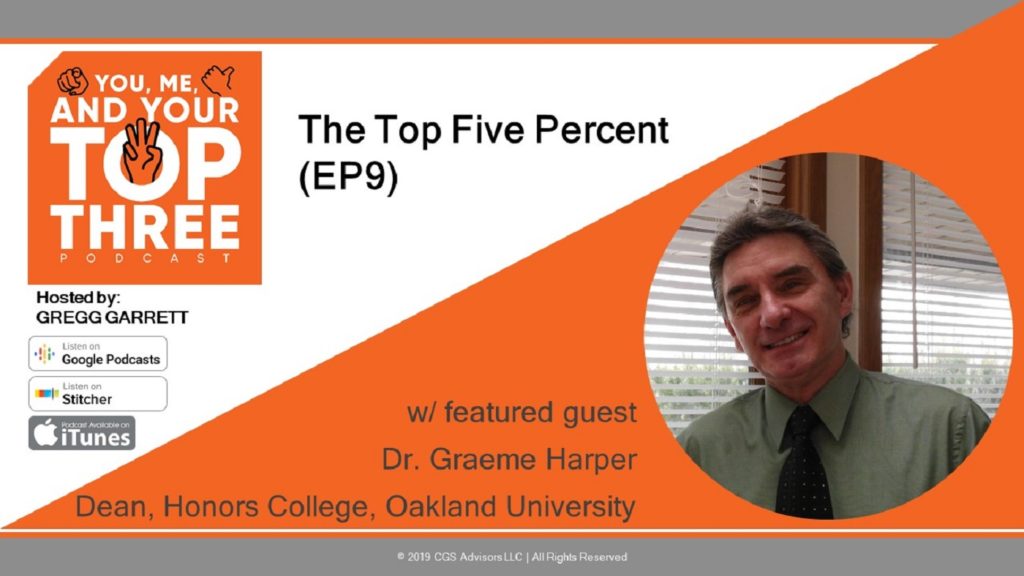 About this Episode
Dr. Graeme Harper reflects on how he transformed from surf bum to globally known PhD. As the dean of one of the world's fastest growing honors colleges, he is an expert in developing leaders. He speaks about how to market, manage, and motivate the world's top talent. From ed-tech to student debt he reflects how high education itself is being disrupted, as well as discussing how industry leaders can motivate the next generation of superstars. Of course, Graeme shares how he draws bravery from his own advisory board, which has some very unique members ranging from alter egos and world renown educators.
About Graeme Harper
Graeme is dean of The Honors College at Oakland University in Michigan. He was previously based at the University of Texas Medical Branch, the University of Montevallo in Alabama and the University of Wales, among other academic institutions. He holds doctorates from the University of East Anglia and the University of Technology, Sydney and a master's degree from the Business School at UNE. He was a member of the Panel of Experts at the European Commission's (DGX) and of the Joint Information Systems Committee's Business Engagement and Research Committees. He regularly assesses project proposals from governmental organizations around the world. He is an accomplished author with dozens of published books. He is currently working on a piece about the nature of clues.
Show Highlights
Segment 1: Intro, Background, and Forming a firm.
1:28 Graeme Harper: His role at Oakland University's Honors College and the "Don't say no" attitude that shaped him.
Segment 2: Disruption in Industry & Needed Capabilities
4:56 Where does Graeme see disruption in higher education?
5:36 What can leaders from varying industries learn from experiences in education leadership? What challenges might they face?
8:30 What about college debt?
11:44 How disruptive is EdTech?
13:27 What is an honors college? What is the makeup of the Honors College at Oakland University?
15:39 How to motivate top talent?
16:52 Where do the best and brightest end up?
Segment 3: Brave Leadership & the "Top Three"
17:57 From education to industry: Graeme's thoughts on the connection and on individuals making the shift from education to employment.
19:50 Graeme has the unique talent to draw inspiration from the vast, whether real or fictional. Here are his "Top Three":
28:35 How does Graeme drive thought leadership within the higher education industry?
31:47 What role has Graeme played in education growth? How does he promote this type of growth?
36:14 "Reverse Mentorship": How has Graeme been impacted by his brilliant, undergraduate students?
38:37 How can the way Graeme communicates with his students bridge the corporate structure?
41:01 Using failure to your advantage: Graeme's thoughts on innovation in education and navigating failure.
Wrapping Up
44:03 What advice does Graeme have to leaders who are raising their own "little leaders" at home?
47:06 What advice does Greame have for future leaders?
Additional Information
Contact Graeme:
Graeme's Published Works:
About Oakland University's Honors College:
Contact Gregg:
CGS Advisors: Website