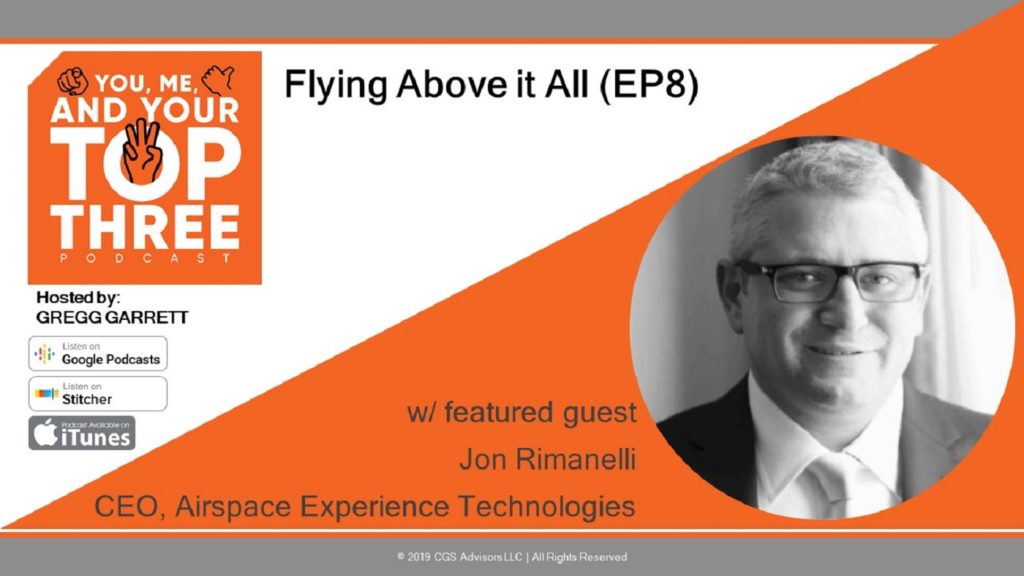 About this Episode
Jon Rimanelli discusses how he and his firm, ASX, addresses urban congestion to help fulfill the promise of mobility services as a time saver. Jon gives incredible detail to the approach he's taking by applying mass market supply chain methods from the automotive industry and applying them to the short-range aerospace industry. From aircraft design to discussion on multimodal modular configuration, we get a detailed look into what makes his firm so unique. Jon concludes with an honest look into how much "the team" means to him and guides us through the a discussion of his advisors who give him the immense courage to dive deep in the of attempting to shape a new industry category.
About Jon Rimanelli
Mr. Jon Rimanelli serves as the Founder and Chief Executive Officer at Airspace Experience Technologies. Inc. (ASX). He is an electronics entrepreneur and private pilot with over 1,000 hours of flight time. He is the founder of Nextronix Inc. As a contract manufacturer, he spent 18 years prototyping and producing automotive, aerospace and communications industries. He is also the founder of Detroit Air Racing Inc., which lead and facilitated the 2008 Detroit Red Bull Air Races, resulting in over $100 million in economic impact over three years for both Detroit and Windsor Ontario. In 2013, he teamed Lockheed Martin to manufacture and distribute the IndagosUAS VTOL for military, civil and commercial customers worldwide. He is also the founder of the Detroit Mobility Park (DMP), a non-profit 501C3, based at Detroit City Airport to facilitate autonomous air and ground mobility testing at the airport.
Show Highlights
Segment 1: Intro, Background, and Forming a firm.
3:16 Jon Rimanelli and his unique approach to urban mobility: What are his initial thoughts on where the disruption rests?
5:08 What are the fascinations that inspired Jon and eventually got him to where he is today?
10:25 Why Detroit? What led Jon to build his firm, ASX, in the "Motor City"?
Segment 2: Disruption in Industry & Needed Capabilities
12:23 Reuse. Repurpose. Restructure. How do these three r's fit in with the predictions Jon's has for urban air mobility?
13:13 What does Jon see now and in the future ahead as it relates to mobility transformation?
16:17 What does Jon see as a necessity to smoothly and successfully bridge the aerospace and auto mobility industries?
18:22 What makes his firm so unique in the Aerospace industry?
21:48 Unique attributes of the ASX aircraft design and architecture
24:54 Who are some of the individuals that make up the ASX team?
27:30 How did Jon tackle the bridge into supplier base?
30:10 What is the process of raising money for his startup? How can listeners get involved?
Seedinvest.com – Own a share of ASX !
Segment 3: Brave Leadership & the "Top Three"
37:17 Who are the individuals that Jon calls on for courage? Who are his "Top Three"?
Wrapping Up
41:42 What other big news can Jon share on the firm?
43:04 What advice does Jon have for the next generation of leaders?
Additional Information
About ASX:
Contact Jon:
Contact Gregg:
CGS Advisors: