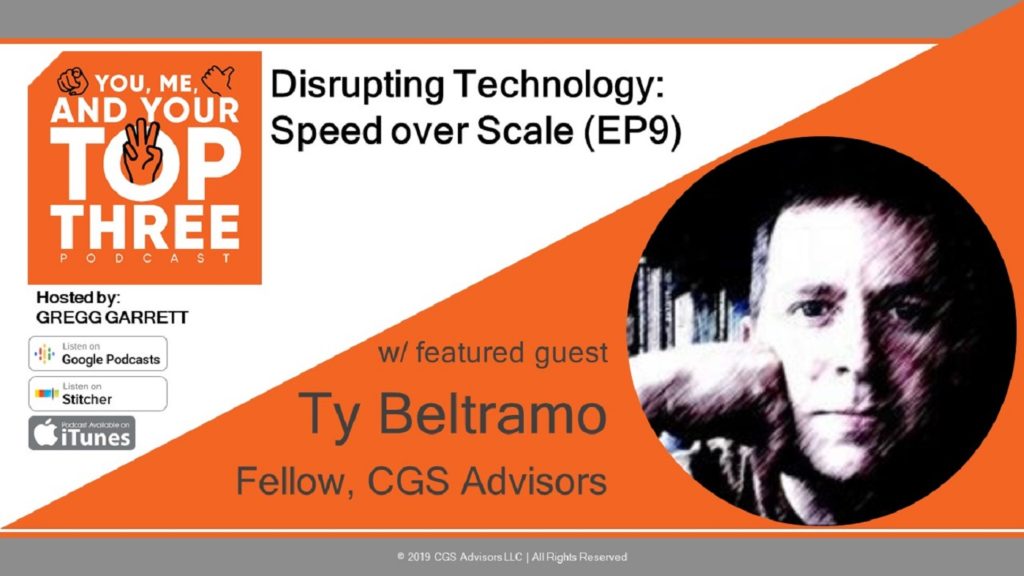 About this Episode
As the original chief architect of the lifesaving and the most widely used telematics platform in the world (OnStar), and the CTO for several of the most widely used navigation (and marketing insight) platforms that likely guided you on your most recent appointment, Ty Beltramo understands technological driven disruption. He walks us through his journey as a transformation leader and shares the lessons his mentors taught him during his professional career. He sheds light on how technology itself is being disrupted, what you need to do as a progressive tech leader, how speed has over taken scale as a differentiator in industry, and the importance of remaining human-centric.  Through the discussion Ty sheds his wisdom for both the top technology leaders, and those that must work with them in order to unlock the value in technological investments.
About Ty Beltramo
Ty Beltramo is a hands-on technical leader with proven expertise in connected solutions and large enterprise integration projects. He has over 20 years of experience as the senior technology leader of large firms, including Fortune 50 companies, overseeing the design and development of complex enterprise systems. Ty is also a critical member of the CGS Advisors Fellows Network.
As the CTO of MapQuest, he was the head of a team of 60 and successfully completed a 3-year turnaround plan to modernize all aspects of infrastructure, core data, and products. As a partner and iOS application developer at Portable Hole Productions, he was the sole developer for General Motors OnStar MyLink application, which won the Popular Mechanics Editor's Choice Award. And as Chief Architect at General Motors OnStar, Ty led the evolution of OnStar's enterprise architecture to grow from 1 to 4 lines of business and support over 3-million subscribers, one-hundred-fold the amount of subscribers since he started.
Show Highlights
Segment 1: Introduction and Background
1:23 What makes Ty unique?
3:28 Why was it important to Ty to stay close to the technology?
Segment 2: Disruption in Industry & Needed Capabilities
6:40 Technology: An industry or a craft?
10:26 What force is disrupting technology?
13:38 How can leaders use technology to differentiate their business?
15:00 How is architecture and, more importantly, "Good architecture" defined?
16:25 The two-sided business model: What is the process of monetizing a product that is free?
Segment 3: Firm Transformation
19:48 How can leaders make their company faster when it comes to technology?
21:50 What role do people play in the success of technology and architecture?
23:08 In the professional sense, what makes someone a risk taker?
25:04 Whose job is it to set the culture of the company?
26:14 What is a CTO?
27:58 How do you differentiate the CTO from the CIO role?
32:36 Stories of transformation: Successes, Failure, and Lessons learned
Segment 4: Brave Leadership & the "Top Three"
36:38 Who played a key role in Ty's success…his bosses!
Boss 1
Helped Ty learn and understand how technology can be applied to solve business problems.

Introduced Ty to the importance of building a "fear-free environment" that encourages the company to possess no fear of failure – invoking a "move on" attitude.
Boss 2
Helped Ty understand the culture of people: why and how to motivate, encourage and invest in people.
Boss 3
Helped Ty understand the importance of grace in the hiring process. Whether you are hiring the best people or letting go of the wrong people, the key is always doing so with grace and dignity.
44:37 What one piece of advice does Ty give to others?
46:31 If you could select an advisor, who would be your fourth?
48:23 Does Ty ever think through the amount of lives he's helped to save through his work with OnStar?
Wrapping Up
51:54 What advice does Ty have for architects?
53:19 What advice does Ty have for CTOs or progressive CIOs?
54:08 What advice does Ty have for leaders?
Additional Information
Contact Ty:
Contact Gregg:
CGS Advisors: