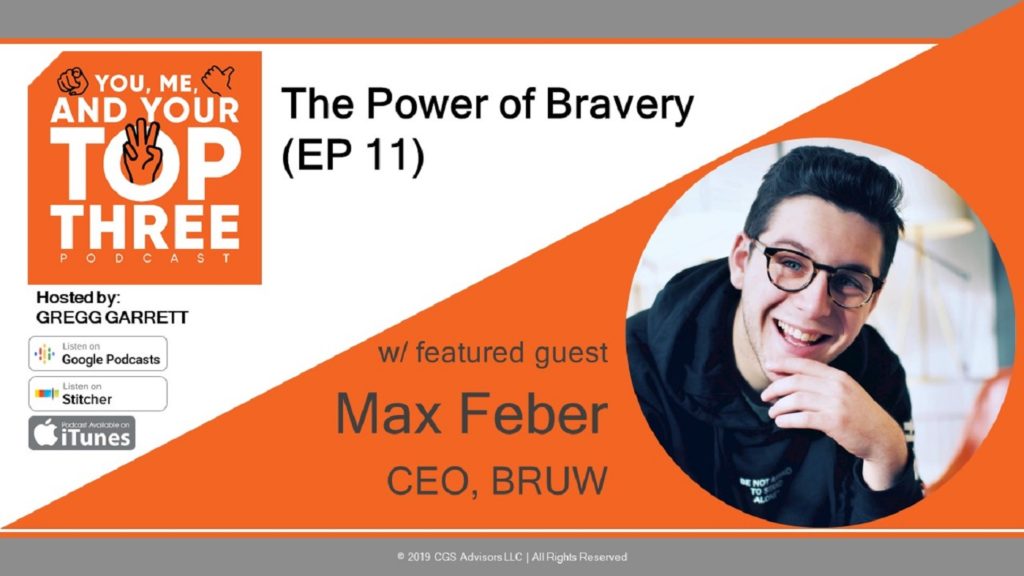 Four year entrepreneur and global coffee trend expert, Max Feber, joins Gregg Garrett to discuss his company, BRUW, and his experience with creating a product, launching a company, pitching on Shark Tank, and receiving investment and advice from experienced leaders like Mark Cuban. Max discusses how surrounding himself with people who give him pointed feedback – both good and bad – are the gifts of his learning process and says the secret to motivating high-potential GenZ-ers like himself is to give them a lot of responsibility and room to succeed. Max even lets us in on how the best advice he has received from his most well-known mentor came in simple a package – a three word text.
AbouT Max Feber
Max Feber is a Shark Tank featured entrepreneur who invented a new way to make cold brew coffee when he was only 15. He is the CEO of BRUW.
Show Highlights
Segment 1: Intro, Background, and Forming a firm.
1:17 The new opportunity for cold brew is emerging.
2:46 How Max turned his love for coffee into a passion for the industry.
4:45 What led to the invention of the BRUW filter and its debut on Shark Tank.
5:57 The mind of a maker led to the creation of a product.
8:44 Combining education with entrepreneurship – Max's continued education journey at Babson College.
Segment 2: Brave Leadership & the "Top Three"
9:22 Max's Top Three: His Parents (David Feber & Susan Feber) – Try without worrying about failure.
11:49 Max's Top Three: Startup Business Contacts (Hanson Grant) – Not all advice has been useful but it all has been appreciated.
15:50 Max's Top Three: Mark Cuban (his team and his portfolio) (Website. Blog. Twitter.)
18:15 The best advice Max has received from Mark Cuban? "Do it personally".
Segment 3: Disruption in Industry
22:30 Millennials and GenZ-ers buying "indie" products is disrupting industries.
25:15 Two additional trends impacting industries: At-home "making" and sustainability concerns.
27:56 How BRUW is harnessing the subscription model with a product that doesn't require frequent ordering.
Segment 4: Needed Capabilities
30:27 The importance of finding the right partners to scale: "Partners that are small-er and growing and understanding what it is like to grow are really valuable partners for us." (BRUW Partner: SR Injection Molding)
35:05 The benefit of being hands-on with partners: Being agile and able to pivot immediately to do something different. (BRUW fulfillment center: Selery)
40:04 Becoming your class's case study – Professor Brad Johnson.
Segment 5: Wrapping Up
41:30 BRUW's next step – consumer expansion and new distribution models.
44:10 Max's advice for those employing individuals like Max (GenZ-ers): "Give us freedom".
47:57 "Entrepreneurship does not function within a bureaucracy."
50:44 Follow BRUW on social platforms and check out Cold Brew Season to keep up on products, promotions, and news.
Additional Information
Contact Max / BRUW:
Contact Gregg:
Contact CGS Advisors: