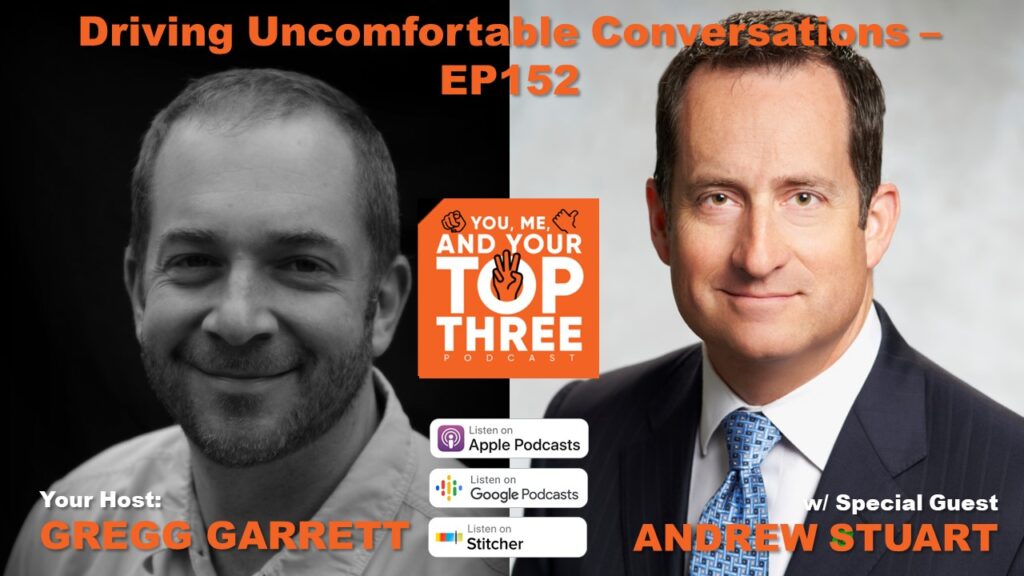 DRIVING UNCOMFORTABLE CONVERSATIONS | Andrew Stuart, President and CEO of TD Auto Finance, joins host Gregg Garrett to discuss the need to get uncomfortable in order to have breakthrough moments. Of course, Andrew shares his Top 3 (well, 4): Sandra Moncrief, his wife, who helps him learn to interpret emotions; Marc Womack, who taught him the power of uncomfortable conversations; Peter Cummings, a worldly leader who has shown him the power of outside perspectives; and Allan Ferguson, a collegiate friend who helps him celebrate practicality. And you have to hear what he has to say about creating an environment to drive intellectual curiosity.
About Andrew Stuart
Andrew Stuart is the President & CEO of TD Auto Finance. In this role, he is responsible for the overall leadership and strategic direction of the indirect retail and commercial auto finance business in the U.S.
Andrew joined TD in 2014 and spent six years serving as President and CEO of TD Auto Finance before accepting a role in Corporate Transformation and Operations with TD Bank Group, where he served as Head of Corporate Operations. He was responsible for operational excellence and transformational change across Corporate Operations and focused on driving efficiencies across the Corporate functions.
During his previous tenure with TD Auto Finance, Stuart led the development and execution of the indirect auto financing strategy. He grew the portfolio from $16 billion to $24 billion while reimagining the way the business operated and navigating numerous transformation and strategic initiatives.
Prior to joining TD, Andrew spent 22 years with the Volkswagen Group in the U.S. and Canada. Most recently as President and CEO of VW Credit Inc., responsible for a US$25B portfolio of retail, lease and commercial loan assets in the US and Canada. He has a broad automotive sales and lending background, having held a variety of senior roles, including EVP and CFO VW Credit, Inc., and President, Bentley MotorsUS.
Andrew is currently serving as a member of the Management Committee, TD Bank, America's Most Convenient Bank® and U.S. Diversity Leadership Chair for TD Bank. Andrew has been an active member of the American Financial Services Association (AFSA), serving as past Chair of the Vehicle Finance Board and the AFSA Board.
A Canadian citizen born in Moncton, New Brunswick and raised in Halifax, Nova Scotia, Andrew graduated from Saint Mary's University with a Bachelor of Commerce degree in 1992. He moved to the U.S. in 1994 and held a number of roles of increasing responsibility while also completing an MBA at the University of Oregon in 1998. He graduated from the Advanced Management Program at Harvard Business School in 2021. Andrew became a U.S. citizen in 2013 and currently resides in Vienna, Virginia with his wife and three children.
SHOW HIGHLIGHTS
During this episode:
Introduction [0:00]
Be Brave [1:03]
Introduction to Andrew [2:56]
The "Top Three"
Sandra Moncrief: helped Andrew learn to interpret emotions [6:20]
Marc Womack: taught Andrew the power of uncomfortable conversations [11:58]
Peter Cummings: showed Andrew the power of outside perspective [22:23]
Allan Ferguson: taught Andrew to celebrate practicality [35:23]
Other Points of Interest:
Headlines coming from TD [39:12]
Transformation(s) happening in the financial industry [46:50]
You have to hear this…
Create an environment to drive intellectual curiosity [51:00]
ADDITIONAL INFORMATION
Contact Andrew Stuart:
Contact Gregg Garrett:
Contact CGS Advisors: