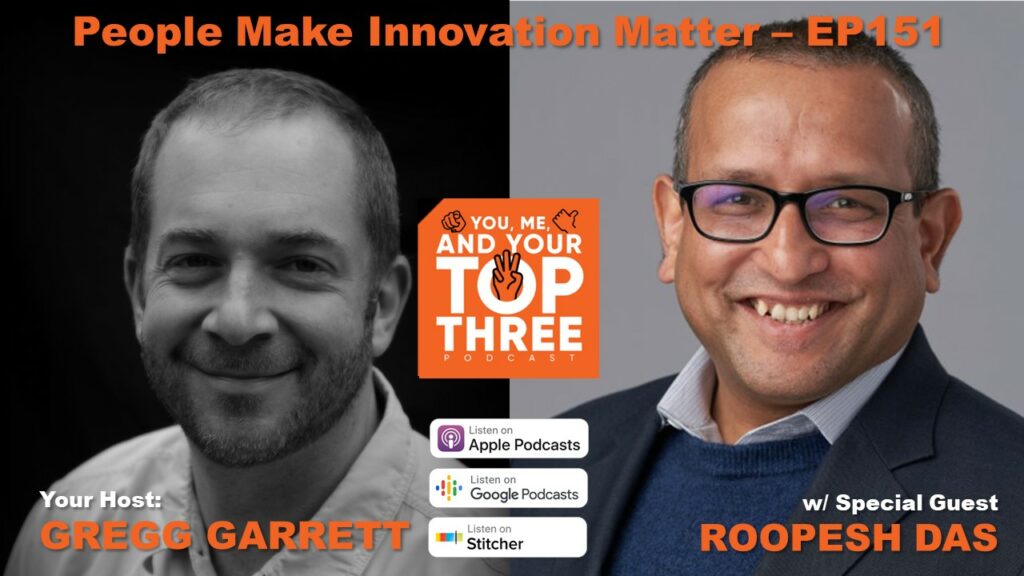 PEOPLE MAKE INNOVATION MATTER | Roopesh Das, Senior VP of Digital Acceleration and Innovation at Wallenius Wilhelmsen, joins host Gregg Garrett to discuss the importance of putting the human in the center of your innovation strategy. Of course, Roopesh shares his Top 3: Ritesh Patel, who helped him to learn to connect; Akiko Marusawa, who helped him recognize the importance of people; and Shireen Das, who is his rock and helps him set a montessori approach to his digital innovation program. And you have to hear what he has to say about being passionate but not emotional.
About Roopesh Das
Experienced Digital executive with a track record of organizational transformation by applying cutting
edge technology to launch innovative products which address new business models and create value,
while leading and inspiring technology teams globally across North America, Europe, and Asia-Pacific.
Through his career spanning more than 20 years, Roopesh has launched technology products and
solutions globally across logistics, manufacturing, finance, and telecom
A visionary leader, specializing in strategizing tech and business models, by looking at trends and market a few years out, setting goals for that future and framing strategy to execute in the present.
Most recently he has been, founder of an open Innovation platform in Wallenius Wilhelmsen, partnering
with a global ecosystem of 100+ startups, tech & ventures to solve challenges in supply chain & logistics, leading to benefits such as:
• 60% increase in productivity with Computer Vision, Robotics and Mixed Reality
• 30% improvement in asset utilization with IoT & AI
• De-carbonizing supply chain with Data, AI and electric fleets
He oversees strategic vision, product development, partnership creation and venture advisory.
Roopesh holds an engineering degree in Computer Science from Mumbai University, India. He is based
in New Jersey, USA
He has lived internationally, likes to travel, meet people, and experience local cuisines and culture. He is
always game for sharing, learning, and exchanging thoughts, around tech, society and impactful digital
transformation.
SHOW HIGHLIGHTS
During this episode:
Introduction [0:00]
Looking to innovate? Here are two questions to start with answering [0:50]
Introduction to Roopesh [4:50]
The "Top Three"
Ritesh Patel: Helped him learn to connect [8:31]
Akiko Marusawa: Helped him recognize the importance of people [13:51]
Shireen Das: His rock who helps him set a montessori approach to his digital innovation program [19:33]
One more to mention: Rune Gisvold [27:30]
Other Points of Interest:
Leading innovation for a 150 year old company [30:06]
Lessons learned from empowering humans [32:54]
You have to hear this…
Be passionate but not emotional [40:42]
ADDITIONAL INFORMATION
Contact Roopesh Das:
Contact Gregg Garrett:
Contact CGS Advisors: