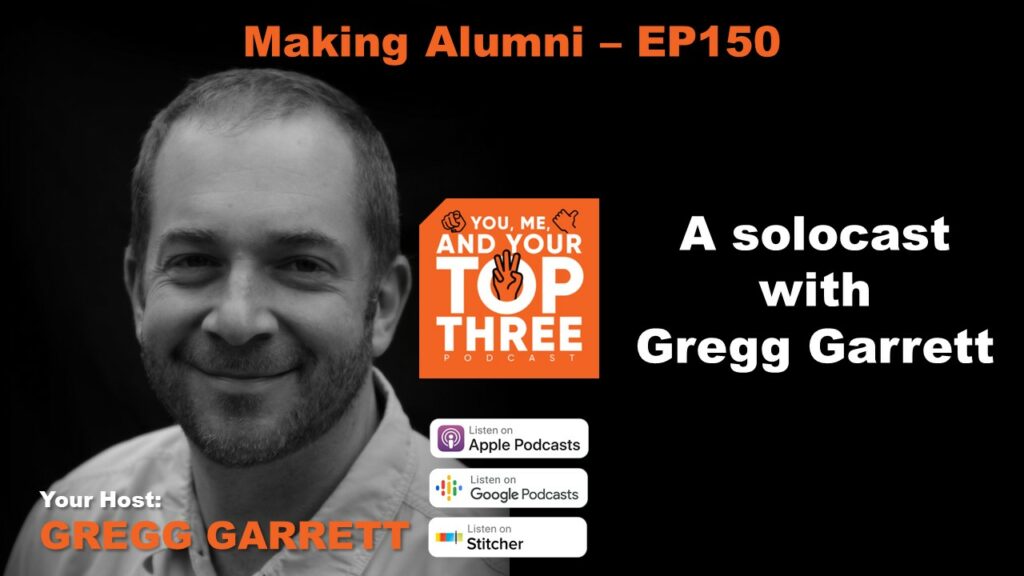 MAKING ALUMNI| Join Gregg Garrett, host and CGS Advisors CEO, during this solocast as he discusses how to establish an alumni network from your organization; not always an easy thing to do considering some of your best and brightest employees you never want to leave your firm. But, on the flip side, in order to get the best, brightest, and most driven you often need to get talent who want to spread their wings and sometimes it is at a different speed than the pace of your organization. Make an alumnus and you're probably going to make some incredible employees and friends for life.
ABOUT GREGG GARRETT
Greggory R. Garrett is the CEO and Managing Director of CGS Advisors, a boutique strategy and innovation advisory firm that works with senior leaders at public companies and select private organizations. He is a dynamic and experienced international keynote speaker, an adjunct professor of business and engineering, the host of the "You, Me, and Your Top Three" podcast, and author of the best-selling business leadership book, Competing in the Connecting World. Having addressed audiences from 20 to upwards of 1500 people in public and private/corporate events, Gregg is at his best when he can focus on industry shaping & transformational topics.
Prior to launching CGS Advisors, Gregg was the Chief Strategy Officer for IT & Innovation at Volkswagen Group of America. Before his time with VW, Gregg led corporate strategy & marketing for a division of Deutsche Telekom and was part of Ernst & Young's Management Consulting practice. He is a visionary leader who prides himself in recognizing common sense solutions for complex problems and supports "Corporate Bravery" by motivating teams to reach well beyond the typical boundaries to achieve greatness.
SHOW HIGHLIGHTS
During this episode:
Introduction [0:00]
Losing the future of your organization [0:59]
Bravery and the stages of spreading your wings [2:05]
Do you drive a culture of alumni? [4:39]
The secret to building great alum [6:52]
Advice for letting your best and brightest leave [8:20]
ADDITIONAL INFORMATION
Contact Gregg Garrett:
Contact CGS Advisors:
Subscribe: