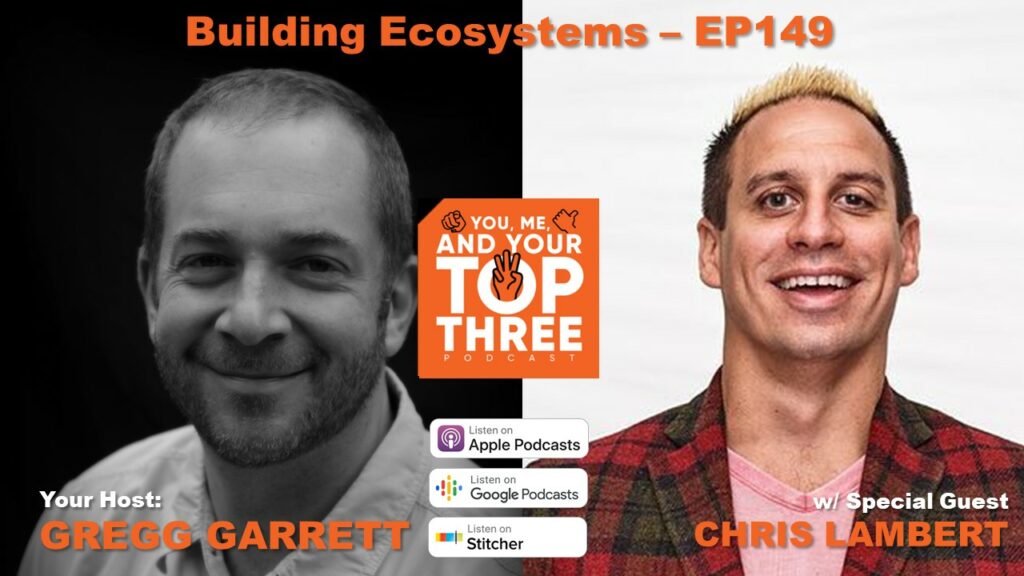 BUILDING ECOSYTEMS| Chris Lambert, CEO of Life Remodeled, a Detroit non-profit that remodels and revitalizes neighborhoods in an equitable and sustainable way,  joins host Gregg Garrett to discuss how to create and nurture meaningful innovation ecosystems inside of Detroit communities. Of course, Chris speaks about his Top 3: Jesus, who he speaks with and listens to every day, his friend Dominic Morelli who taught him the value of relationships, Diallo Smith, who can execute on a vision, his wife, who is a lover of all people, and to Dwan Dandridge who is a true visionary.  And you have to hear what he has to say about bold humility.
About Chris Lambert
If there's a dare you don't want to make, it's telling Chris Lambert he can't do something he believes he's called to.
After a spiritual awakening during his junior year at Indiana University, where he was studying marketing with an initial plan to use that power of persuasion to ultimately study law and develop real estate, his frat brothers told him he couldn't give up beer bongs for Bible studies.
He did anyway.
After then earning his MDiv and doctorate at Fuller and Gordon-Conwell seminaries, most folks told him in 2006 he shouldn't move into a Liberian village and raise money for a well, a few farm animals, and maybe a brand-new school building.
He did anyway.
When his deepening faith and commitment to service called him to Metro Detroit to start a church in 2007, the few doubters left said it wouldn't work.
He did anyway. (And named it Ekklesia, BTW.)
By the time he founded Life Remodeled in 2010, those who knew him didn't try to stop him — they lined-up to help him. What began as a means to revitalize neighborhoods one block at a time, has evolved to a focus on repurposing vacant school buildings into one-stop hubs of opportunities for youth, families, and adults to thrive in environments that nurture a sense of self — and community.
Having been to six of the seven continents, his vision for LR was shaped by real-world experiences and the lessons he learned along the way. And the road that led him to Detroit, which he's proud to call home with his wife (of 18 years) and two sons, was paved with equal parts wisdom and humility.
Today, as CEO of Life Remodeled, Chris continues to embody the concept of "servant leader."
From the TEDx stage, to coveted lists like Crain's 40 Under 40, Building Design + Construction 40 under 40, and SMART BUSINESS Dealmaker of the Year, Chris's reputation precedes him. But it's the journey ahead — and the people he's asked to help lead the way — that excites him the most.
SHOW HIGHLIGHTS
During this episode:
Introduction [0:00]
Building collaboratives of leaders around emerging trends to create and mature new ecosystems [1:00]
Introduction to Chris [8:23]
The "Top Three"
Jesus, who he speaks with and listens to everyday [10:55]
Dominic Morelli, who taught him the value of relationships [14:55]
Diallo Smith, the COO of Life Remodeled, who can take vision and help implement it [17:00]
His wife, who is a lover of all people [26:47]
Dwan Dandridge, a former VP at Life Remodeled who served as a visionary and bridge builder for Chris and the organization [32:39]
Other Talking Points:
Chris's spiritual calling [11:55]
Why hiring the right people is so important [21:50]
One of Chris's greatest weaknesses [23:23]
Everybody wants to be heard [29:58]
Navigating a project nightmare are Life Remodeled [34:38]
What is Life Remodeled and what is the organization's approach [40:40]
What's up next for Life Remodeled [48:46]
You have to hear this…
Bold humility [54:43]
ADDITIONAL INFORMATION
Contact Chris Lambert:
Contact Gregg Garrett:
Contact CGS Advisors:
Subscribe: