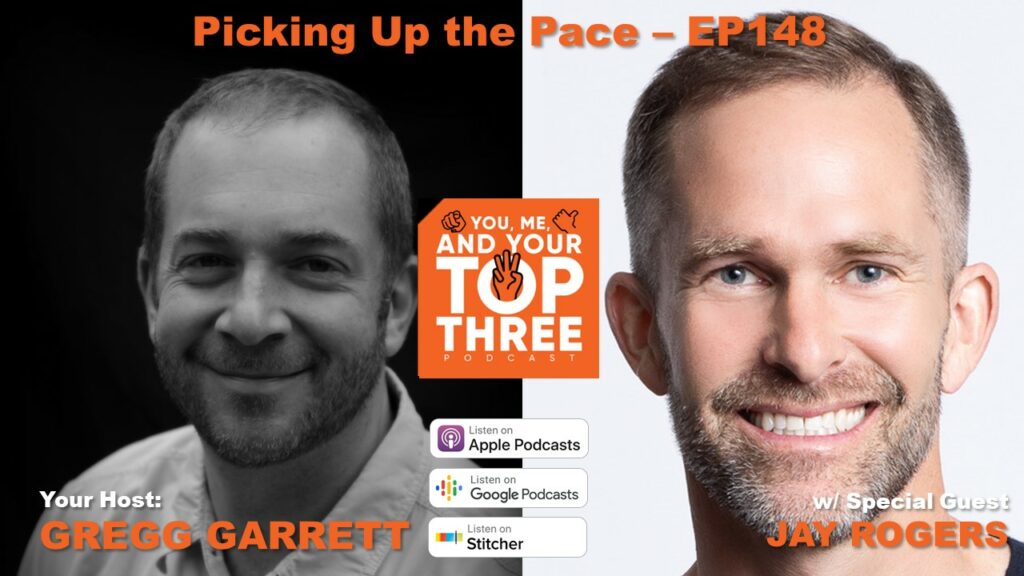 PICKING UP THE PACE|Jay Rogers, founder and CEO of haddy- a 3D -printed furniture company, joins host Gregg Garrett to discuss the lessons he learned by 3D printing autonomous vehicles and how the team is now looking to disrupt the complete supply chain of a less regulated industry with a similar product set. Of course, Jay speaks about his Top 3: God, who is part of his life everyday, his boys who help him to learn and reverse mentor him, and 3-star General Mike Dana who specializes in servant leadership. And you have to hear what he has to say about reading by candlelight.
ABOUT JAY ROGERS
John "Jay" Rogers is CEO and Co-Founder of haddy inc. – a pioneering digital manufacturing company
serving the furniture industry and built on revolutionary technology and IP. Haddy is changing the way
furniture is designed, built, delivered, and recycled. It is the world's first micro-manufacturer of furniture
produced through a proprietary method of direct digital manufacturing ("DDM"). Through DDM, haddy
enables more rapid technology and material adoption and a superior resilient supply chain.
Jay grew up a lover of woodworking, machines, and a student of industry; his grandfather owned the
legendary Indian Motorcycle Company, founded concrete and steel giant Texas Industries, and was the first
Cummins Engine Distributor in the United States. Jay's grandfather is also credited with saving the Public
Broadcasting System during the Nixon Administration and founding the Children's Television Workshop,
which is best known for Sesame Street. In combining his family legacy of manufacturing, his military
leadership, entrepreneurship, and education, Jay has hand selected a team of co-founders and set forth on a
most ambitious plan: Creating, heroic, beautiful, durable furniture for retailers, to their design, built locally
in the most resilient and sustainable manner.
He graduated from Princeton University and went to a startup in China and then to Ewing & Partners where
he became a Chartered Financial Analyst (CFA). After that, he went on to the US Marine Corps where he
served for 9 years in the infantry in the western Pacific and Iraq, to Harvard Business School and to
become a consultant for McKinsey & Co. Most recently, he founded and led Local Motors, a next
generation vehicle OEM. It was there that Jay discovered the basic technology of DDM, and in 2021 he
handed over the reins of Local Motors to a new investor group and left to start haddy full-time.
The story of how communities of customers and suppliers can effectively participate in the innovation and
creation of leading technology products is a journey Jay shares widely. He has spoken at BIF, PopTech,
TedX, Picnic in Amsterdam, Do Conference in Wales, St Gallen Symposium, the White House conference
on making, CES, CeBIT, IMTS, Singularity University, and many more conclaves. Additionally, the story
of American innovation, co-creation and digital manufacturing has been shared on Discovery, PBS, Fox,
CNBC, and Speed Channel. You can find Jay's impact first in long form narrative as part of many books,
starting with MacroWikinomics written by Don Tapscott and Anthony D. Williams and more recently in
America's Moment: Creating Opportunity in the Connected Age by Rework America and Zoe Baird. His
work has also been featured in Popular Mechanics, Popular Science, Wired, Top Gear, AutoWeek, Inc.,
Details, Forbes, and others.
In 2020, he was awarded the honor of leading Local Motors to one of the top 10 global innovative
transportation companies by Popular Science. Jay is a director of the RBR Foundation, which gives
annually to the cause of childhood education and development. He is the father of 4 boys who are growing
up in a connected age and whom, he hopes, will take advantage of the incredible opportunity that the
internet has given the world.
Visit Jay, haddy and the future of American Manufacturing Innovation in Tampa, FL where the first haddy
microfactory is being built, and where he calls headquarters and home.
SHOW HIGHLIGHTS
During this episode:
Introduction [0:00]
What a Time to Be in the Workforce [1:09]
Introduction to Jay [3:53]
The "Top Three"
God who is part of his life everyday [6:26]
General Mike Dana who taught him servant leadership [8:57]
His boys who help him learn and reverse teach him [17:00]
Other Talking Points:
What is haddy? [19:25]
Revolutionizing Manufacturing through Micro-Manufacturing [24:00]
Dismantling Supply Chain [30:18]
Where do you find these people? [33:30]]
Bravery and Courage [38:40]
What does Jay fear? [43:00]
You have to hear this…
Reading by Candlelight [44:30]
ADDITIONAL INFORMATION
Contact Jay Rogers:
Contact Gregg Garrett:
Contact CGS Advisors:
Subscribe: