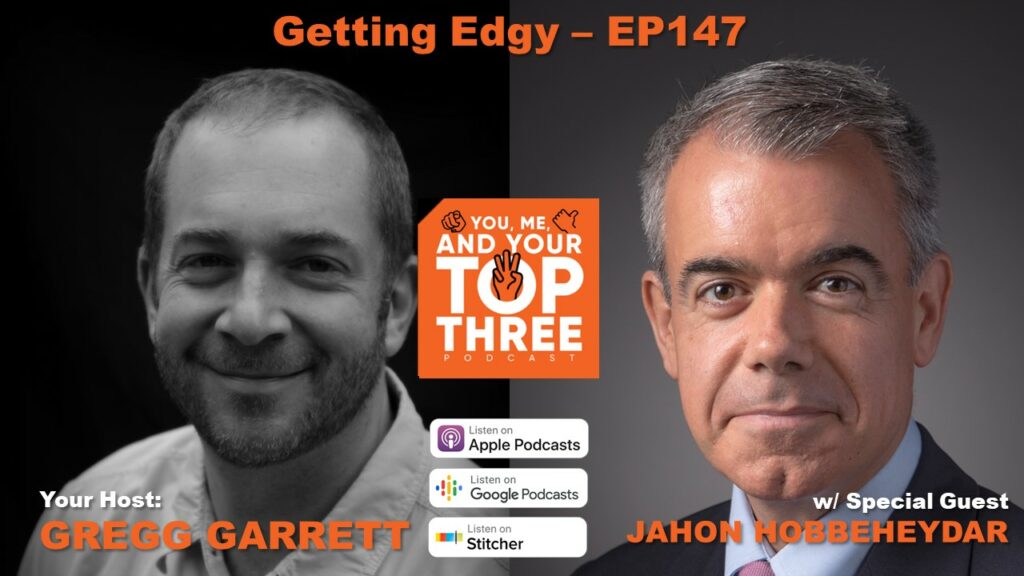 JAHON HOBBEHEYDAR | Jahon Hobbheydar, Chief Strategy and Innovation Officer at NSF International, joins host Gregg Garrett to discuss the linkage of strategy and innovation. As someone who lives in the center of these two functions, Jahon leads NSF to the future. Of course, Jahon speaks about his Top 3: his former boss, Thad, who helped him bring out his intellectual best, a persona of colleagues like Sharon, Tom, and Jen who help remove cultural inertia, and his daughter, Sarah, who makes him remember the underlying "why". And you have to hear what Jahon has to say about shifting from making points to understanding them. 
ABOUT JAHON HOBBEHEYDAR
Jahon is currently with NSF where he works as Chief Strategy and Innovation Officer. Prior to joining NSF, Jahon worked for Cummins where he led the Strategy function and drove key strategic initiatives including the navigation of technology disruption and uncertainty, organizational design and effectiveness, and organic and inorganic growth. He was instrumental in developing and launching Cummins' Electrification and Fuel Cell businesses as well Cummins' entry into the advanced transmissions space through a partnership and then joint venture with Eaton.
Prior to joining Cummins, Jahon spent eight years with Liberty Mutual Insurance Company, where he worked in a variety of functional roles that included Strategy, Finance, and Risk Management. Prior to this, he spent five years as a management consultant working for both The Boston Consulting Group and Diamond Technology Partners. His work at both firms focused on the Telecommunications industry with client work in disruptive technologies, organizational design, and sales growth.
Jahon earned his bachelor's of science in Physics from Hamilton College and a master's in Physics from Yale University with a specialization in High Energy Astrophysics. Jahon lives in Columbus, Indiana with his wife and two children. He serves on the Board of local community organization Family Service and also volunteers as a CASA. He enjoys running (and health, generally), traveling, and reading.
SHOW HIGHLIGHTS
During this episode:
Introduction [0:00]
3 Different Flavors of Strategy & Innovation [1:06-5:20]
Creating Value in Innovation [5:20-7:22]
Introduction to Jahon/His Journey [7:22-11:38]
The "Top Three"
Previous manager, Thad [11:38-19:13]
Cummins leaders like Sharon, Tom, and Jen [19:13-27:00]
His daughter, Sarah [27:01-31:27]
Impact of Culver Academies and its People [31:27-32:17]
His parents [32:17-32:48]
Here and Now
Introduction to NSF [32:49-36:52
Trends in the Industry [36:53-39:55]
Jahon's Take on Strategy & Innovation [39:55-45:30]
Prototyping& Its Role in Innovation [45:30-47:42]
You have to hear this…
Shift Focus from Making Points to Asking Others [47:42-52:49]
ADDITIONAL INFORMATION
Contact Jahon:
Contact Gregg Garrett
Contact CGS Advisors:
Subscribe: