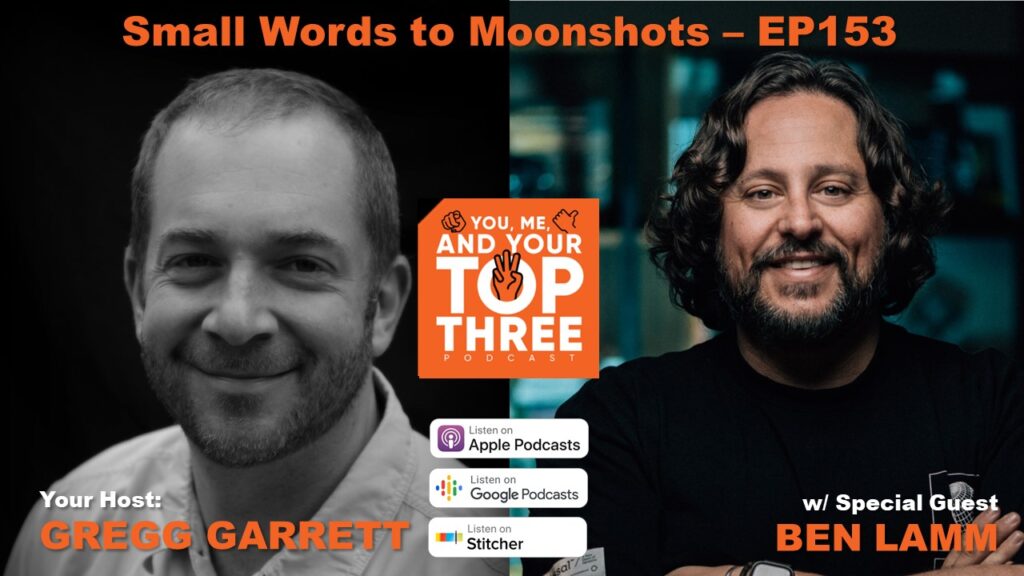 SMALL WORDS TO MOONSHOTS | Ben Lamm, a multi-time founder who is currently working on bringing back the woolly mammoth, joins host Gregg Garrett to discuss how small words can lead to HUGE ideas. Of course, Ben shares his Top 3 or 4: Thomas Tull, who reminds him to keep going; John McKinley, who taught him how to live servant leadership; Richard Garriott, who has stoked his passion to explore; and his grandmother, who has taught him that he can do anything. And you have to hear what he has to say about picking a principle and not allowing anything to budge you from it. 
About Ben Lamm
Ben Lamm is the co-founder and CEO of Colossal. Ben is a serial technology entrepreneur driven to solve the most complex challenges facing our planet. For over a decade, Ben has built disruptive businesses that future-proof our world. In addition to leading and growing his own companies, he is passionate about emerging technology, science, space, and climate change. Active in angel investing, incubators, and startup communities, Ben invests in software and emerging tech and is deeply engaged in the technology, defense, and climate change communities.
Prior to Colossal, Ben served as the founder and CEO to a number of companies, including Hypergiant, an enterprise AI software company focused on critical infrastructures, space, and defense; Conversable, the leading conversational intelligence platform that helps brands reach customers through automated experiences acquired by LivePerson; and Chaotic Moon, a global creative technology powerhouse acquired by Accenture. Ben was also the co-founder of Team Chaos, a consumer gaming company acquired by Zynga.
Ben is a fellow of the Explorer's Club, whose mission is to promote the scientific exploration of land, sea, air, and space by supporting research and education in the physical, natural, and biological sciences. He also serves as a Scientific Advisory Board member on the Planetary Society and sits on the Advisory Board for the Arch Mission. Ben has appeared as a thought leader in many publications, including the Wall Street Journal, New York Times, Forbes, Entrepreneur, Wired, TechCrunch, VentureBeat, and Newsweek on topics such as innovation, technology, and entrepreneurship.
SHOW HIGHLIGHTS
During this episode:
Introduction [0:00]
Small words, big impact [0:52]
Introduction to Ben [3:03]
Colossal, de-extinction, and technology [4:24]
The "Top Three"
Thomas Tull: reminds him to just keep going [06:59]
John McKinley: taught him how to live servant leadership [19:38]
Richard Garriott: stoked his passion to explore [29:29]
Ben's grandmother: taught him that he can do anything [38:17]
Other Points of Interest:
Encouraging moonshots [44:09]
Transparency in industry [48:35]
You have to hear this…
Pick a principle and don't budge [49:02]
ADDITIONAL INFORMATION
Contact Ben Lamm:
Contact Gregg Garrett:
Contact CGS Advisors: