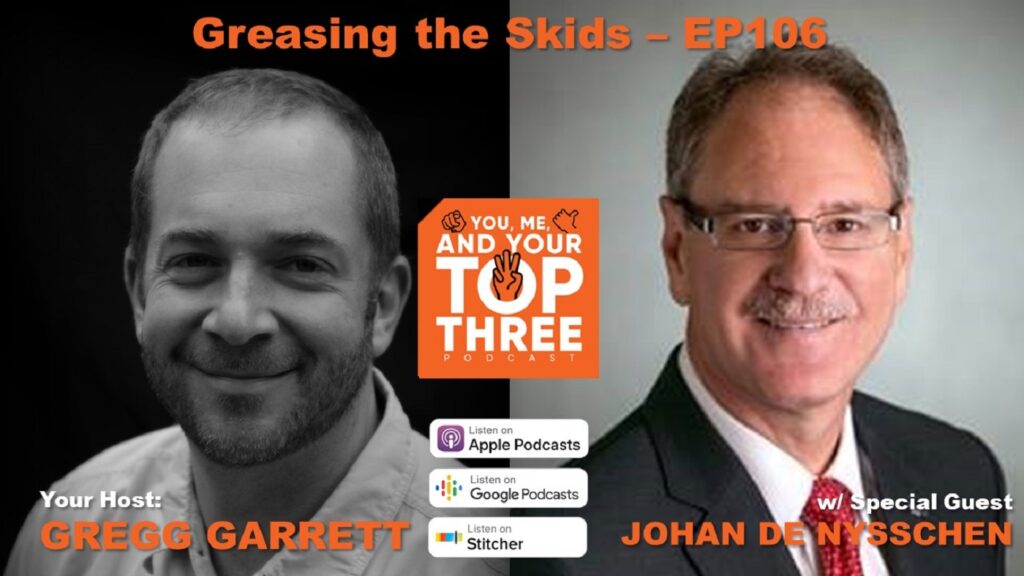 Readying the environment for transformation: Johan de Nysschen, COO of Volkswagen North America, joins host Gregg Garrett for a discussion on the importance of readying the environment for transformation; as well as sharing his observations of the automotive industry and the lessons he's learned through decades of executive leadership. Johan of course shares his Top Three and you have to hear what he says about the importance of professional informal interactions.
About Johan De Nysschen
Johan de Nysschen is a member of the boards of Volkswagen North America Region and Volkswagen of America, Inc. He also served as Chairman of the Board, Volkswagen de Mexico.
As COO, he oversees engineering, quality, purchasing, value engineering, production and vehicle logistics for compact, midsize and electric vehicles.
He brings extensive automotive experience from Audi, General Motors and Nissan, with domestic and global success in brand development, product portfolio planning, and overall business operations. He joined Audi of America as president in 2004, after many successful international assignments with the brand, including president of Audi Japan. de Nysschen departed from the VW Group in 2012, returning in October 2019 following his appointment as COO.
de Nysschen has an MBA in marketing and finance from the University of Pretoria and a bachelor's degree in commerce and economics from Nelson Mandela Metropolitan University. A performance car enthusiast and classic car collector, he lives in New York with his wife, Anna.
Show Highlights
During this episode:
Building block for readying the environment [1:01]
Are you doing enough "greasing the skids" for your transformation? [4:28]
Welcome guest, Johan de Nysschen [5:17]
The "Top Three"
Brand Pretorius: "Take care of the customers and that will take care of the business" [11:24]
Peter Schwarzenbauer: A great ally and shared similar philosophy on many things [12:17]
Nicole: A truth teller who keeps Elise in her place [32:52]
Tangible lessons learned from Johan's relationships: Talent, culture and more [13:31]
Transformation & Disruption
Industry Observations: Is the automotive industry under disruption? [32:40]
Celebrating Johan: A public reflection on a career mistake [44:05]
You have to hear this…
Collaboration and teamwork are vital [47:00]
Additional Information
Contact Johan de Nysschen:
Contact Gregg Garrett:
Contact CGS Advisors:
Subscribe: