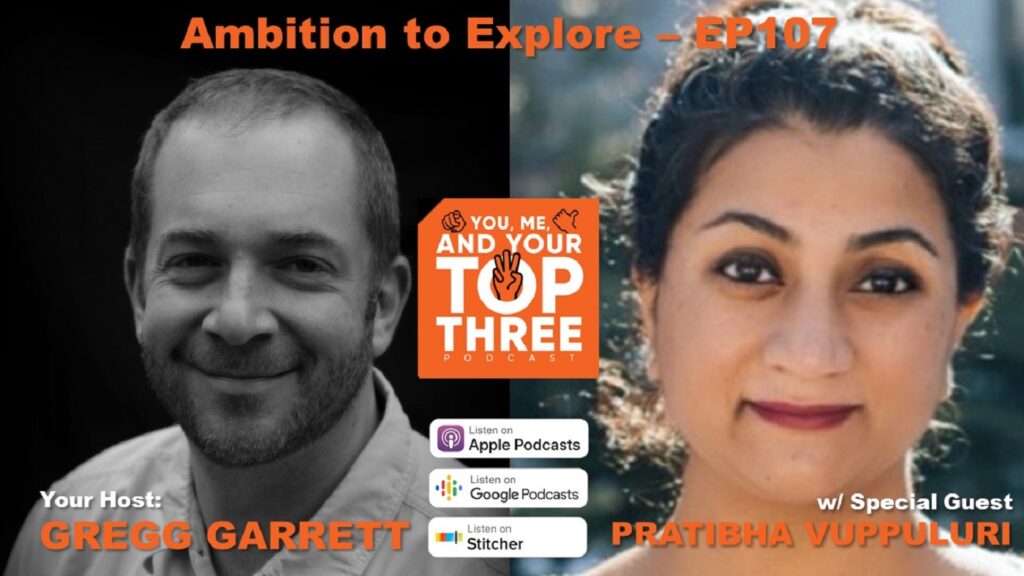 Are you thinking big enough to find the right solution? Pratibha Vuppuluri, Managing Director, Portfolio Management at Unreasonable, joins host Gregg Garrett for a discussion on how Private Equity may need to shift to support all the firm transformations taking place due to digitalization. Pratibha shares how driving diversity in gender and race will likely demand greater returns for investors and faster transformation for companies and society. She highlights her Top Three who include a group of gritty and resilient leaders, an empathetic group that helps build empires and her North stars. And you must hear what she says about finding her ambition to explore.
About Pratibha Vuppuluri
Pratibha Vuppuluri is the Managing Director on the Unreasonable Team overseeing the global portfolio of 200+ high-growth impact companies and leads on facilitating capital introductions for the venture base. She brings ~20 years of Banking experience with expertise across various industries, including Renewable Energy, Industrial Technology, and Sustainable Agriculture. Pratibha graduated from Cornell University with a Bachelors in Applied Economics and Management with an academic publication and completed her Masters in International Affairs (International Finance and Economic Policy) at Columbia University.
Show Highlights
During this episode:
Are you thinking big enough? [1:08]
Understanding Private Equity, the challenges, and why diversity may matter [4:40]
Welcome guest, Pratibha Vuppuluri [13:09]
The "Top Three"
Grit & Resilience: A value embodied by Pratibha's family [15:40]
Empathy & Gratitude: A value Pratibha is continuing to embody through the Unreasonable Group [26:21]
Nicole: A truth teller who keeps Elise in her place [32:52]
A pulse on what the Unreasonable Group is doing to diversity the landscape [31:58]
Have a North star: A value lived through Pratibha's child [50:59]
Transformation & Disruption
Wealth Transfer: Is it entrepreneurial footprint and/ or inheritance driven? [54:10]
You have to hear this…
The power and beauty of journaling [58:23]
Additional Information
Contact Pratibha:
Contact Gregg Garrett:
Contact CGS Advisors:
Subscribe: