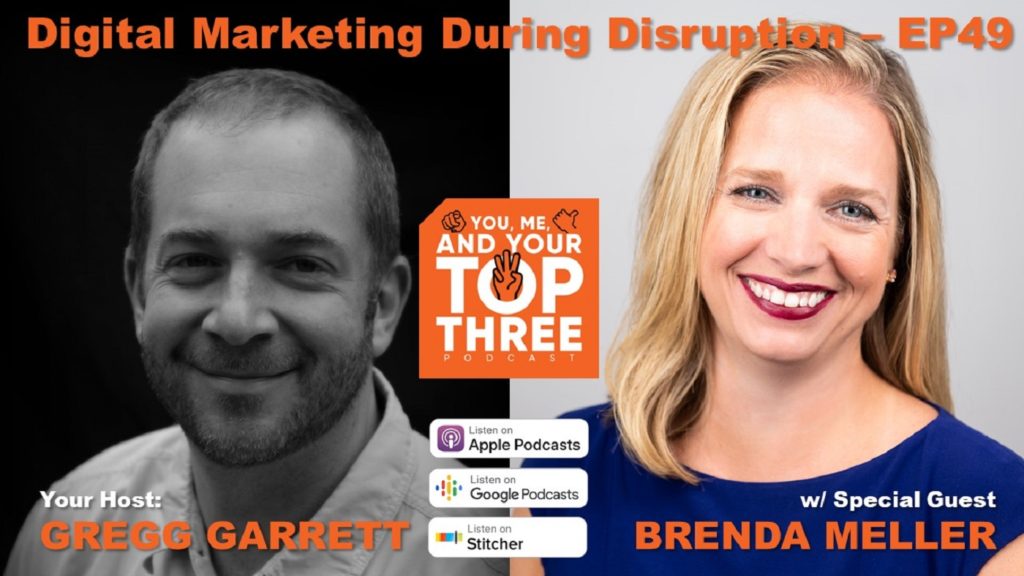 During this episode, You, Me, and Your Top Three host and CGS Advisors CEO, Gregg Garrett, discusses how CEOs may be able to take a lesson from government during this pandemic. He then welcomes Brenda Meller, Chief Engagement Officer at Meller Marketing. Brenda is a social media marketing expert who shares how to unlock the power of LinkedIn to grow your network. Of course, Brenda speaks about her 'Top Three' ranging from her closest family members who keep her true to herself and cheer her along the way, to vendors who go beyond being just vendors, to a services company she leans on to help her find efficiencies to scale. And you have to hear what she has to say about being brave and putting yourself out there to succeed in social media.
About BRENDA MELLER
Once upon a time, I hated speaking in front of people. Then, I realized I needed to figure out how to get comfortable with it to move up in my career. In 2006, I joined LinkedIn and developed a knack for helping others unlock the power of this amazing professional networking site. Fast forward to 2020 and now as an independent marketing consultant, I've trained thousands of individuals, corporate teams, conference attendees, executives, sales people, and marketers how to unlock the power of LinkedIn. PLUS: I also give away a pie to one lucky attendee every time I present. 2020 has already been an A-M-A-Z-I-N-G year at Meller Marketing. And if you're looking to ROCK on LinkedIn, I'd love to help YOU. www.linkedin.com/in/brendameller
Show Highlights
Segment 1: Overview
0:54 Learning from the government: the importance of changing policies.
5:10 Brenda Meller – helping business and individuals unlock the power of LinkedIn. (Meller Marketing)
Segment 2: The "Top Three"
7:40 Brenda's 'Top Three': Chris Meller – supporting the career pivots.
10:45 Becoming an entrepreneur.
13:15 Brenda's 'Top Three': Susan Schmidt – providing guidance in growing a business.
16:27 Brenda's 'Top Three': LegalShield Attorneys – having peace of mind in the evolution of business.
18:20 Brenda's 'Top Three': Tina Marie Wohlfield, Lee Meadows, Sandy Harvey, Cathy Mott, Laura Rolands – providing expertise.
Segment 3: Disruption & Transformation
22:43 The right approach is to always think about the 'what ifs'.
25:35 The importance of marketing during the COVID-19 pandemic.
28:07 Disruption to the digital marketing space.
31:22 The importance of 'the face' in connecting,.
Segment 4: Leadership & Wrapping Up
34:52 "This is going to be a time period that defines leaders."
37:46 "We need to be authentic and genuine as leaders. True leaders are willing to bear their soul a little bit."
41:47 Hint: How leaders can let their guard down.
45:25 Hint to leaders: Go to LinkedIn and show you're human (and tag Brenda in your post!).
48:10 Reach out to Brenda to increase your LinkedIn presence and join Brenda's weekly webinar!
50:30 Keep in touch and "Stay positive – this too shall pass."
Additional Information
Contact Brenda Meller:
Contact Gregg Garrett:
Contact CGS Advisors:
Subscribe: