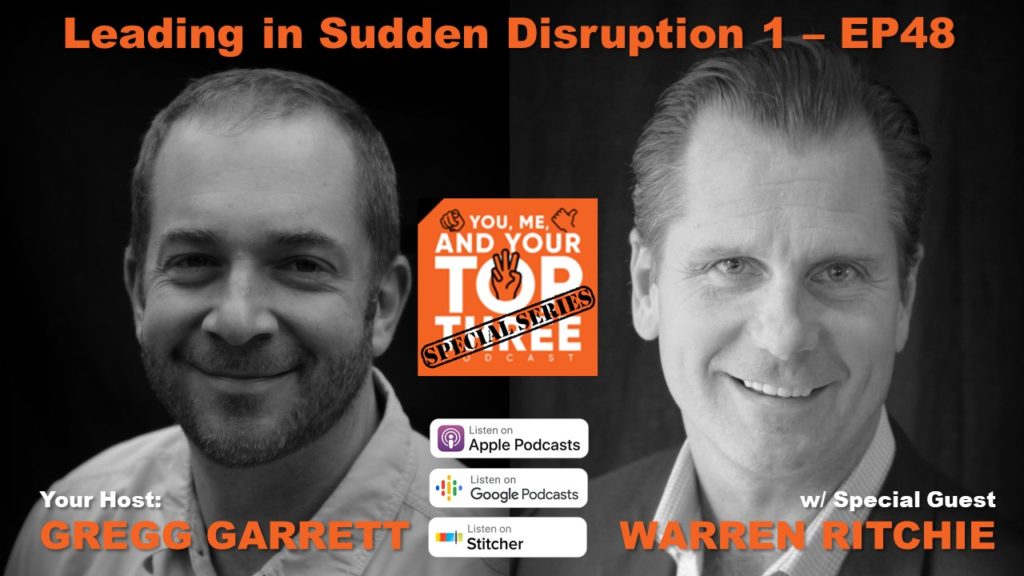 During this mini episode, You, Me, and Your Top Three host and CGS Advisors CEO, Gregg Garrett, speaks with CGS Fellow Dr. Warren Ritchie about leading in times of sudden disruption. They explore three questions: 1) Why do some companies fail? 2) What might our industries look like after this global pandemic? and 3) How do you prepare?
Show Highlights
0:40 No one has been here before – facing the global pandemic together.
2:17 Failure vs survival: Dealing with environmental shift and environmental shock.
4:35 What helps you survive – capabilities or resources?
6:26 Preparing for the new normal.
11:00 Focus on your restart plan to reestablish customer relationships.
14:40 Is managing a pandemic going to be a new capability?
20:12 Gaining perspective on some catalysts. (Spillover)
Additional Information
Contact Warren Ritchie:
Contact Gregg Garrett:
Contact CGS Advisors:
Subscribe: