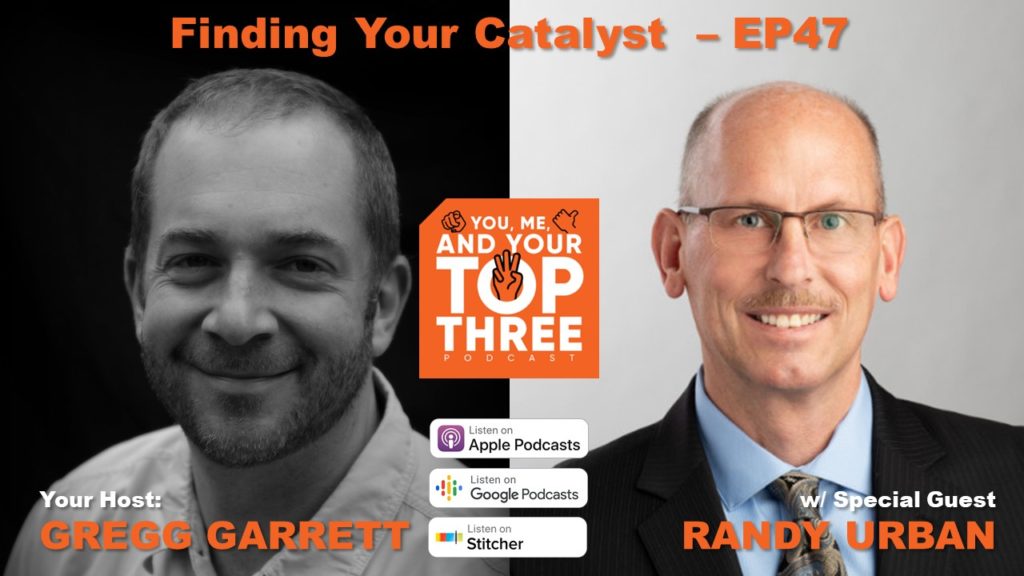 During this episode, You, Me, and Your Top Three host and CGS Advisors CEO, Gregg Garrett, speaks with Randy Urban, Global CIO at Martin Brower. Randy is responsible for keeping quick service restaurants stocked and operating during this time of disruption. He speaks about trends in the global QSR industry and transformations that are taking place in his firm. And, of course, he speaks about his top three – from his first boss who instilled customer centricity into his system, to a systems thinker who taught him to not accept mediocracy, to a modern-day transformation artist. And you have to hear what Randy has to say about the need to find your catalyst.
About Randy Urban
Randy Urban is a transformation leader that incorporates innovative leadership techniques to drive high performing teams and engaged team members. Randy is the Global CIO for Martin Brower. In his role, Randy leads the progressive adoption of information and digital technology to lead the rapid expansion of the QSR business capabilities and revenue growth. Prior to his role with Martin Brower, Randy spent time with Adient / Johnson Controls as a Vice President in the Digital Office. He has also worked at Delphi Automotive, Solutions Consulting Group, and the Dow Chemical Company.
Randy is a graduate of Central Michigan University and Kettering University.
Show Highlights
Segment 1: Overview
1:02 That pattern of resiliency that is emerging from COVID-19.
3:27 Can we return to the original? And should we?
5:18 Never waste a good crisis.
7:02        A global Quick Service Restaurant (QSR) provider.
8:58 Randy Urban – a life of stability mixed with great opportunities.
Segment 2: The "Top Three"
13:08 Randy's 'Top Three': Ron (Rocky) Brock – acute attention to detail & relentless focus on the customer.
17:44 Randy's 'Top Three': Doug Quada – don't accept mediocrity. Always consider the broader organizational requirements.
22:37 Randy's 'Top Three': Peter Diamandis – there is a wealth of information that can influence your thinking and behavior if you seek them out. (Singularity University)
29:36 Hints on leveraging the one-way relationship: Go out and talk to other people – industry conferences, other professionals, etc.
Segment 3: Disruption & Transformation
31:52 "You have to still run your current business."
34:52 The requirements of digital transformation.
40:04 The Quick Service Restaurant industry.
43:58 The effects of 'Fresh' on QSR – shortening the window of delivery.
46:52 The impact of Autonomous and AI on the QSR industry.
50:10 Hint for managing through transformation.
52:38 The impact of the trend of personalization.
Segment 4: Leadership & Wrapping Up
54:30 "The essence of leadership in influence."
55:46 Thinking in terms of abundance versus scarcity.
59:48 "I think to think of gratitude in leadership – being thankful to the people around you and giving people compliments."
1:01:45  Keep in touch with Randy Urban.
Additional Information
Contact Randy Urban:
Contact Gregg Garrett:
Contact CGS Advisors:
Subscribe: