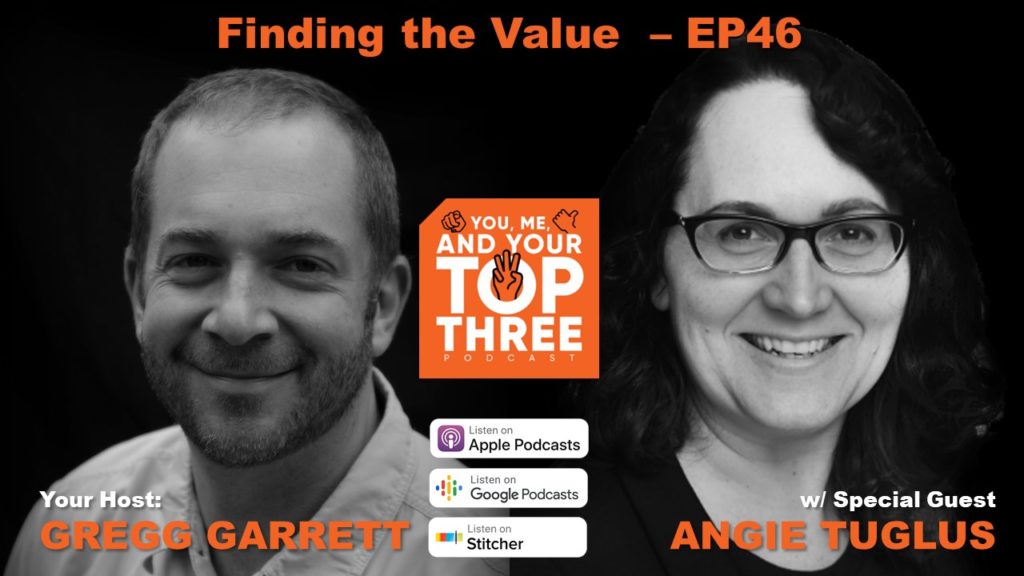 During this episode, You, Me, and Your Top Three host and CGS Advisors CEO, Gregg Garrett, speaks with CGS Fellow and Former COO of Ally Financial, Angie Tuglus. Gregg begins the episode by speaking about the realities of dealing with the global health pandemic and financial meltdown that is disrupting our world. He then turns to Angie to discuss innovating, leading and transforming cultures. Angie shares her experience leading a portion of the transformation from GMAC to Ally and speaks about what it is like to move from the IT department to operations of a digital services firm. And, of course, Angie shares her top three – from an early career leader, to a senior leader who helped her build her approach for transformation, to another great woman leader who, no matter what executive seat she is sitting in, does it her own way. And you have to hear what she has to say about 'finding the value'. 
About Angie Tuglus
Angie Tuglus began her career in technology startups, building new businesses, and then later applied her passion for transformation in large corporations undergoing major change. At Ford Motor Company, she was hired into the IT Leadership Program, and delivered a variety of projects across global IT management, IT security and new product research. At GMAC, which transformed into Ally Financial, Tuglus became CIO of International Insurance and led a global cross-functional team to replace multiple legacy systems across 25 countries with a single new platform: a new core transactional system, financial system, data warehouse, and the complementary organizational changes to jobs and processes. She then became EVP of Product & Project Delivery and led the creation and launch of the flagship Ally Premier Protection product and customer experience, the division's largest product line.
Following that success, she became COO for Ally Insurance, leading all core operational functions such as Contract Administration, Claims, Payments, Loss Control, and Collections. Upon inheriting a legacy culture that had not changed in decades, she drove a cultural transformation across the company, making Innovation the new normal and establishing new businesses such as Fixed Operations Consulting and Direct to Consumer.
Angie joined the CGS Fellows Network as an expert at successfully delivering large, cross-functional change initiatives, from concept creation through to delivery. She loves collaborating to find ways to transform businesses, to innovate, to change culture, and to deliver sustainable results. As both a business strategist and tech nerd, she also enjoys diving into technological and social changes that are at the point of real applicability to businesses and discussing how to build great leaders in an increasingly virtual, rapidly changing world.
Working with cutting edge digital companies, she keeps close to her entrepreneurial roots by advising startups such as TRED, a Seattle-based digital auto disrupter, and AQN Strategies, a boutique financial services consultancy with strong data expertise. She holds a BS in Materials Engineering from Northwestern University and an MBA from Duke University.
Show Highlights
Segment 1: Overview
1:15 The past week – unlike anything else.
3:05 The leaders of the past don't exist – we must lean on each other for support.
4:52 The role of women during past pandemics – The Spanish Flu of 1918.
8:37 There is opportunity in every disruption.
9:48 Angie Tuglus: CGS Fellow – From tech startups to Fortune 500 IT & Transformative Operations.
Segment 2: The "Top Three"
16:00 Angie's 'Top Three': Executive Mentor at Ford – Build your empire…or don't?
17:54 "There is always a way you can make something happen."
20:14 Angie's 'Top Three': John Boris – have a jovial attitude and being 'in it' together.
23:25 Angie's 'Top Three': Adriana Karaboutis – the importance of being who you are.
25:00 Fighting the corporate push to become someone different than who you are.
Segment 3: Disruption & Transformation
28:00 "Let's start with the fact. Companies have to change."
30:22 Customer Centricity – analyze where you're actually making the money and if that is going to change.
35:25 "Are you brave enough to pull people together to look at the core of what you offer?"
38:05 A transformation is all about the 'people systems'.
41:38 Own the Transformation: own what you are doing and own the future.
44:17 Learning from a failed transformation.
Segment 4: Leadership & Wrapping Up
47:10 Don't fear 'making the move'.
51:07 It shouldn't be about box checking at all – it should be about what you want to achieve next.
52:40 What is leadership? "Guiding people toward a common vision."
53:44 "Even if you can drive more value out of the technology, you will still treat it the same way."
59:14 Hint for leaders: Be open to the possible.
1:00:00 Stay in touch with Angie via LinkedIn and her blog.
Additional Information
Contact Angie Tuglus:
Contact Gregg Garrett:
Contact CGS Advisors:
Subscribe: