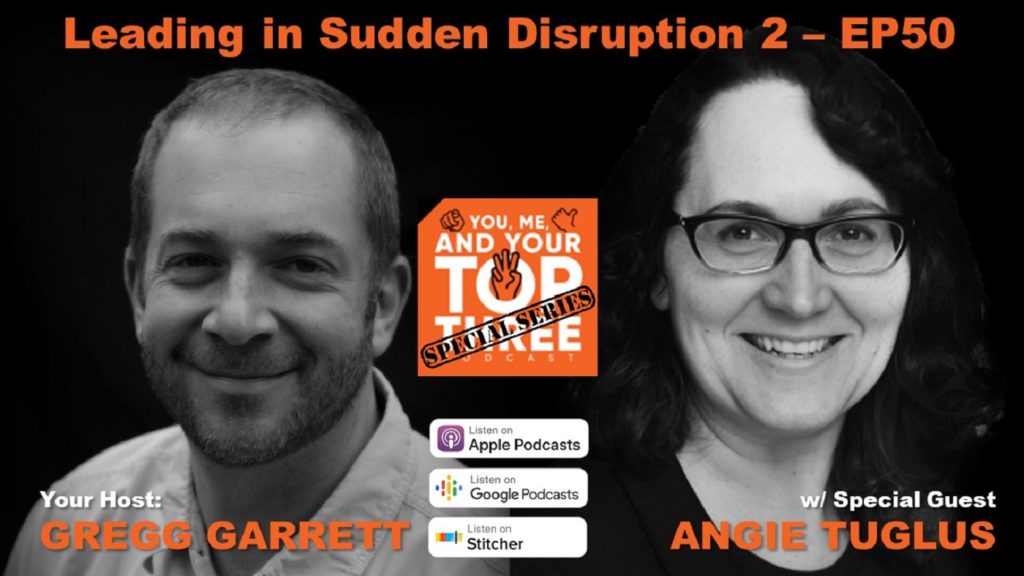 During this mini episode, You, Me, and Your Top Three host and CGS Advisors CEO, Gregg Garrett, speaks with CGS Fellow Angie Tuglus about leading in times of sudden disruption. They speak about Angie's experience during disruptions in 2006 when she was part of the restructuring of one of the largest companies in the world. She also talks about leading at a financial lending company during the 2008 mortgage crisis. She speaks about the differences between those times and this time of a pandemic and she gives a couple quick takeaways that might be useful to you.
Show Highlights
0:51 No one has been here before – facing the global pandemic together.
1:53 Assessing patterns from the mortgage crisis of 2008.
4:55 Leading people in the midst of crisis. 5:13 – 5:31
6:43 Hints for leaders to survive: Make it relative to people. Be candid but have a specific 'and' after that.
8:14 "Don't be afraid to talk to other leaders who have led through crisis."
Additional Information
Contact Angie Tuglus:
Contact Gregg Garrett:
Contact CGS Advisors:
Subscribe: