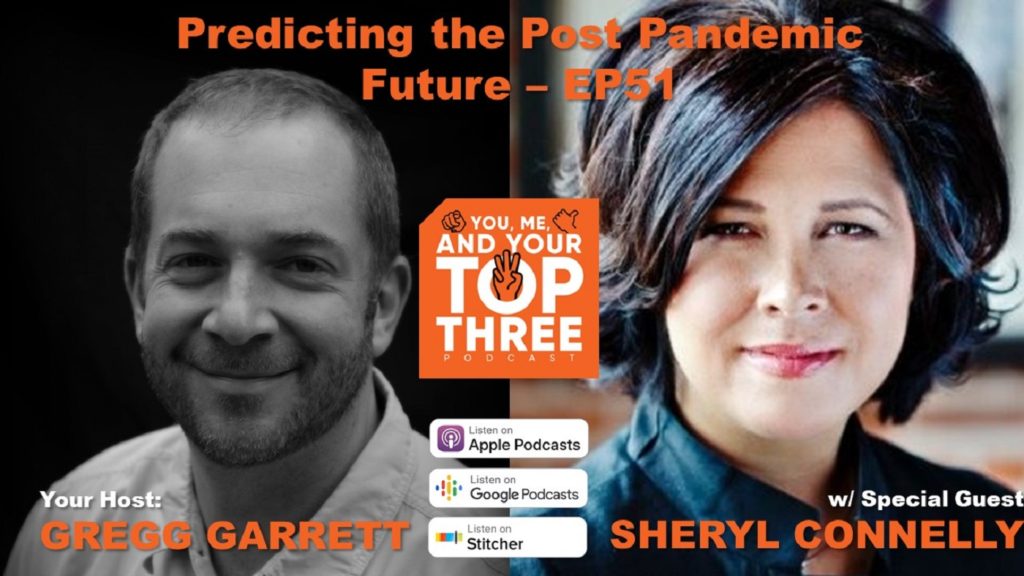 During this episode, You, Me, and Your Top Three host and CGS Advisors CEO, Gregg Garrett, speaks with Sheryl Connelly, Head of Global Trends and Futuring at Ford Motor Company. She discusses what it's like to consider situations much like the COVID-19 pandemic way before it even occurs and how leaders should consider scenario planning as a must-have capability in the future. Of course, Sheryl speaks about her 'Top Three'  – from her family who helps her bring empathy, to remarkable professionals from all over the world, to her breakfast club that helps her stay true to and take care of herself. And you have to hear what she has to say about simply listening to be able to think about tomorrow.
About Sheryl Connelly
Sheryl Connelly has served as Ford Motor Company's futurist for more than a decade. She is responsible for identifying global trends, exploring potential implications and cascading these insights on futuring to organizations throughout the company, including design, product development and corporate strategy. She is a member of the Global Advisory Council on transportation for the World Economic Forum. Fast Company magazine named her one of the Most Creative People in Business in 2013 and 2015. Connelly has been a featured speaker at TED Global, appeared on CBS This Morning , CNBC's Fast Money and NPR's All Things Considered with Robert Siegel. Before working for Ford, she practiced law. In addition to a juris doctorate, Connelly holds a bachelor's degree in finance and a master's in business administration. When her schedule permits, she teaches design research at Center for Creative Studies in Detroit.
Show Highlights
Segment 1: Overview
0:55 The 'new normal'.
2:49 Collaboration and innovation during the pandemic. (Article Link)
6:16 Sheryl Connelly – Chief Futurist at Ford Motor Company.
8:15 The path to becoming a futurist.
13:56 The role of the futurist – no one can predict the future; consider what can happen if assumptions are incorrect.
18:30 The rise of hope in times of uncertainty.
Segment 2: The "Top Three"
21:25 Sheryl's 'Top Three': Her Husband, Children, and Siblings – Having a diverse spectrum of perspectives to see your blind spots and biases.
25:36 Empathy is the skill most needed for effective leadership.
26:37 Sheryl's 'Top Three': Network of Remarkable Provocative Thinkers – Specialist individuals who know nothing about cars. (Bill Ford TED Talk. Sheryl Connelly TED Talk.)
29:22 Examples of Remarkable Provocative Thinkers (Jaron Lanier).
36:29 Bringing unlikely connections together – the polite contrarian.
42:00 Sheryl's 'Top Three': The Harlan Mom Breakfast Club – sharing life and challenges.
Segment 3: Disruption & Transformation
45:00 Think through the long-term consequences of your actions.
47:26 "Things will be different, but that usually means they'll be better."
50:50 "The status quo exists because it works for somebody."
52:10 Courage as a capability.
Segment 4: Leadership & Wrapping Up
54:05 "When we listen to people, we tend to listen with the notion of what are we going to say next. But what if we shifted to listening with the intent to understand."
56: 38 "You can't have empathy without listening."
57:08 Stay safe. Be healthy. Take care of your loved ones.
57:42 Visit FordTrends.com
Additional Information
Contact Sheryl Connelly:
Contact Gregg Garrett:
Contact CGS Advisors:
Subscribe: