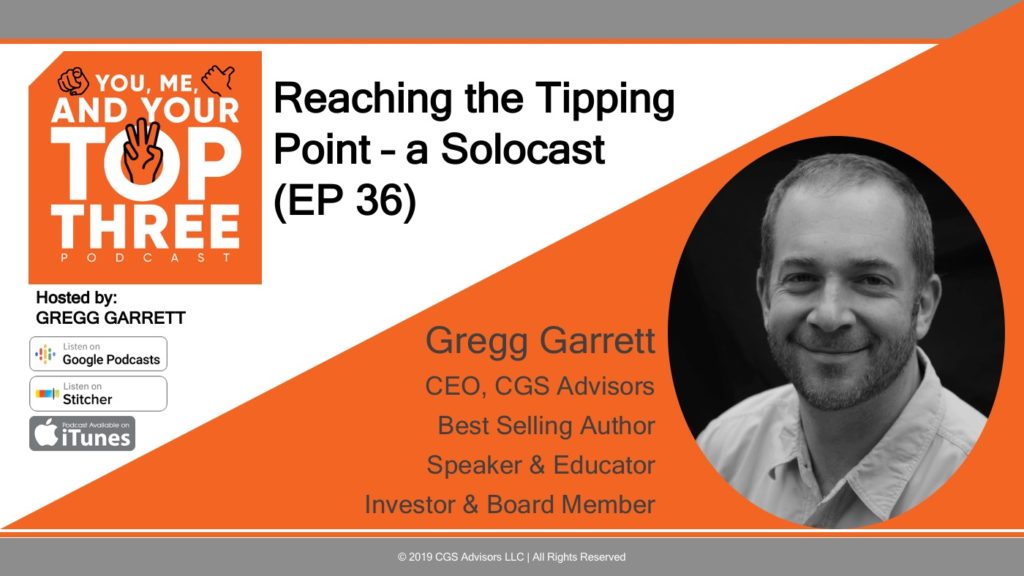 During this episode, You Me and Your Top Three host and CGS Advisors CEO, Gregg Garrett, takes a short pause from interviewing guests to reflect on 2019 and the evolution of IoT. Gregg speaks about three main topics: 1) observations from working in IoT and the ever-connecting world, 2) how this year has been a tipping point for the connecting world and the mindset many leaders have as they drive their companies through this disruptive potential, and 3) doubling down on integration and how 2020 will really require some different types of development skills.
Show Highlights
Segment 1: IoT Overview
1:04 The evolving IoT industry. (Kevin Ashton.)
3:32 The past: IoT was mostly driven by technology integrators.
5:04 "I started to see the difficulty of the connected product….it wasn't only a promise, it was now a cost."
5:43 The present: Can anything not be 'connected'?
Segment 2: The Evolving World
10:00 "We've reached this tipping point."
11:21 It is no longer about the connected product; it is now about the connected enabled experience.
12:48 "I believe the number one most importance capability to compete in this ever-connecting world for companies….is the ability to develop connections."
14:00 A challenge: Build meaningful, business-oriented relationships over points on the journey.
Additional Information
Contact Gregg Garrett:
Contact CGS Advisors:
Subscribe: