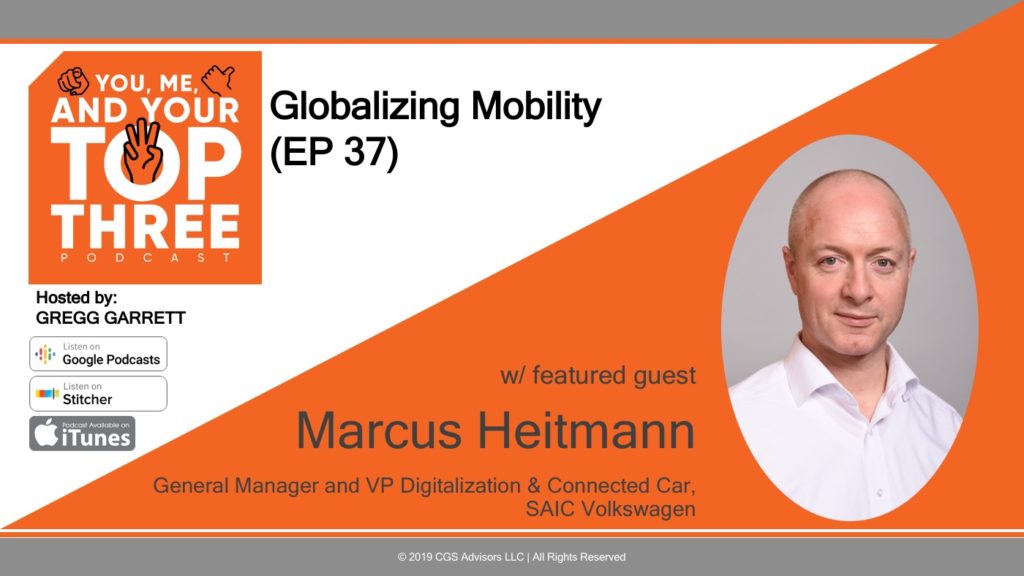 During this episode, You, Me, and Your Top Three host and CGS Advisors CEO, Gregg Garrett, speaks with Marcus Heitmann, General Manager and Vice President Digitalization & Connected Car, SAIC Volkswagen. Marcus is a global expert in connected automotive and mobility and is one of the few people who have spent time on both the 'internet' and 'things' sides of the IoT business. Marcus is a global IT expert and speaks to the similarities and differences of connected industries across the globe. And, of course, he speaks about his Top 3 – ranging from outside of industry experts who have helped him to think different, to seasoned company executives who teach him how to navigate strategies to increase transformation success, to close family members who keep his feet planted while his brain may be up in the sky. And you have to hear what Marcus has to say about competing in the Chinese market.
About Marcus Heitmann
Dr. Marcus Heitmann is General Manager for Digitalization and Connected Car at SAIC Volkswagen in China, responsible for the brands Audi, Skoda and Volkswagen. Previously he was responsible for VW's connected car program worldwide since 2012, supporting in various management positions the digitalization and transformation of the company enabling it to become an excellent service provider. Prior to that he was Director Innovation and Business Development at Deutsche Telekom Laboratories in Berlin and the Silicon Valley for the topics Automotive, Machine-to-Machine Communication (M2M) and Smart Grid. He has been an entrepreneur and founder of an IT security company and received his PhD in economics on the topic of IT security. Marcus combines digitalization, new business models, telematics, IT and IT security through +20 years of professional experience and has a strong record of combining engineering and business expertise with customer and product orientation.
Show Highlights
Segment 1: Overview
1:09 IoT is at the heart of the Connecting World. (Learn more by read Competing in the Connecting World)
3:13 Leaders of the future will have a foot in each camp of IoT.
6:02 Marcus Heitmann: From social sciences and marketing to the leading edge of Connected Vehicle. (Deutsche Telekom. SAIC Volkswagen.)
Segment 2: The "Top Three"
11:00 Marcus' "Top Three": Oliver Diener – providing insights on general management and the connect car.
13:38 Defining the mindset people need for an agile organization.
18:12 Marcus' "Top Three": Axel Rüb – the importance of analytics, understanding intentions, and navigating the Volkswagen cosmos.
23:06 People management should not be seen as a distraction – it is worth the investment of time.
24:37 Marcus' "Top Three": Klaus Heitmann and Ulrike Schneider – the outside-industry perspective and people management.
27:22 A trend: Leaders surround themselves with fantastic people, but also with people who will ground them.
29:27 "If you're not close with a parent or a spouse [who will be direct and honest], give someone else the license to play that role for you."
Segment 3: Industry Disruption & Transformation
31:05 To understand the future of the Mobility industry, it is important to look outside the industry.
35:30 CES will give you hints for the future, but are not the future. The people there are more important than the technologies.
36:47 The Chinese Market: Understanding and designing to differences.
39:27 Technology usage in the Chinese market – payment, facial-recognition, and more.
41:40 Is the Chinese market the example of how other markets will adopt technology?
44:40 Transformation of the automotive industry.
47:38 Hint to leaders: "Take half of a day off every month and sit at home with large pieces of paper/whiteboard and think about all the things you have done and what you will do in the next few months."
50:57 Hint to leaders: "If you're in digital transformation, always think about what is the reason for this transformation. If you're answer is profit, you are doing something wrong."
52:28 The impact of automotive on the future of other industries.
57:04 The integration of mobility and insurance/healthcare.
Segment 4: Leadership & Wrapping Up
59:57 What makes a great leader? "Stepping down from the old, top-down leadership approach."
1:01:50 Stay in touch with Marcus via LinkedIn.
Additional Information
Contact Marcus Heitmann:
Contact Gregg Garrett:
Contact CGS Advisors:
Subscribe