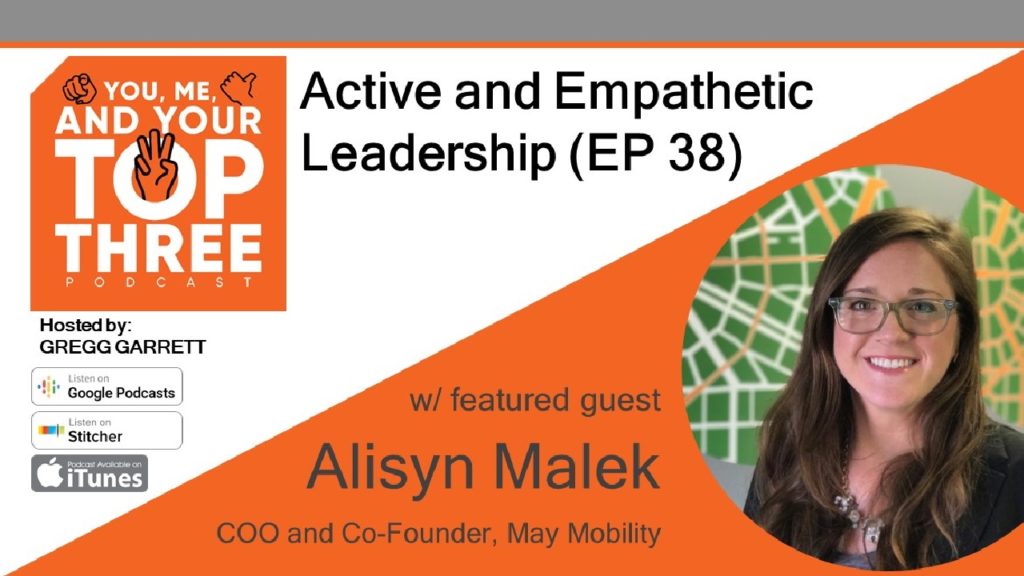 During this episode, You, Me, and Your Top Three host and CGS Advisors CEO, Gregg Garrett, speaks with Alisyn Malek, COO and Co-Founder, May Mobility. Alisyn talks about how her company is helping to define a totally new transportation system and what it is like transitioning from being an engineer to corporate innovator to founder and industry disruptor. Alisyn and Gregg discuss large macro systems and the delicate balance between simplicity and complexity. Of course, Alisyn speaks about her Top 3, a group of strong women who helped her find empathy, bravery, and to reflect on her own future career path. And, you have to hear what she says about "badass women" who support one another.
About Alisyn Malek
Alisyn Malek is the COO and Co-Founder of May Mobility, Inc.
May Mobility's vision is to transform cities through autonomous technology, creating a safer, greener, more accessible world. They have made it their mission to reimagine transportation by developing and deploying autonomous shuttles that get people to their destinations safely and easily. Service has launched in Detroit, Columbus, Ohio, Providence, Road Island as well as Grand Rapids, Michigan.
Alisyn was formerly the head of the innovation pipeline at General Motors. Prior to that role she was an investment manager at GM Ventures. During her tenure there, she led investment in the autonomous space, including the early negotiations with Cruise Automation, helping to cement GM's autonomous strategy. As an automotive engineer, she led a global team to develop SAE Level 3 charging technology for GM's Spark and Bolt EV Products. As well as supporting release of electrical components for the first generation Chevy Volt.
Alisyn holds two bachelor's degrees from the University of Michigan, Mechanical Engineering and German Language. Malek was recognized as a top ten female innovator to watch by the Smithsonian in 2018, named a top automotive professional under 35 to watch by LinkedIn in 2015 for her work in cutting-edge product development and corporate venture, and identified as a Crain's Detroit 20 in their 20's awardee for her work in engineering and deployment of advanced charging systems..
Show Highlights
Segment 1: Overview
1:00 Thinking through macros systems – societal/industrial systems, organization systems, and the leadership system.
3:18 Over the next decade – there will be less and less independent systems (with examples).
10:16 Alisyn Malek – May Mobility. Corktown Studios. And more. (General Motors)
Segment 2: The "Top Three"
12:23 Alisyn's 'Top Three' – Alyssa Jernigan – A clear dialogue. Seeing the blind spots.
14:44 Alisyn's 'Top Three' – Vanessa Miller – Surround yourself with people who have different skills than you. Creating empathy.
18:20 Alisyn's 'Top Three' – Elaina Farnsworth – A source of experience and guidance.
Segment 3: Industry Disruption & Transformation
22:58 May Mobility – founded to solve a unique challenge facing the world today; an imbalance in access to mobility within the backdrop of increasingly congested cities and towns.
23:50 Look at global mobility marketplace and how they use ACES (autonomous, connected, electric, shared) vehicles.
28:04 Expanding May Mobility to the global market. (Toyota Motor Company.)
30:43 "The last mile is hard. That is a lot of what we are doing today."
34:27 Being a leader in a growing organization: you have to be thoughtful to keep everyone growing in the same direction.
39:38 Creating a startup in Southeast Michigan and growing it for sustainability.
Segment 4: Leadership & Wrapping Up
44:14 How do you accomplish everything at the same time? "Learning to forgive myself."
47:59 "People don't actually like women who are direct." – being a woman leader in the automotive space.
49:11 Special advice for women: For any perceived minority…"Don't take no as the first answer. And sometimes you just have to brush it off."
51:32 Detroit Badass Ladies – There are a lot of bad ass ladies in this city and we need more excuses to get together and elevate ourselves to new levels of bad assery.
56:01 Advice for leaders: Actively listen. Depersonalize things.
58:54 Follow Alisyn Malek on LinkedIn and Twitter.
Additional Information
Contact Alisyn Malek:
Contact May Mobility:
Contact Gregg Garrett:
Contact CGS Advisors:
Subscribe: