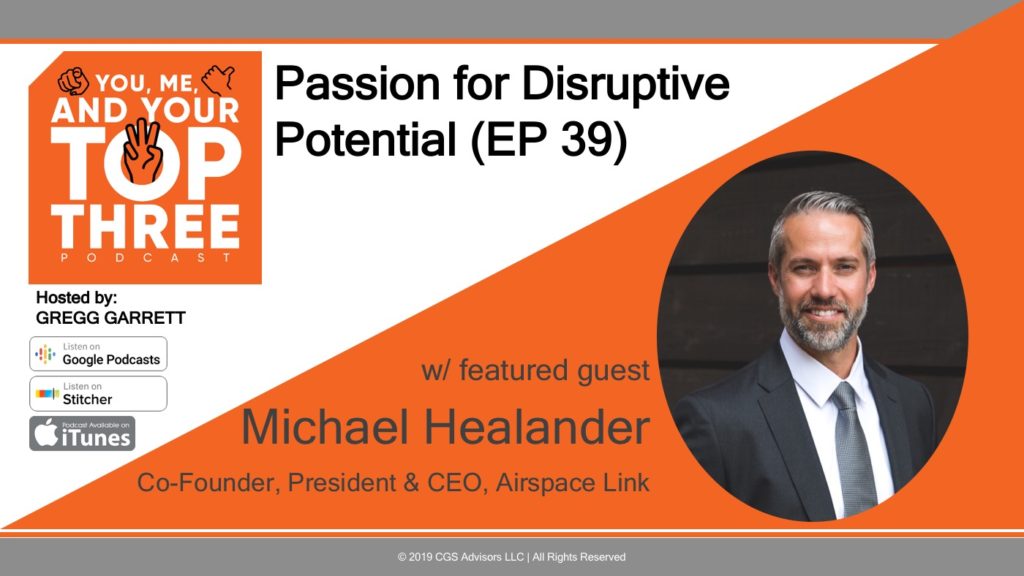 During this episode, You, Me, and Your Top Three host and CGS Advisors CEO, Gregg Garrett, speaks with Michael Healander, Co-Founder, President and CEO, Airspace Link – a company that is building highways for the autonomous drone industry. Michael and Gregg spend time discussing the importance of ingenuity and the patterns of disrupting an industry. Michael shares his 'Top Three' – from coaches that helped him recognize that you don't need to be cut from the same cloth to succeed, to those that taught him that intentionally applying oneself increases the chances for success and greatness, to those who believed him before he even did, to the teammates who made the team stronger than the individual. And, you have to hear what Michael has to say about the magical power of passion.
About Michael Healander
As President & CEO of Airspace Link, Inc. Michael Healander is responsible for running all facets of the business. Michael has a proven executive management track record and 15 years of experience driving sales growth in the technology industry. Prior to joining Airspace Link, Michael was Vice President of Business Development at Acuity Brands and he was responsible for all software sales across four brands. Previously, he was the co-founder and CRO of Geometri where he built an indoor mapping, analytics and navigation business that was successfully acquired by Acuity Brands. Michael also served on GISinc. management team for six years and was recognized as a leader in location technology. GISinc grew from 25 to 170 employees over this period. Michael has 20 years of experience in spatial technology, 12 years in state & local government, 7 years in the commercial and retail industry, 2 years in Federal (DoD) and currently holds an FAA commercial drone pilot license.
Show Highlights
Segment 1: Overview
1:00 The importance of reflecting on the industrial revolutions of the past.
6:50 Doubling back into the industrial era – where digital and industrial economics will start to collide.
8:19 Michael Healander – a geospatial engineer turned entrepreneur (Airspace Link.)
Segment 2: The "Top Three"
13:15 Michael's 'Top Three' – Dave Gomez – Understanding what motivates people.
14:40 Michael's 'Top Three' – Jim Silver – "If you apply yourself, you can be great."
20:52 Michael's 'Top Three' – Carl Ojala, Dr. Yichun Xie – Finding the passion for geospatial engineering.
21: 58 Michael's 'Top Three' – Sally Price – The ability to feel like I can do anything.
22:58 Michael's 'Top Three' – Lee Lichlyter – a GIS and business mentor. How to scale. (Sean Savage. Patrick Lencioni.)
32:17 Stepping back and handing your success to the next person.
33:40 Michael's 'Top Three' – Danny Bradshaw – a partner with extreme trust.
35:45 Michael's 'Top Three' – Alex Iskold – here at any moment. (Voxer.)
Segment 3: Industry Disruption & Transformation
39:46 Airspace Link: A geospatial asset management system.
45:30 Being the 'Vanderbilt' or 'Eisenhower' of drone travel.
47:32 How big is this industry? Global.
49:11 The Airspace Link growth path.
Segment 4: Leadership & Wrapping Up
53:17 Advice for youth: "Geospatial capabilities is a niche and people want that."
56:58 Advice for leaders: 'Hack' passion and build your passion for whatever you are doing.
59:29 Check out Airspace Link's newest launches and contact Michael on LinkedIn.
Additional Information
Contact Michael Healander:
Contact Airspace Link:
Contact Gregg Garrett:
Contact CGS Advisors:
Subscribe: