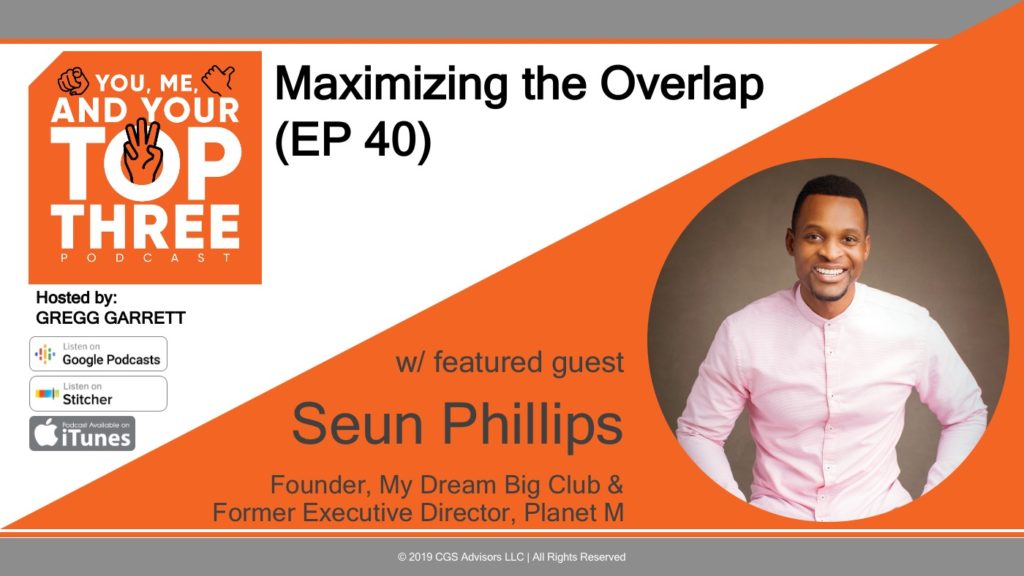 During this episode, You, Me, and Your Top Three host and CGS Advisors CEO, Gregg Garrett, speaks with Seun Phillips former Managing Director of PlanetM & Founder of STEMNETICS. Seun and Gregg talk about mobility and how the roles of safety, accessibility, and electric and autonomous vehicles are playing a major role within the automotive industry. Seun's 'Top Three' gives us a broader look into who he leans on for inspiration – from those who give him the drive to have an entrepreneurial spirit, to business groups who gave him first-hand experience that allowed him to excel today's world. Seun shares his thoughts on the challenges facing the automotive industry and shares hints on what makes a good leader and how leaders can not only preach inclusivity, but also live it. Finally, Seun highlights the My Dream Big Club which focuses on bringing like-minded individuals together to discuss transformative topics, motivate each other and support big dreams.
About Seun Phillips
Seun Phillips is the co-founder of My Dream BIG Club, which started in 2018 with the mission to inspire and motivate others to dream BIG. In 2015 also founded STEMNETICS and is currently serving as the Executive Director to deliver projects catered for ages 4 – 10 at home and in the classroom to strengthen 21stcentury skillsets.
Phillips started his professional career as a Senior Electrical Engineer at Motorola Mobile Devices, where he focused on audio circuitry and accessory compatibility. Phillips went on to co-found the Chicago-based non-profit, Project SYNCERE, with the mission to increase the number of underrepresented and disadvantaged K-12th grade students pursuing science, technology, engineering and mathematics (STEM).
Phillips recently served as the Managing Director of PlanetM, an initiative of the Michigan Economic Development Corporation (MEDC). As the Managing Director, he was responsible for growing operations, partnerships and technology development within Michigan's connected autonomous vehicle industry.
Prior to joining MEDC, Phillips served as the Vice President of Education and Engagement at the Michigan Science Center in Detroit, MI. Phillips was responsible for programming and developing partnerships between corporations, schools, foundations and community organizations.
Phillips graduated from the University of Michigan with a bachelor's degree in electrical engineering and a minor in mathematics. Phillips received the Five Under Ten from his alma mater to recognize his professional achievements and contributions to the community-at-large. He also received the Conversations Awards, which highlighted Chicago's most dynamic movers and shakers within Entrepreneurship, Medicine and Non-Profit businesses. Phillips serves on the Board of Directors for Project SYNCERE and the Folu Phillips Foundation.
Show Highlights
Segment 1: Overview
1:15 Ven Diagrams – The history behind them and their importance in the connecting world.
3:15 Leadership – clearing the path to success.
6:23 Work Life Balance – creating the 'integration'
9:20        Seun Phillips: From consumer electronics, to education, to mobility.
Segment 2: The "Top Three"
12:50 Seun 'Top Three' – Omonye Phillips – Surround yourself with people who drive you and have a strong entrepreneurial spirit.
14:40 Seun 'Top Three' – 'The Corporate World' – How different experience allow you to excel.
Segment 3: Industry Disruption & Transformation
17:20 Mobility – How increased safety, accessibility, data, and emerging vehicle types are driving change.
19:30 Concerns about the industry – "There is no true one standard for us to follow"
22:10 The opportunities California presents.
24:45 My Dream Big Club – To bring like-minded individuals together to discuss transformative topics, motivate each other and support big dreams.
29:40 Trends as the enablers of dreams.
Segment 4: Leadership & Wrapping Up
32:50 "Leadership is empathy, truly and genuinely caring about the people that are around you."
35:50 Advice for leaders: As a leader you need to be able to include everyone in the conversation. Make the workplace as inclusive as possible.
41:00 Is the diversity 'why' starting to be believed?
44:20 Listen to the (new!) My Dream Big Club Podcast.
45:36 Keep in contact with Seun via LinkedIn and email.
Additional Information
Contact Seun Phillips:
Seun's email: seun@mydreambig.com
Seun's LinkedIn
Contact My Dream Big Club:
Contact Gregg Garrett:
Contact CGS Advisors:
Subscribe: