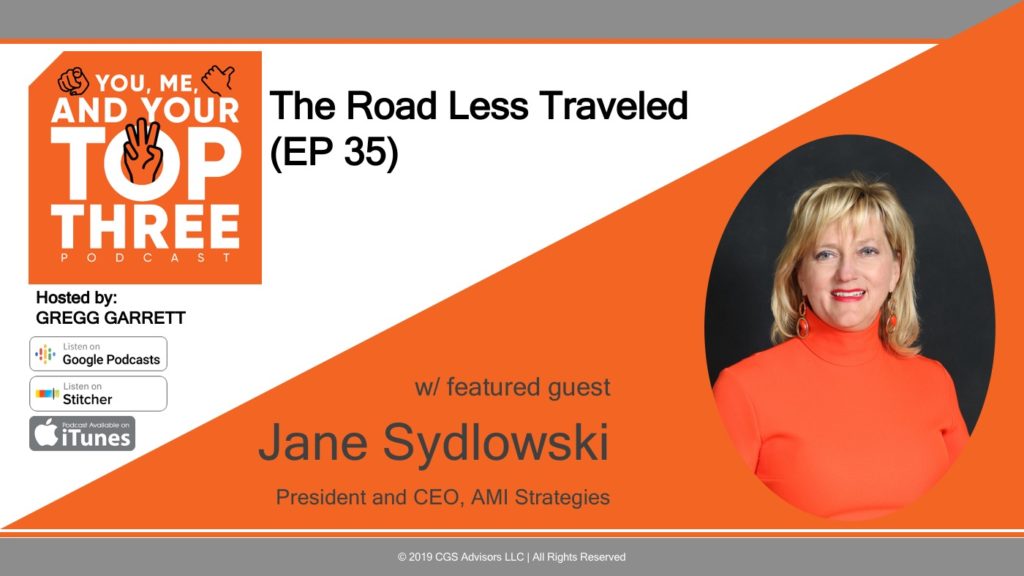 During this episode, You Me and Your Top Three host and CEO, CGS Advisors, Gregg Garrett, speaks with Jane Sydlowski, President and CEO AMI Strategies. Jane, a self-made entrepreneur, discusses the process of leaving the stable situation of working for an established company and entering the unknown of her own venture. She speaks about the decades of ups and downs she has experienced during market corrections and the realities of being a female founder in a tech-centered industry. As the recent president of one of the country's largest professional organizations for women in technology (MCWT), Jane shares the two-way nature of board work and hints for women in the technology industry. And, of course, Jane speaks about her top three – from her mother who always pushed her to be comfortable to put herself out there, to her spiritual copilot who steered her through the loneliness of being an entrepreneur, to her colleagues who help her stretch into new adventures. And, you have to hear what Jane says about the power of 'friendtors' who support her in taking the road less traveled.
About Jane Sydlowski
As the CEO of AMI Strategies, Jane Sydlowski is responsible for directing and growing a dynamic, experienced AMI team. She is accountable for all business aspects of AMI Strategies and has created strategic vision for AMI that includes exceeding client expectation, profitable growth, and employee empowerment. Jane has embraced a Human Centered Design approach that contributes to both the culture and hockey stick growth.
AMI has recently (2019) received two awards from its Industry Association; Innovation of the Year for their Invoice AI product and the Giving Back award for their strong commitment to helping the community.
During AMI Strategies twenty-eight-year history and under Jane's leadership, she has been recognized by; Michigan State University as a "distinguished alumni", Lawrence Tech as a "Leaders and Innovator", and Rhonda Walker as a "Powerful Woman of Purpose." Jane also received the "Top Notable Women in Tech" from Crain's Detroit Business.
Board Membership:
As the 2019 President of the Michigan Council of Women in Technology (MCWT), Jane is accountable for directing a dynamic nonprofit organization that includes over 60 Board and Advisory Board members, and a 1000+ members. The MCWT hosts 60+ events per year that encourage advancement for girls and women in Tech. Janes responsibilities include creating the strategic plan, messaging for the organization and speaking to the various stakeholder groups; be it Middle or High School girls or Early to Mid to Late Career women.
Jane serves on two additional boards; Board Member of the Midwest Technology Leaders and Chairman of the Board for Greenpath.
—————————————————————————————————————————
Jane has a Bachelor of Science in Applied Engineering from Michigan State University and an MBA from Wayne State University.
Show Highlights
Segment 1: Overview
1:12 The role of a catalyst.
3:55 The superpower of being a catalyst – Jane Sydlowski (AMI Strategies. GreenPath Financial Wellness. MCWT.)
5:37 AMI Strategies – an integrator in Technology Expense Management.
Segment 2: The "Top Three"
7:40 Bravery by choice – taking the entrepreneurial road less traveled.
10:50 Jane's "Top Three": her mother – come out of your shell and literally sing 'ta da – I'm here'
14:12 How being different impacted success.
16:28 Bravery – Managing the ups and downs of business.
24:94 Jane's "Top Three": her spiritual co-pilot – "thank you, Lord, for traveling with me today"
26:46 How adversity strengthens a team. SOUND BITE
28:20 How AMI Strategies is disrupting itself.
30:38 Jane's "Top Three: Dean Keeler – true thought leadership, insight, and forward thinking positioning.
Segment 3: Industry Disruption & Transformation
34:59 Cannibalizing your own business.
39:21 AMI Strategies: 2019 Innovation of the Year Award Recipients from the Enterprise Technology Management Association.
41:30 The human-centered design revolution. (Kristen Holt)
50:38 The Michigan Council of Women in Technology (MCWT) – building the pipeline of girls and women in technology.
53:33 Bravery for women in technology.
Segment 4: Leadership & Wrapping Up
56:24 "Make yourself get involved."
58:38 Creating your own golf course – 'friendtors' (Mamatha Chamarthi. Rod Davenport. Jill Maiorano. Tracy-Ann Palmer. Teri Takai.)
1:05:53 New MCWT President – Melanie Kalmer
1:07:22 Stay in touch with Jane via email: jsydlowski@amistrategies.com or via LinkedIn
1:08:05 Hint to leaders: "Make sure that you've considered the road less traveled as possible."
Additional Information
Contact Jane Sydlowski:
Contact AMI Strategies:
Contact Gregg Garrett:
Contact CGS Advisors:
Subscribe: