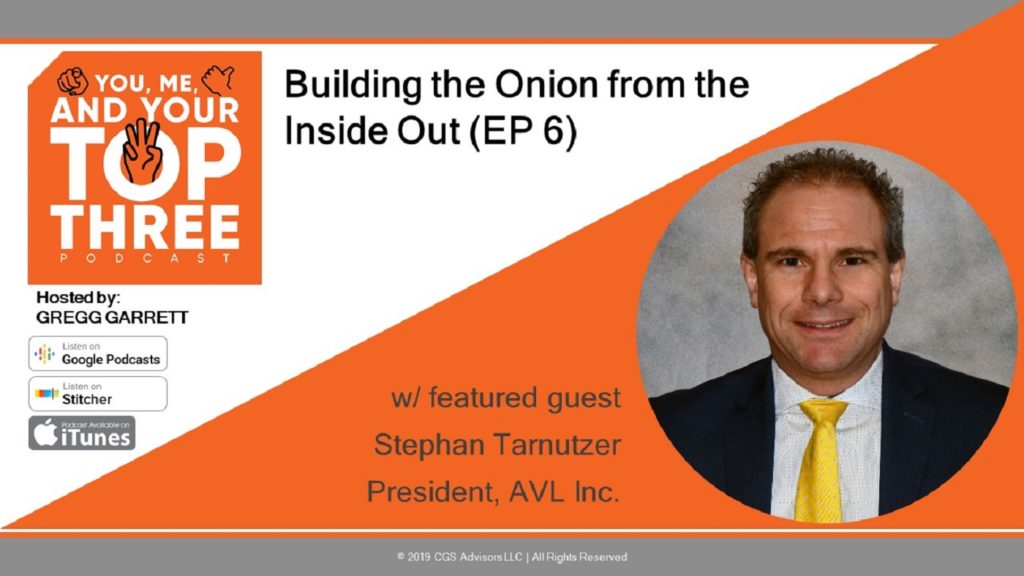 About this Episode
Stephan Tarnutzer gives in-depth insights into the mobility industry and the disruption that he is living daily. Stephan is feeling the effects of technological innovation emerging in connected and autonomous vehicles, and how formally disparate industries are merging and driving a metamorphosis from automotive to mobility. He speaks as a transformational corporate leader in building, buying, and selling companies over the last 15 years. Finally, Stephan reflects on his own advisors. He shines a critical light to the import role women play on his personal board and why he believes they are superior to men in giving him advice.
About Stephan Tarnutzer
Stephan Tarnutzer is the President of AVL Powertrain Engineering, Inc. AVL is the world's largest independent company for development, simulation and testing technology of powertrains (hybrid, combustion engines, transmission, electric drive, batteries and software) for passenger cars, trucks and large engines.
With more than 20 years of experience, Tarnutzer has held several engineering leadership positions. Prior to AVL, Tarnutzer was vice president of Electronics at FEV, where he was part of the global senior executive leadership team and the global head of the Smart Vehicle Center of Excellence.
Tarnutzer has a history of fostering a culture of innovative thinking and growth while continuously challenging technical development teams to overcome obstacles with creative thinking. A holder of seven patents, he is an executive who leads by example. Under his leadership, Tarnutzer's Global Electrification, Connected Vehicle and ADAS groups have won numerous high-profile development contracts with global OEMs, and redefined industry solutions.
Tarnutzer's diverse educational background serves as a foundation to make informed strategic and financial leadership decisions. He holds a B.S. in Electrical Engineering from the Technical University of Zurich, a B.A. in Economics and a B.A. in Management from Indiana Wesleyan University, an MBA from Oakland University, and is a graduate of the General Management Executive Leadership Program at the Kellogg School of Management at Northwestern University. Stephan is a loving husband, father, and contributor to his church. He is also an avid basketball fan, coach, and player.
Show Highlights
3:06 From Switzerland to the States: Stephan reflects on his mobility journey through DaimlerChrysler(powertrain) and AVL (emobility, infotainment, and more).
Segment 1: Industry Disruption
5:26 From his experience with AVL, what are his thoughts on industry convergence and collaboration.
9:54 What does collaboration look like in the automotive industry? How is collaboration executed seamlessly?
13:59 Culture shock at AVL.
Segment 2: Firm Transformation
16:59 "Building the Onion" at AVL: what does it take for successful industry transformation?
22:51 The Onion at its core – Chrysler and DGE.
26:30 Buying and investing: What does Stephan say about the value of people and talent?
Segment 3: Brave Leadership & the "Top Three"
31:17 Stephan draws his energy and growth from the perspectives of both industry experts and the honesty of those closest to him. His Top Three:
Industry/Firm Leaders: Navigating Internal Structure
Spiritual Leadership: Navigating Life's Purpose
Personal: True To One's Self
-Stephan's spouse
-Stephan's best, female friend
41:22 Stephan reflects on the importance of having strong, female leadership within an advisory board.
44:35 Who ultimately pushes Stephan to be brave?
Wrapping Up
45:42 Relying on the Team: a message of advice to the young leaders of tomorrow.
49:35 AVL news & How to stay in touch
Additional Information
About AVL: AVL.com
Contact Stephan: LinkedIn
Contact Gregg:
CGS Advisors: