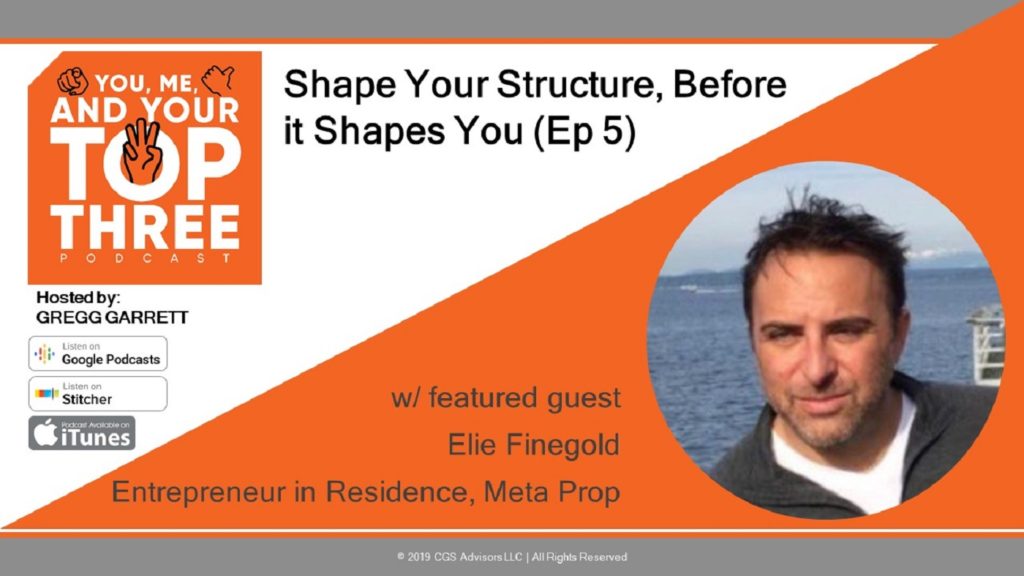 About this Episode
Elie Finegold shines a light on major disruption, currently taking place in the global real estate industry. An industry luminary, he ignites a passionate conversation centered on how mobility and connected technologies are a major driver of this industry disruption. After the exploration of large industry trends and Elie's experience as head of innovation at firms like CBRE, you will glean insight into how he surrounds himself with three types of advisors that keep him true to himself, realistic to execute, and push him to be brave!  Near the end of the interview, you will hear pointed advice about the importance of not being shy to seek out mentors that stretch you, and most specifically the criticality of building your advisors into a networked ecosystem.  Elie says "connect your advisors to one another, because it is out of those connections that will come the most unexpected and useful insights!"  We are so glad we can connect you with Elie, we are certain you  will find some unexpected insights.
About Elie Finegold
Mr. Elie Finegold is an experienced entrepreneur, corporate strategist, and senior executive with experience that sits at the intersection of Real Estate and Technology. He serves as an Entrepreneur in Residence of MetaProp NYC and is an advisor to both startups/growth companies and VC/PE firms. Elie is the former head of Global Innovation at CBRE (NYSE:CBRE), founding President of Island Global Yachting and founding partner at Island Capital Group, and Chief Innovation Officer at Insignia Financial Group (NYSE:IFS). Early in his career he founded and managed two companies in the Seattle area.
Mr. Finegold is active community leader, serving on the Board of Directors as President of Seattle Works, Seattle's largest organization promoting volunteerism among young adults. His honors thesis received the Hoopes Prize and was published by the Harvard Library Press. Mr. Finegold graduated magna cum laude from Harvard University with a degree in ethnomusicology, a concentration he created and designed.
Elie is an experienced speaker and thought leader, a dedicated husband, an avid fan of music, food, and Seattle sports.
Show Highlights
3:03 Elie's rich background: a journey from Harvard to the boardroom with interesting colleagues across the world (e.g. Andrew Cuomo).
10:58 What's disrupting the Real Estate industry?
17:20 Transforming a firm. CBRE Innovation and working differently, secrets to how they made it real!
20:41 Is the open floor plan part of the future of work?
22:42 How is the culture of a company impacted by remote connectivity? What serves as a useful team environment?
25:31 What are Elie's thoughts on disruption in relation to those in the outside mobility world?
32:53 Elie's "Top Three" – advisors who he leads on to be brave and push to transform his firms:
Family / Close Friends – Staying true to Elie, focusing on values and core.
Closest Colleagues who worked for Elie – Help to make ideas real. "Dose of Reality"
People Elie has worked for and have been formal mentors. Gut check on big new ideas who push him to take risks.
45:26 Be intentional with seeking leaders who can be your advisor for what is in front of you. Give first – you can learn so much from the advisory networks.
50:33 Is bravery a core capability for today?
51:10 What is Elie's advice for leaders in order to be successful in this connected world?
Find someone who you can help…. build your network.
Connect your advisors to find the most useful and unexpected insights!
53:41 What are Elie's upcoming milestones?
Additional Information