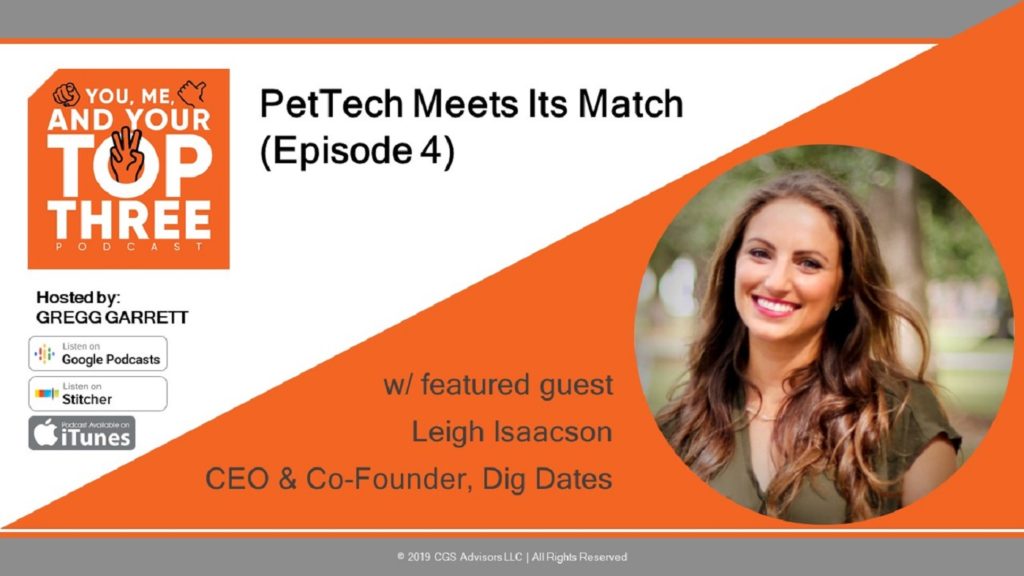 About this Episode
Leigh Isaacson, provides a front row account of the Pet Tech and Dating industries. Her firm Dig, the dating app for dog lovers, competes at the intersection of these two ultra-hot markets. Leigh's diverse career background and personal journey provide an interesting backdrop for the discussion of how diverse capabilities can stack to give competitive advantage. You will understand the important role, reaching the heart of pet owners, plays in navigating Pet Tech as well as hear Leigh discuss the important role advisors have played in her life and the confidence it takes, stepping out into the world entrepreneurship.
About Leigh Isaacson
CEO and Co-founder of the dating app for dog lovers, Dig, Leigh has a large set of varied career experiences. Beginning in journalism, Leigh began as a general news reporter, later shifting to investigative reporter for One Africa TV in Windhoek, Namibia, WSYR-TV in Syracuse, NY, and WVUE-TV in New Orleans, LA. Leigh received her Masters in homeland security and Emergency Response Management where she later created a curriculum, which she currently teaches to graduate students. Leigh has served as the Southeast Regional Director for the Coastal Conservation Association of Louisiana and was a recent guest on NPR's How I Built This One. Leigh lives with her German Shorthaired Pointer, Penny.
Show Highlights
2:40 Leigh's background and journey to CEO?
4:45 Dating apps and Pet Tech, in which industry does she identify?
6:32 Unity within the Industry
8:35 Where does she see industry disruption in Pet Tech?
12:24 Tell us more about Dig, where is the company located?
15:40 Leigh's Pet Crew
17:39 What are the key capabilities of Dig?
21:40 How is Leigh using data analysis to effectively attract the heart of the customer?
26:33 Who are the Top 3 that exist within her advisory board, from whom is she drawing energy?
30:24 What is the toughest advice Leigh received from an advisor?
32:34 Who pushes Leigh beyond boundaries and to think bigger?
34:49 In looking at individual capability, how important is confidence in leadership?
38:49 What advice does Leigh have to share to up and coming entrepreneurs?
40:23 What big news is there to share about Dig?
42:37 Leigh reflects on "Dog Mom's Day"
Additional Information
About Dig Dates:
Contact Leigh:
Contract Gregg: