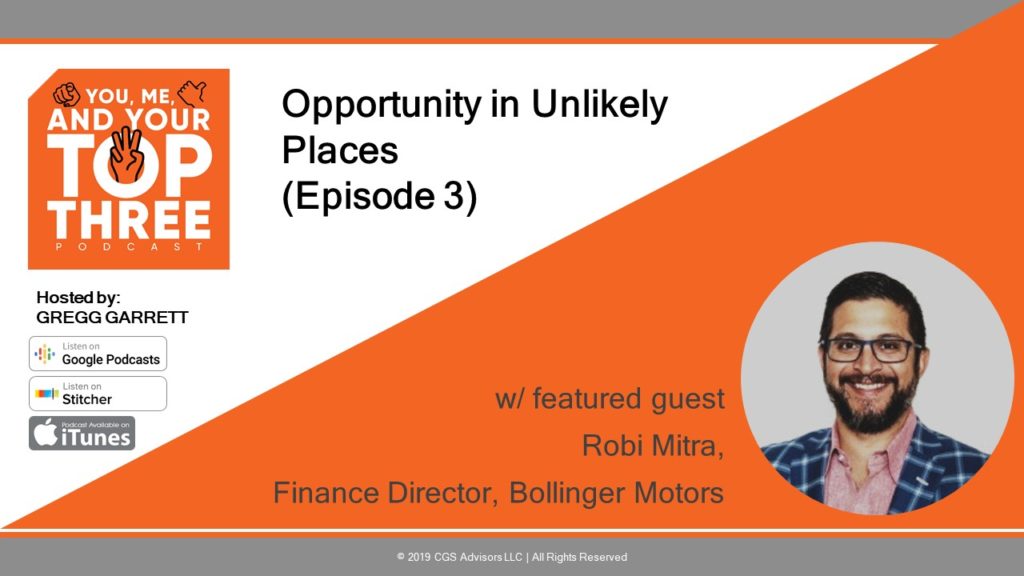 About this Episode
In this episode, listeners are presented with perspectives related to the ever-shifting mobility industry and specifically learn about the disruption being caused by new power train technology like battery electric. Robi Mitra discusses how Bollinger Motors, the start-up making off-road electric trucks, continues to transform and gain access to critical capabilities to compete in the legacy automotive and emerging mobility industries. (He even teases some new announcements to come in June, 2019) An expert in both private equity and human capital, this episode discusses the linkages of needing to raise funds and gain access to critical skills in the era of IoT. Listeners will gain insight into observations of being an entrepreneur and working as the right-hand assistant to successful ones. Not many have the opportunity to work for and with even one highly successful entrepreneurial leader. Robi has now done it twice, and draws lessons for the listener from his journey.
About Robi Mitra
Robi Mitra, a native of Detroit, holds the position of Finance Director with Bollinger Motors. He joined the team in 2019. In this role, Robi works closely with the executive team on strategy, finance, and raising capital. Prior to joining Bollinger, Robi was CEO and Chairman of K&A Resources Group, a collection of human capital management solutions focused on Industry 4.0. He purchased the initial firm, K&A Staffing, from his father in 2016 and subsequently acquired other firms to build the group. Prior to this entrepreneurial period Robi advised on or participated in more than 75 transactions during his 22 years of family office management, private equity, investment banking, and capital market experience. When he is not working, Robi is spending time with his wife, three children, two cats, and large dog.
Show Highlights
3:17 Robi's origins, how did he arrive to where he is today?
8:07 How did his small family business experience set the groundwork for entrepreneurship?
10:50 From entrepreneur to supporting an entrepreneur in the opportunity of a lifetime, how did Robi get here?
12:47 The mobility industry: autonomous vehicles, micromobility and more – what are the various disruptions we should be aware of?
21:08 As his personal industry is currently experiencing disruption, what is their focus?
27:40 What capabilities differentiate their company from the others?
33:07 Human capital, what is it and where does it fit in our connected world?
37:04 What is the correlation between education and human capital disruption and what does this mean for our future?
41:53 Who are the individuals a part of his virtual advisory board that make him brave, that make him better?
46:23 What great lessons has Robi learned from the successful entrepreneurs in his life?
50:09 What is his foundational advice on mentorship?
51:04 BIG NEWS at Bollinger
Additional Information
Bollinger Motors Website