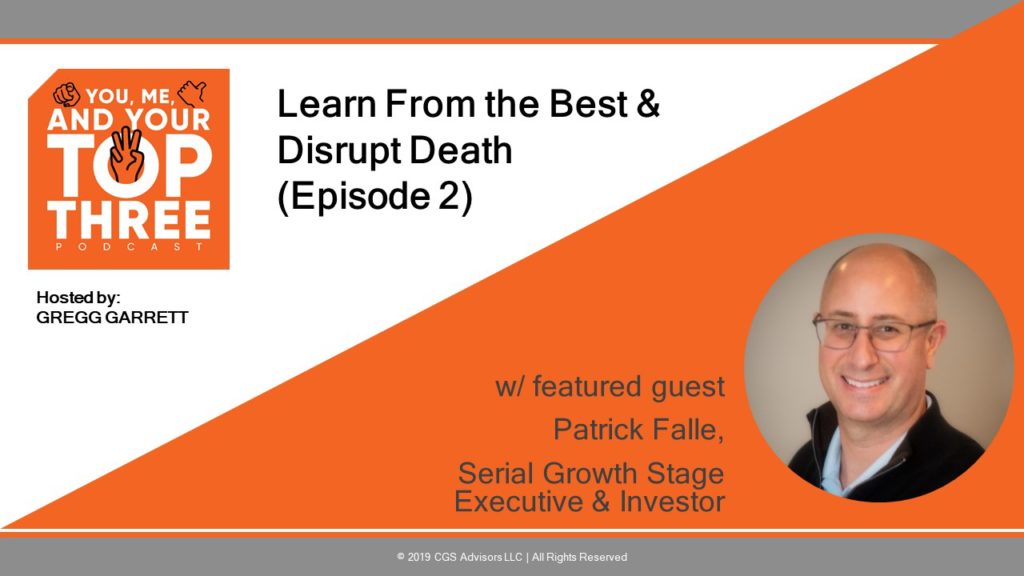 About this Episode
During this episode, listeners will hear about the importance of building a virtual advisory board that can support individuals as they shape and grow their careers. Partnering in conversation with Gregg Garrett, host of You, Me, and Your Top Three, Patrick Falle shares details on his background, the importance of those on his advisory board, and how he has continued to engage with and lean on those individual during his highly successful career. Listeners will also get a glimpse into Patrick's opinions on what it takes for leaders to lead and transform their industries during times of disruption and specifically the disruption occurring within the retail industry.
About Patrick Falle
Patrick has spent the last 20 years as an operational investor and sales executive building ideas into industries for multiple organizations. He's helped create, not only market leading products and services, but entirely new market segments. He specializes in building sales and channel organizations which take companies from their first dollar to their fifty-millionth dollar in the shortest amount of time possible. He has taken companies from nascent beginnings to ringing the bell at the NYSE.

Show Highlights
2:25 What brought Patrick to this point in his career?
3:25 What was it like taking Avalara (Automated Tax Software) public on the New York Stock Exchange (NYSE: AVLR)?
5:58 How do you find the right candidate during the hiring process?
11:54 What disruption and transformation in industry is Patrick most excited about?
13:16 How is the direct to consumer model changing retail?
16:24 What does it takes for leaders to lead and transform their companies during times of disruption?
21:21 How did Patrick's first advisor help him get into the software industry and learn to balance family and a successful career?
23:39 How does a yearly hunting trip give Patrick the opportunity to continue to build a diverse virtual advisory board?
29:39 Who on Patrick's advisory board helps him incorporate empathy into his considerations and decisions?
31:25 What is Patrick's next new venture and how does he utilize mentors effectively?
33:15 How did losing his father drive Patrick to disrupt the death industry?
37:24 What question should listeners consider as they embark on their own journeys?
41:47 What can listeners do to enhance their skills?
Additional Information